Contests, Coverage, and Cool Tech: What you can expect from #CESlive!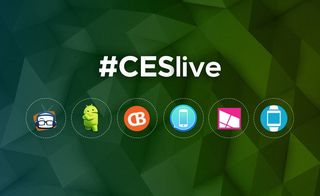 The team has arrived, the gear has been unpacked, and we're ready for #CESLive. This is our biggest year at CES yet. All totaled, we have 22 people on the ground here in Las Vegas covering the content for all our sites this week, including CrackBerry, Android Central, iMore, Windows Phone Central and the newly launched Smartwatch Fans. Aside from the usual faces, the Mobile Nations family is once again teaming up with our friends at Geek Beat: featuring podcast pioneer Cali Lewis and tech evangelist John Pozadzides.
We'll be covering all areas of tech whether we're talking health and fitness, automotive, home technologies, smartphones, tablets and more. CES is the spot for it all and generally the spot to get a first glimpse at a lot of the cool new technologies that will soon be hitting our lives. Some will make it, others we'll never hear from again, and that's what makes it all exciting!
We have a great line-up of guests that we've invited to our #CESLive show that kicks off on Tuesday at 12 PM PST. You can tune in on any Mobile Nations community by going to our #CESlive hub pages:
Android Central: AndroidCentral.com/CESlive
CrackBerry: CrackBerry.com/CESlive
iMore: iMore.com/CESlive
SmartwatchFans: SmartwatchFans.com/CESlive
Windows Phone Central: WPCentral.com/CESlive
Our Guests Include:
Tuesday: General Motors, SEIDIO, Gameloft, LG, Polaroid, HTC, Vizzywig, EyeLock and Samsung.
Wednesday: QNAP, Ustream, HP, Pioneer, Slingbox, Booq, Martian Watches, and Neptune Pine.
Thursday: BlackBerry, NewTek, Qardio, ZTE, Sphero, Nikon, Jaybird, FitBit, and Celestron.
Friday: SwiftKey, FitBug, Monoprice, Revolve Robotics, and Elite Screens... To cap it all off on Friday, we're going to have a chat with CEO of the Consumer Electronics Association, Gary Shapiro!
If that's not enough for you, we've scheduled podcasts for each night we're there, along with daily wrap-ups of the events that took place during the day. On top of all of that, we'll be giving away a TON of prizes simply because we can and want you all to have as much fun as we will plus, getting new cool stuff is always awesome!
Of course, not everyone can tune into the events as they're happening so if you prefer to catch up on things through Twitter or want to see pics from #CESLive you can check out the Mobile Nations Twitter list where everyone at the event will be tweeting as much as possible to provide you with smaller, easily consumable content on the go.
Last but certainly not least, we have to give a big shout out to all of our sponsors. Without them, this wouldn't have been possible! So, many thanks to Seidio, VizzyWig, QNAP, UStream, NewTek and the CEA.
Get the Android Central Newsletter
Instant access to breaking news, the hottest reviews, great deals and helpful tips.