Coming up at CES 2014: Android Central, Mobile Nations and Geek Beat join forces!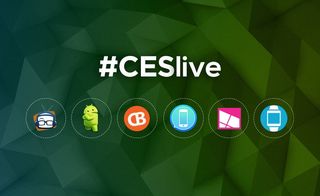 A full week of live coverage coming up from CES in Las Vegas in January​
Someone might have hinted during our last podcast that we've got something special lined up for CES next month — and we're finally ready to let the cat out of the bag.
We — as in Android Central and all our sister sites at Mobile Nations — are once again teaming up with Cali Lewis and John P and all the other awesome folks at Geek Beat to bring you live coverage from the show floor all week long. That's four straight days of live coverage with some of the smartest and entertaining folks in this business, and we couldn't be more excited about it.
But, wait. What's that you say? Four days just isn't enough coverage? Well, you're right. While the show floor doesn't actually open until Tuesday, Jan. 7, we'll have stories coming your way starting Sunday, Jan 5.
It's going to be one hell of a ride. Stay tuned for more, and get ready for #CESLIVE.
Press Release
Geek Beat and Mobile Nations team up for CES Live!
Leading tech sites Geek Beat and Mobile Nations — Android Central, CrackBerry, iMore, and Windows Phone Central — to provide live coverage, interviews and demos from the floor of the 2014 International CES consumer electronics and technology tradeshow!
LAS VEGAS, NV - (December 5th, 2013) — Geek Beat and Mobile Nations today announced that they are once again joining forces to provide live video coverage of the biggest tech event of the year, the International CES. CES 2014 takes place in Las Vegas, NV, from January 7-10, 2014. Geek Beat and Mobile Nations — which includes the Android Central, CrackBerry, iMore, and Windows Phone Central family of sites — will host interviews and conduct live product demos from the show floor.
Hosted by podcast pioneer Cali Lewis, tech evangelist John Pozadzides, Android and Google expert Phil Nickinson, BlackBerry champion and Mobile Nations' Chief Media Officer Kevin Michaluk, Apple analyst Rene Ritchie, and Microsoft and Windows Phone pundit Daniel Rubino, Geek Beat and Mobile Nations' CES Live coverage will air from the lower level of the South Hall at the Las Vegas Convention Center during show floor hours from January 5 to January 10. Each day will feature a steady stream of news and analysis, one-on-one interviews, technology showcases, and more.
"CES is the largest tech event of the year," said Kevin Michaluk, Chief Media Officer, Mobile Nations. "It's been around for 40 years, it hosts over 3,200 exhibitors and 152,000 attendees from around the world. After the success we've had teaming up with Geek Beat earlier this year for Talk Mobile 2013, we decided to kick off 2014 together with a bang by providing the best live coverage of the biggest show. There's no event our audience is more excited for, and no better way to bring it to them! "
"Whether as a sponsoring partner or guest interviewee, the massive web and social reach of Geek Beat and Mobile Nations' combined audiences makes CES Live the perfect venue for companies to amplify their CES presence," said John Pozadzides, CEO of Geek Beat. "With over 30 million visitors to our communities per month, nobody else can bring home the live excitement of CES the way we can."
For more information, sponsorship opportunities or to request to be a guest on CES Live, please contact James Falconer at james@mobilenations.com.
About Mobile Nations
Mobile Nations is the leading network of mobile-focused online communities with more than 27 million readers and 75 million page views per month. Android Central, iMore, Windows Phone Central and CrackBerry form the core of Mobile Nations.
For more information, please visit www.mobilenations.com
About GeekBeat.TV
Geek Beat is one of the world's most recognizable tech news brands, delivering a daily news show with hosts Cali Lewis and John P., as well as a weekly LIVE show every Friday at 3 p.m. CST, which also airs nationally throughout the week on the YouToo TV network.
For more information, please visit www.geekbeat.tv
Get the Android Central Newsletter
Instant access to breaking news, the hottest reviews, great deals and helpful tips.