The biggest VR and AR announcements of CES 2018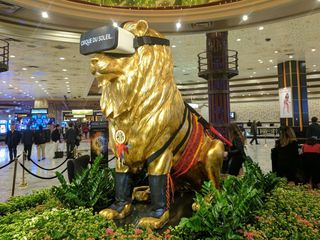 As virtual reality and augmented reality continue to grow in popularity, CES remains one of the best places to see what we can expect in the coming year.
This year, in particular, we got a look at some very cool new headsets aimed at improving the overall experiences we have today. Lots of companies are eager to ditch the cord, remove the phone, and generally make it so VR headsets are self-contained wonders. In the augmented reality world, it feels more and more like we're returning to the notion that "smart glasses" for specific use cases are the way of the future.
Curious to see what made CES extra awesome for VR and AR fans? Here's what we've found.
Lenovo Mirage Solo
Daydream Standalone is real at last! No more messing around with putting your phone in a headset if you don't want to. This headset is its own computer with its own display, and not only will it play every Daydream game at launch but there will also be new and more immersive experiences to take advantage of the ability to move around quite a bit. It's a massive step forward for Daydream, and we will surely be hearing lots more about this soon.
Everything you need to know about the new Lenovo Mirage Solo
HTC Vive Pro
The second most popular "full" VR headset in the world now has a cooler, more mature brother. The Vive Pro is designed to be an upgrade over the Vive, but not a replacement. It comes with higher resolution displays, a significantly more comfortable head strap, more capable built-in headphones, and an overall lighter frame.
On top of all of this, there's a new wireless accessory from HTC that allows you to ditch the big cable entirely and spend a couple of hours in VR with no restrictions.
Check out our hands on with the Vive Pro
Huawei VR2
While not strictly speaking a new headset, Huawei bringing its tethered headset to the US is kind of a big deal. This headset can connect to multiple sources with a cable, which could potentially mean you have a VR headset that will offer up fun from a PC and a phone separately. The headset has a fairly familiar look and feel, and could easily be confused with a Daydream headset with some of the software inside.
We'll be learning a lot more about this headset in the future, but it's very cool to see Huawei bringing more tech to the U.S.
Arsenz Thermoglass with FLIR
Being able to pop a FLIR camera onto your phone and get a quick thermal readout is fun, but in a professional environment it takes time and relies on the user to keep the software up to date on the phone. Now FLIR is working with Arsenz to stick its miniaturized thermal smarts into a headset you wear almost like Google Glass. This design gives the user a thermal readout of the world right in front of them without obscuring their view or occupying their hands.
As augmented reality products go, this is both technically fascinating and one of those things that will make certain jobs infinitely easier to do.
Vuzix Smart Glasses with Alexa
While we've seen Vuzix at CES for several years now, there's never been much about its smart glasses that really feel like something most people would benefit from. This year, the new Vuzix Blade glasses pay closer attention to aesthetics by looking more like a standard pair of glasses and now also feature Amazon's Alexa service. This means you have Alexa available everywhere and you don't need reach into your pocket to get it, which can be a huge plus for anyone who is all in on the Alexa ecosystem.
It's a solid step forward and demonstrates how dedicated Vuzix is to the wearable computer concept.
Sign up for Black Friday email alerts!
Get the hottest deals available in your inbox plus news, reviews, opinion, analysis and more from the Android Central team.