Best Bluetooth Keyboards for NVIDIA Shield TV in 2022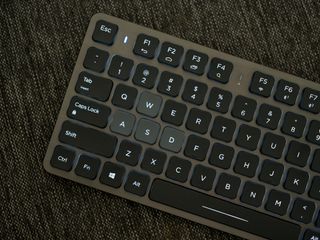 (Image credit: Windows Central)
The NVIDIA Shield TV is a fantastic device for streaming the best movies and TV shows from your favorite streaming services — but the included remotes and gaming controllers are pretty lousy for inputting your log-in credentials or searching for content. Fortunately, there's support for wireless and Bluetooth keyboards for NVIDIA Shield TV that will make things oh so much easier!
A Bluetooth keyboard is much more versatile than a remote
The NVIDIA Shield TV (2019) offers native support for keyboards, so now's a great time to invest in a quality wireless keyboard for your home. While the Xiaomi Miiiw Bluetooth Multi-Device Keyboard has been a favorite among NVIDIA Shield TV owners for a handful of years, it's currently unavailable on Amazon and it's unclear if it will ever be back in stock. With that in mind, the Logitech K600 TV Wireless Keyboard might be the best option on the market right now. In addition to boasting seamless Bluetooth connectivity, the K600 has a battery life of up to one year using only two AAA batteries.
Ultimately, which option you choose will be a matter of personal preference, but we've tried to highlight some bluetooth keyboards for NVIDIA Shield options that are compact and stylish — something that you won't mind leaving out on your living room table.
Keegan Prosser is a freelance contributor based in the PNW. When she's not writing about her favorite streaming apps and devices for Android Central, she's listening to a true-crime podcast, creating the perfect playlist for her next road trip, and trying to figure out which fitness tracker she should try next. You can follow her on Twitter @keeganprosser.
Android Central Newsletter
Get the best of Android Central in in your inbox, every day!
Thank you for signing up to Android Central. You will receive a verification email shortly.
There was a problem. Please refresh the page and try again.