Best Bluetooth Keyboards for NVIDIA Shield TV in 2022
Get a couch-ready experience.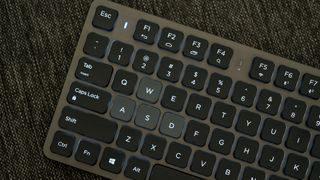 (Image credit: Windows Central)
The NVIDIA Shield TV is a fantastic device for streaming the best movies and TV shows from your favorite streaming services — but the included remotes and gaming controllers are pretty lousy for inputting your log-in credentials or searching for content. Fortunately, there's support for wireless and Bluetooth keyboards for NVIDIA Shield TV that will make things oh so much easier!
Stay on the couch in comfort with the best Bluetooth keyboards for NVIDIA Shield TV
Why you can trust Android Central Our expert reviewers spend hours testing and comparing products and services so you can choose the best for you. Find out more about how we test.
Logitech K600 TV Wireless Keyboard
The best right now
The Logitech K600 TV Wireless Keyboard makes browsing the web and navigating your NVIDIA Shield TV more user-friendly. It also connects wirelessly to smart TVs from up to 50 feet away and has the ability to connect to several devices simultaneously.
Logitech K400 Plus Wireless Touch TV Keyboard
Wireless USB with trackpad
This compact and comfortable keyboard connects via USB with a 33-foot range that's perfect for your living room. The built-in trackpad and volume controls are great, as is the battery life.
Logitech K480 Bluetooth Multi-Device Keyboard
Multi-device goodness
One of the key features of this keyboard is the ability to quickly switch between multiple connected devices, so you can watch your favorite shows while typing comfortably on a tablet or computer.
Rii K18 Backlit Wireless Keyboard
Backlit on a budget
Ultra slim and portable, this is a great option for typing in a dimly-lit home theater setup. The perfect combination of style and function and the best deal on our list.
Corsair K83 Wireless Keyboard
For the gamers
The Corsair K83 combines a sleek aluminum design with backlighting, a touchpad, joystick controls as well as an integrated gamepad. If you're looking to game on your Shield TV, the K83 is the default option.
Jelly Comb Multi-Device Rechargeable Bluetooth Keyboard
The high-quality clone
The Jelly Comb Multi-Device Rechargeable Bluetooth Keyboard looks like an Apple dupe but operates as a standard PC keyboard. It can connect to multiple devices, includes a numeric keypad and runs on a rechargeable battery for up to 50 hours.
A Bluetooth keyboard is much more versatile than a remote
The NVIDIA Shield TV (2019) offers native support for keyboards, so now's a great time to invest in a quality wireless keyboard for your home. While the Xiaomi Miiiw Bluetooth Multi-Device Keyboard has been a favorite among NVIDIA Shield TV owners for a handful of years, it's currently unavailable on Amazon and it's unclear if it will ever be back in stock.
With that in mind, the Logitech K600 TV Wireless Keyboard might be the best option on the market right now. In addition to boasting seamless Bluetooth connectivity, the K600 has a battery life of up to one year using only two AAA batteries.
Ultimately, which option you choose will be a matter of personal preference, but we've tried to highlight some Bluetooth keyboards for NVIDIA Shield options that are compact and stylish — something that you won't mind leaving out on your living room table.
Be an expert in 5 minutes
Get the latest news from Android Central, your trusted companion in the world of Android
Keegan Prosser is a freelance contributor based in the PNW. When she's not writing about her favorite streaming apps and devices for Android Central, she's listening to a true-crime podcast, creating the perfect playlist for her next road trip, and trying to figure out which fitness tracker she should try next. You can follow her on Twitter @keeganprosser.