Android Game Review: A Space Shooter for Free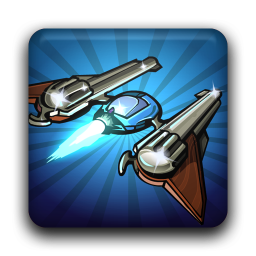 YouTube link for mobile viewing
I buy a lot of games. Some are just a buck, some are a couple of dollars, but sometimes I'm just itching to find a really sweet free game to try out and mess around with. I stumbled upon A Space Shooter for Free today, which takes the old, retro shooter genre and adds some over-the-top characters to produce a pretty fine little game.
You take the helm of the USS Eradicator as Commander P. Jefferson, a rough-talking, alien-thumping pilot who wants nothing more than to take out as many aliens as he can, anywhere. The Commander (and all the other characters you meet) are all voice acted, which is pretty unique for an Android game, and their voice actors all knock it outta the park.
Gameplay is just what you'd expect from a retro space shooter. You control a lone, tiny ship against hordes of other alien ships that want nothing more than to remove you from the map. Fortunately, most aliens of the grunt variety end up getting offed with only one shot from your ship, so you've got that advantage.
As far as graphics are concerned, this game is tops. Ship models are pretty detailed considering their size and there's a lot of variety on the screen. From the oodles of weapons you'll pick up to the oodles of weapons you'll try to avoid, there's lots of eye candy to keep you engaged. Add in a variety of different environments, some packing giant space rocks (meteors? asteroids?) and other environmental issues, and you'll begin to notice just how much detail was put into the game.
Controls are all done via the touch screen with no virtual joysticks. Move your finger along the screen and the ship will follow suit, shooting along the way. Being right-handed, I usually ended up getting exploded when I had to turn to my left thumb, but with a bit more practice, I'm sure I'll be fine.
A Space Shooter for Free is a pretty rad game, especially considering it's (mostly) free. You can unlock more bosses, difficulty levels, and weapons for $1.01 (what's with the penny?) using an in-app purchase you'll see on the main screen. A Space Shooter for Free is also OpenFeint enabled, so for the achieve-chasers in the crowd, there's more for you to do.
At any rate, get the free version cause it's awesome. We've got download links after the break.
Android Central Newsletter
Get instant access to breaking news, the hottest reviews, great deals and helpful tips
I tried looking for it and eventually went to the web Android Market and it said this game isn't compatible with my Samsung Fascinate. :c

I have a Samsung Vibrant but I'm playing it on my Transformer. There are some comments about control problems on phones because of the display size and your fingers. I think it's best played on tablets, the graphics and game-play are pretty awesome for just $1.01.

have this on my ps3. its pretty cool for a shooter! its called "a space shooter for 2 bucks" though,lol

They should have priced it at $0.99 instead of $1.01. Just my 2c.

I see what you did there.

So is it just me or does that character look like Hanover Fiste?

$1.01 is the US equivalent to the value in a foreign currency. When it converted using today's rates, that is the dollar value.

size çok eşekür ederim dış cephe buraya beklerim
Android Central Newsletter
Get instant access to breaking news, the hottest reviews, great deals and helpful tips
Thank you for signing up to Android Central. You will receive a verification email shortly.
There was a problem. Please refresh the page and try again.