Amazon Echo vs. Echo Dot: Which should you buy?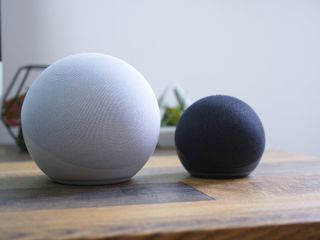 (Image credit: Joe Maring / Android Central)
Amazon Echo (4th Gen)
The (4th Gen) Echo is one of the most impressive smart speakers Amazon has released in years — and for a couple of key reasons. This Echo abandons the tall cylindrical shape of past Echos in favor of a shorter circle body. Available in three colors, it looks outstanding. Even more noteworthy is the Echo's new speakers, which are the best we've heard to-date. Audio is loud, packs a big bass punch, and automatically adapts based on the room you're in. Add all that together with the Echo acting as a Zigbee smart hub, and you have one killer package.
Amazon Echo (4th Gen)
Premium sound
Reasons to buy
+
Incredible audio quality
+
Circle design is gorgeous
+
Zigbee smart home hub
+
3.5mm audio jack
+
Good price
Reasons to avoid
-
LED light can be hard to see
Amazon Echo Dot (4th Gen)
It's tradition that the Echo Dot is the cheaper version of the baseline Echo, and that's no different from these fourth-generation speakers. The Echo Dot (4th Gen) has the same design as the regular Echo, but it has a much smaller footprint and ditches some of its higher-end features. There's no Zigbee support and the audio quality isn't as amazing, but the experience you get is still excellent. The Dot's speakers sound very good given the small size, all of the same Alexa features are here, and it can be yours at a much lower price.
Amazon Echo Dot (4th Gen)
More affordable
Reasons to buy
+
Same circular design
+
Impressive sound for the size
+
Fully-featured Alexa
+
Has a 3.5mm jack
+
Unbeatable price
Reasons to avoid
-
Larger than past Echo Dots
Amazon offers an abundance of Alexa-enabled speakers, and right now, the Echo (4th Gen) and Echo Dot (4th Gen) are two of the best ones you can get. If you can afford its $100 asking price, the regular Echo is the way to go. It has a sleek new design, excellent sound quality, and acts as a Zigbee smart hub to help simplify your smart home. For shoppers that want a top-notch Alexa gadget without spending as much cash, the Echo Dot manages to deliver a very similar experience while keeping more money in your wallet.
Amazon Echo vs. Echo Dot Price and availability
The Amazon Echo and Echo Dot are both available for purchase right now, with the regular Echo costing $100 while the Echo Dot will set you back $50. You can buy the speakers on their own, or take advantage of bundles to save some cash.
If you plan on buying two Echos or two Echo Dots together, you can save up to $30 at checkout by using the promo code ECHO2PK. Both also come with an option to get Amazon Music Unlimited free for six months. You can also get an Echo Dot and Echo Auto bundle for $70, saving you a total of $30.
Amazon Echo vs. Echo Dot A tale of two very similar speakers
Despite there being a $50 price difference between the Echo and Echo Dot, these two smart speakers have a lot in common. First and foremost, this is seen with the design.
While the regular Echo is larger than the Echo Dot, the overall look and feel are identical between each one. Both have the same circular shape with a plastic base, fabric covering, and physical buttons on the top. The iconic LED light has been moved to the bottom of each speaker compared to its top placement on previous generations, which can make it a bit more difficult to see at times. Overall, though, this is a very welcome aesthetics upgrade for both models.
We're also happy to see that the Echo and Echo Dot share the same 3.5mm headphone jack, though it's limited to line out on the Dot while the Echo supports line in and out. This means that both versions can be plugged into other speakers to transform them into Alexa-powered ones, but only the $100 Echo allows you to plug in another device and play audio from it (such as connecting the Echo to a TV, tape recorder, etc.).
As for the Alexa experience, it's the same no matter which Echo you buy. You can use Alexa to ask about the weather, control smart home devices, call loved ones, monitor your home for suspicious sounds, and countless other things. You don't have to pay more to access the full Alexa offering, and that's always great to see.
Amazon Echo vs. Echo Dot Where the Echo comes out ahead
That said, there are some key hardware differences between the two Echos that you'll want to take into consideration before making your purchase — the most important being sound quality.
Thanks to its larger size, the Echo can churn out much better audio than the Echo Dot. Between a 3" woofer and two front-firing 0.8" tweeters, everything on the Echo sounds incredibly good. I've listened to a variety of music on the Echo, and time and time again, I come away very impressed. Per my review of the speaker:
As far as $100 speakers go, the Amazon Echo (4th Gen) is one of the most impressive I've ever heard. You can spend more money on something like a Sonos One or Echo Studio and get even better sound, but when looking at this $100 price bracket, the Echo (4th Gen) is unmatched.
The Echo Dot (4th Gen) has a lot less to work with thanks to its single 1.6" speaker, and naturally, that means it doesn't sound nearly as impressive as the regular Echo. However, given the Echo Dot's small size and price, it's a lot better than you might expect. It's perfectly enjoyable if you're casually listening to music or podcasts, and if you want to pick up two Dots, you can pair them together for stereo audio for the same price as one Echo.
Another advantage of the more expensive Echo is that it doubles as a Zigbee smart hub. If you have Zigbee smart devices in your home (such as Philips Hue bulbs), you can replace their proprietary hub with the Echo.
Finally, the Echo has a couple of smaller changes that — while not as important — are worth keeping in mind. Along with the difference between the 3.5mm jack mentioned above, only the Echo has a 1/4" thread mount on the bottom for easily placing it on a speaker stand.
Amazon Echo vs. Echo Dot Can't go wrong either way
At the end of the day, both the Echo and Echo Dot stand out as two top-notch smart speakers that we're more than happy to recommend. Call it a cop-out if you want, but there's no loser in this comparison.
If you're after a premium Alexa experience but don't want to go overboard with your spending, the Echo (4th Gen) is basically perfect. It sounds excellent, the inclusion of a Zigbee hub is great, and smaller tweaks like the line in/out jack and mounting option help give it a nice functional edge for people that care about those things.
For folks that don't care too much about speaker quality and just want a cheap and easy way to get Alexa in their home, the Echo Dot (4th Gen) has everything you could ask for. It's compact, has every Alexa feature, and even sounds pretty darn good given the small size.
No matter which one you choose, you end up with one of the best Alexa speakers you can buy right now.
Premium sound
The best Alexa experience you can get
Amazon really knocked it out of the park with the Echo (4th Gen). It's not the highest-end Echo you can buy, but it strikes an excellent balance of offering premium features at a competitive price. This Echo looks stunning, sounds way better than it should, and the Zigbee smart home functionality is a great touch.
More affordable
Amazon Echo Dot (4th Gen)
Similar speaker for less money
Not ready to spend $100 on the Echo? No problem. The Echo Dot (4th Gen) provides a very similar experience for half the price, making it an unbeatable value pick. It's smaller than the regular Echo, sounds really good given its small size, and has all of the same Alexa features you know and love.
Get the Android Central Newsletter
Instant access to breaking news, the hottest reviews, great deals and helpful tips.
Joe Maring was a Senior Editor for Android Central between 2017 and 2021. You can reach him on Twitter at @JoeMaring1.