9MM from Gameloft enters the Android Market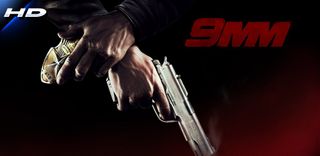 I've always enjoyed third-person shooter games and Gameloft has now made available 9MM in the Android Market. If you're into some pretend gang violence with a Scarface like tone to it then you'll likely dig 9MM -- as the story line goes:
Original story? Not exactly. But the game looks to have some pretty awesome graphics and the soundtrack is pretty slick as well. You'll want to make sure you play this one with some headphones on though, or at least out of earshot of those who may find some of the NSFW language found within offensive. You'll find the NSFW video trailer, press release and download link past the break. Before you download though, check out the review left on the Android Market -- many are saying it is a fairly large download so keep that in mind.
Gameloft Launches 9mm on Android Market
Gameloft, a leading global publisher of digital and social games launched 9mm for Android on the Android Market.
About the Game:
The gangs want you dead. They don't know what they're in for. Now you can play 9mm for Android and become John "Loose" Kannon, the leader of a special team of hardened cops that aren't afraid to bend the law to clean up the streets. But when they kill a local drug lord's brother and steal millions in cash, the theft makes Kannon's whole team the target of every gangster in the city. Now Kannon has only one option: Take down the gang leader that's hunting them, legally or not, before his team gets taken out first.
HIGH CALIBER ACTION
Dive headlong into this stylish third-person shooter game where you'll jump and fire clip after clip from your guns in stunning slow motion stunts to take out rooms full of criminals.
The action simulation really comes to life as destructible 3D environments splinter and explode.
ALL IN A DAY'S WORK
These gangsters don't play games, so arm yourself with an arsenal of weapons, including a pistol, shotgun, submachine gun, grenade launcher and more.
Set out to fight crime and corruption in varied locations like the Latino Suburbs, Night Club, Police Department, Rich Suburbs, Industrial Area and Mexico.
Catch gang leaders and informants alive, chasing them through city streets and taking them aside for a not-so-friendly chat in the interrogation challenge.
THE FIGHT NEVER ENDS
Play 9mm online to join friends and other opponents in grand Free for All and Team Deathmatch gunfights for up to 12 players on 4 different maps.
STREET BEATS
A hip-hop/rap soundtrack that intensifies the tone of the game, including established artists such as:
Freeway & Jake One
Beanie Sigel
Apathy
About Gameloft
A leading global publisher of digital and social games, Gameloft® has established itself as one of the top innovators in its field since 2000. Gameloft creates games for all digital platforms, including mobile phones, smartphones and tablets (including Apple® iOS and Android® devices), set top box, connected TVs and consoles. Gameloft partners with leading international brands such as UNO®, Spider-Man®, James Cameron's Avatar™, Ferrari® and Sonic Unleashed®. Gameloft also operates its own established franchises, such as Real Football, Asphalt™, Modern Combat 2: Black Pegasus and N.O.V.A Near Orbit Vanguard Alliance®. Gameloft is present in all continents, distributes its games in 100 countries and employs over 4,000 developers.
Android Central Newsletter
Get instant access to breaking news, the hottest reviews, great deals and helpful tips
I'd actually like to try this out, but it's not compatible with the Bionic. (WTF?)

It would be nice if the review included the price. $6.99

Yeah and a download of 833MB

Looks like the combination between,grand theft auto, saints row and max payne. Looks decent for a cell phone game, I might try this out.

Seriously??? Not compatible with the Droid X2??? Gameloft, I would love to give you my $6.99, whats the problem?

Yes, another gameloft game not compatible with transformer.

This is the best game on my not compatible Evo 3D running MIUI Rom. Plays fine :)

how and/or why is this not compatible w/ the Bionic?

I honestly wonder if it is compatible with any phones with larger screen size (4.3 and above). I have some gameloft games on my DX2 that I downloaded (that are supposedly not compatible) and they play fine, such as Modern Combat 2, but some of the screens don't take up the whole screen. They are just formatted to the upper left of the screen. Honestly, there's not much excuse for not supporting all of the current gen/higher end phones. If its compatible with my wifes DInc thats a year old, it should be compatible with my new(er) DX2.

Not compatible with the Evo 4G
Android Central Newsletter
Get instant access to breaking news, the hottest reviews, great deals and helpful tips
Thank you for signing up to Android Central. You will receive a verification email shortly.
There was a problem. Please refresh the page and try again.