UK Galaxy Tab S customers can get three months of free movies from Sky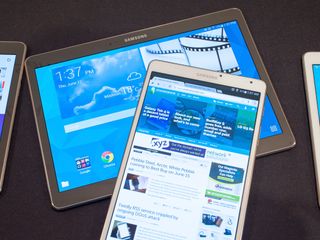 Samsung has announced a new media package for their Galaxy Tab S tablet line, available to UK customers. The package includes a three-month NOW TV Sky Movies Pass, which gives UK Tab S owners access to 800 on-demand movies, with up to 16 new films added to the service each month. Users will also be able to access all 11 Sky Movies channels for three months, both live and on-demand.
Samsung has also teamed up with a number of content providers to expand the offerings beyond movies. Streaming music service Deezer is offering six months of free unlimited streaming, for instance. Additionally, the Galaxy Gifts program gives customers free items from partner companies, such as a six-month premium Pocket subscription, or a free car pack item in Asphalt 8. Samsung is also partnering with Amazon for Kindle for Samsung, which provides users with a free book for every month.
Galaxy Tab S devices are launching in the UK this Friday, July 4. What do you think of Samsung's Movies Pass package? Tell us below in the comments.
Press release:
SAMSUNG INTRODUCES NOW TV SKY MOVIES PASS PACKAGE FOR GALAXY TAB S
London, UK – 30 June, 2014 – Samsung Electronics today announced a range of exclusive premium content deals for Galaxy Tab S customers, including a three month NOW TV Sky Movies Pass included as part of the purchase. It means you can enjoy recent movies you missed at the cinema, with over 800 available on-demand and up to 16 new premieres added each month, making it possible to watch whatever you want, wherever you are throughout the UK and Ireland with WiFi or 3G access.
The package comes with three months access to all 11 Sky Movies channels, both live and on-demand, so it is possible to watch the latest blockbusters on Sky Movies Premiere, your favourite dramas and comedies on Sky Movies Drama & Romance and Sky Movies Comedy, and even get something to keep the kids entertained with Sky Movies Disney. Films included in the package include We're the Millers and Kick Ass 2 in June, Percy Jackson: Sea of Monsters and About Time in July and Anchorman 2: The Legend Continues and Gravity in August. You can register up to four devices to your NOW TV account and watch content using the subscription on up to two devices at any one time, if you have a compatible smartphone, tablet, laptop or TV.
Ines van Gennip, Marketing Director, Samsung Electronics UK & Ireland, said, "We're committed to delivering above and beyond for our customers and deliver a truly engaging experience right from the moment they start using their tablet for the first time . Our exclusive content package for the Tab S is testament to that. With a fantastic display thanks to our Super AMOLED screen technology, the Tab S is the perfect device for you to enjoy your favourite movie content. You get a genuinely unique entertainment experience with the Tab S, so it only felt right to give our customers a unique entertainment package to enjoy on it."
As well as movie lovers, music fans and book worms are also catered for with a range of content that bring to life the unique features of the Tab S such as its fantastic screen experience and portability. These include:
Samsung's magazine service, "Papergarden" debuts on the Galaxy Tab S and is an optimised viewing environment for consuming digital interactive magazines, from GQ to Harper's Bazaar.
Galaxy Gifts: Samsung has teamed up with more than 30 of the world's leading mobile content and service providers to offer the ultimate home, work and play entertainment experience through premium content and services across a wide range of industries.
Kindle for Samsung: Part of Galaxy Gifts for Samsung and exclusively available for Samsung customers, and customised for the Galaxy Tab S, you will receive a free book every month through Samsung Book Deals, plus the ultimate e-reading experience with access to a vast selection of e-books in the Kindle store.
Deezer: Up to six months free unlimited music streaming with access to over 30 million tracks with no ads wherever you are as often as you want
The Samsung Galaxy Tab S is available on 4th July for £319.00 for the 8.4-inch Wi-Fi version, and £399.00 for the 10.5-inch Wi-Fi version is priced at £399.00. The three month NOW TV Sky Movies Pass is worth £17.98 for new customers and £26.97 to existing customers if purchased separately. At the end of the prepaid period, the NOW TV Sky Movies Pass renews at £8.99 per month. The NOW TV Sky Movies Pass offer is available to activate until 30 September 2014.
Get the Android Central Newsletter
Instant access to breaking news, the hottest reviews, great deals and helpful tips.
Kinda off topic, but my pre-order from Samsung has been put on backorder!!
Even though I pre-ordered it the first day it was available!!

too bad maybe you should cancel it and buy instore wonder what freebies they will give for us poor folks in the middle east lol

Same here. The back order was due to insufficient number of covers.... how odd Posted via NEXUS 5

Thats funny, they actually shipped the book cover. But not the tablet!! LOL Freaking Samsung!! You will be losing more customers with this kind of crap!!

Really... im going to call them and ask to send at least the tablet itself... Posted via NEXUS 5

Also kinda off topic but I had sky movies for about 4 years. Probably watched no more than 5 films on it in that time. n5

These partnerships are allowing Samsung to further increase their market share. Posted via Android Central App