The Panasonic Eneloop CC55 Quick Charger Kit is down to $34.99 at B&H. The same kit goes for around $43 on Amazon and is backordered for a few weeks at that price. This is part of B&H's DealZone, so the price won't last past the end of the night. Shipping is free.
Recharge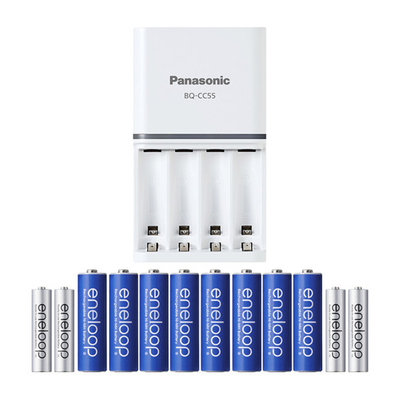 Stop wasting money on disposable batteries. Grab this kit with plenty of rechargeable batteries and the charger to keep them powered up.
$34.99 $43.00 $8 off
The kit comes with eight AA batteries, four AAA batteries, and an advanced Quick Charge 3-hour battery charger all in one package. Each battery has 800mAh and a 2100 cycle, which means they can be recharged up to 2100 times. They will maintain their charge for a long time (up to 10 years) when not in use. The charger works with both sizes and any combo, and it has built-in safeguards to automatically turn off when the batteries are fully charged.
We may earn a commission for purchases using our links. Learn more.