The second-generation Echo Show usually costs $180. However, today Amazon has it bundled with a second-generation Echo Dot and a Philips Hue bulb at that price. The value of everything adds up to nearly $300, so if you've been eyeing an Echo Show, now is definitely the time to purchase.
See The Savings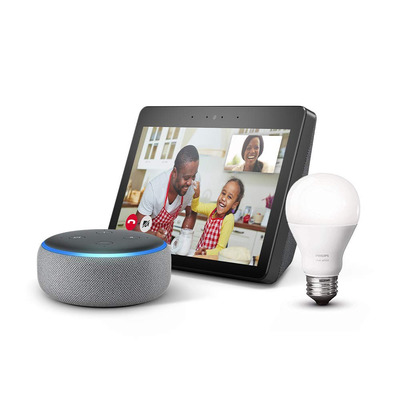 This bundle includes an Echo Show, a second-gen Echo Dot, and a Philips Hue bulb. Kickstart your smart home with this tasty trinity.
$179.99 $294.92 $115 off
The Echo Show has premium speakers and a vibrant 10.1-inch screen, allowing you to watch movies or videos with ease. That means you could keep it on your nightstand for at-a-glance notifications, or place it in your kitchen for easy access to recipe videos. Alexa with a screen is a whole new ballgame, allowing you to see lyrics to the song you're listening to, check weather forecasts, or even Skype your friends and family.
The Echo Dot is also a fantastic smart home companion, and while this bundle includes the previous iteration, that's not a huge detractor. This itty-bitty smart speaker can help you set timers, create shopping lists, convert measurements, and more. Both Echo devices can also control the included Philips Hue bulb, which is a great starter for anyone looking to get into smart lights.
This bundle is part of a larger Amazon device sale, which is definitely worth checking out.
We may earn a commission for purchases using our links. Learn more.