T-Mobile will give free internet to 10 million homes in need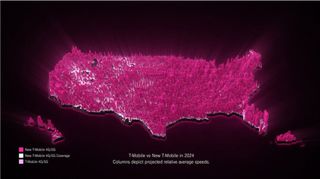 (Image credit: T-Mobile)
What you need to know
T-Mobile will give free internet to 10 million households.
The deal aims to provide more students with necessary online access for schoolwork.
Homes will get 100GB of data per year and a Wi-FI hotspot.
T-Mobile will give free internet access to 10 million households in the U.S. and Puerto Rico in an effort to close the "homework gap," the disparity in achievement between students who have internet access at home and those who do not.
CEO John Legere notes that about 15% of students have no home internet service, while most teachers assign homework that requires online access. As part of the program, T-Mobile will supply a Wi-Fi hotspot for the home and an internet connection, with up to 100GB of data annuially. Participants will be able to purchase more network equipment at company cost, the price T-Mobile pays.
According to T-Mobile, there are 35 million households and more than five million of those have no home internet. While the company did not offer specifics on the equipment or the network quality being offered to Project 10 Million participants, the carrier notes that recipients of this program will benefit from the New T-Mobile's upcoming 5G network.
Implicit in the deal is the necessity of approving the merger between T-Mobile and Sprint. T-Mobile effectively puts 10 million homes on the line as a bargaining chip for approval, and the company's press release states (opens in new tab) that, "T-Mobile can make these commitments if the proposed T-Mobile and Sprint merger closes." It is not clear if T-Mobile would still be willing to help 10 million households access the internet if it does not get its way with the merger.
Unlimited Plans
(opens in new tab)
Unlimited with Netflix and soon 5G
T-Mobile's unlimited plan gives you talk, text, data, Wi-Fi on flights, networks abroad, and free stuff every once in a while. Soon, the carrier will launch 5G for customers with capable phones.
Get the Android Central Newsletter
Instant access to breaking news, the hottest reviews, great deals and helpful tips.
So basically, extortion to make sure his merger get approved. The man oozes sleeze.

Indirect extortion done right. I approve.

So 7gb per month...you can't learn anything with that data lol

Wonder how many of these people drive Cadillac Escalades?

There is no free lunch. Someone has to pay the bill.....

This is a poor representation of today's announcement. There isn't a condition for the program based on a quid pro quo, approve the merger and get this benefit. It was made abundantly clear that the network required to make to provide this service is the combined network assets of the two companies. Without the higher capacity, this service is impossible.