Shadowgun: DeadZone 2.0 update hits with loads of new features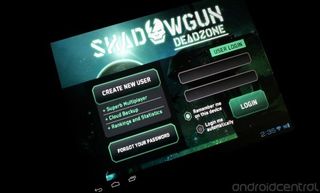 As one of the most popular mobile-only online multiplayer games, Shadowgun: DeadZone is keeping the experience fresh with a 2.0 update in the Play Store today. The update brings new maps, weapons and stat boosters for things like armor, damage and accuracy. Also new is a "friends" menu that lets you invite friends to your game or view real-time stats while they play. First time players will like the new "tutorial" mode to help get acquainted with the game.
The update also localizes the game for several new languages, including Spanish, French, German, Italian, Russian, Chinese, Korean and Japanese. If you haven't yet given the multiplayer version of Shadowgun a try yet, now may be the time.
SHADOWGUN: DeadZone 2.0 Update Delivers Innovations That Change the Way of Playing Mobile Multiplayer Games
MADFINGER Games has unleashed a Massive Update of its free-to-play mobile multiplayer game, SHADOWGUN: DeadZone, presenting a range of new features as well as localization into many languages.
April 3, 2013 - Brno, Czech Republic – MADFINGER Games, the independent mobile games developer responsible for hits such as SHADOWGUN or DEAD TRIGGER, has released a new update for its multiplayer first person action shooter, SHADOWGUN: DeadZone. Update 2.0 offers new game features which promise to extend the current borders of mobile multiplayer game progression. The game is available on both App Store and Google Play.
MADFINGER Games has again heeded to the requests of its fans. The largest update since the release of the game in November 2012 brings new maps, weapons and game content, which was sourced directly from player feedback, including, among others, the "friends" feature. "Now players can invite their friends to Zone Control mode or monitor their game stats, "said Marek Rabas, CEO at MADFINGER Games of the new "friends" feature.
Rookies can look forward to a Special Tutorial mode. The update offers optimizations, bug fixes, as well as support for new gamepads. In addition, SHADOWGUN: DeadZone Update 2.0 incorporates Boosters (Speed, Armor, Damage, Accuracy, Invisibility), which enable players to experience an entirely new dimension of gameplay.
Finally, Update 2.0 introduces localization for eight new languages (Spanish, French, German, Italian, Russian, Chinese, Korean, and Japanese). "We worked hard and strived to improve the game across the board. We have always adhered to the principle that our games must first and foremost, entertain us as players. We also pay honest attention to the feedback we receive from our players. Unfortunately, it's not possible to pack it all into the game," explains Marek Rabas.
Moreover, this Friday, April 5th, MADFINGER Games will launch a new website, www.shadowgun-deadzone.com, dedicated to SHADOWGUN: DeadZone.
About SHADOWGUN: DeadZone
SHADOWGUN: DeadZone is a free-to-play standalone multiplayer game available both on App Store and Google Play. By focusing on iOS and Android mobile platforms, MADFINGER Games has created the most advanced handheld multiplayer game on the market – optimized for superb performance and offering a level of quality typically reserved for console gaming systems. With SHADOWGUN: DeadZone, players are treated to the stunning graphics and easy-to-use controls of the original SHADOWGUN which upon its release, represented a breath of new life into contemporary mobile gaming action.
SHADOWGUN: DeadZone allows gamers to experience intense tactical multiplayer combat with up to 12 other online players. The multiplayer sequel to SHADOWGUN promises a great variety of game content by allowing players to experience heroic battles in two popular game modes – Deathmatch and Zone Control.
SHADOWGUN: DeadZone has been listed in the "Best of 2012"by Google and has been named "Game of the Year 2012" by Phonearena.com.
ABOUT MADFINGER Games
MADFINGER Games brings together a team of veteran console game developers with a shared goal of creating console-quality games for iOS and Android mobile devices. This includes a key emphasis on next-gen graphics and offering mobile gamers a visually stunning gaming experience. Their third person shooter, Shadowgun received outstanding reviews and high ratings, reaching the position of Number One Game in 25 countries and has been included in "App Store Rewind 2011" and the Apple "Hall of Fame". The most recent title from the games studio, the first person arcade shooter Dead Trigger, has recently reached 17M downloads. It has been selected for inclusion in the App Store Best of 2012, featured in the Apple "Hall Of Fame" and has won Best Technical Achievement and Community Choice at the Unite 2012: Unity Awards.
Andrew was an Executive Editor, U.S. at Android Central between 2012 and 2020.
If only they would support mapping for bluetooth game controllers.
the only way I can play with out the cursed touch screen is by hooking up my PS3 controller to the USB port of my Asus TF101 transformers keyboard dock.....
Android Central Newsletter
Thank you for signing up to Android Central. You will receive a verification email shortly.
There was a problem. Please refresh the page and try again.