Samsung Galaxy Alpha and an iPhone 5s: metal, chamfers, and dimples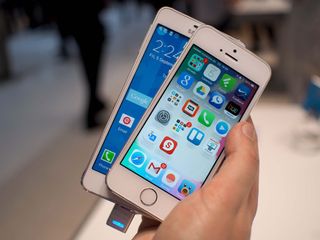 Say what you will about Samsung, but they're certainly rarely timid, even when brazenly borrowing styling cues from their competitors. While Samsung has certainly set their own design course as of late, they've been mixing things up a bit more recently. We're out at IFA 2014 where Samsung's unveiled their second metal-framed phone, the Samsung Galaxy Note 4. But a few weeks before that saw the unveiling of the smaller and first metal phone in many years from Samsung: the Galaxy Alpha.
We had the chance to go hands-on with the Samsung Galaxy Alpha and put it side-by-side with the world's best-selling metal-bodied phone: the iPhone 5s. The similarities are unmistakable, with the Galaxy Alpha aping polished chamfers on the edges, uniform rounded corners, and plastic-filled breaks in the metal to divide up the antennas (though that's proven to be a technical requirement on every metal phone).
Once you get away from the corners the similarities start to fade. Even the latest flattened iteration of Samsung's customizations to Android is still worlds different than what you'd get on an iPhone running iOS. And where the iPhone has a smooth squared-off metal back punctuated by only the Apple logo, a few bits of required regulatory information and matching glass insets at the top and bottom to help with the radios, the Galaxy Alpha has a thin plastic removable back plate that comes in one of five colors (white, black, blue, gold, or silver) and carries a grid of plus sign-shaped dimples.
Of course, this is a comparison to the year-old iPhone 5s, a design that's been carried from the iPhone 5 two years ago. The redesigned iPhone 6 is due to be unveiled next week and is expected to significantly change-up the iPhone design language, so this comparison will be relatively short-lived.
Be sure to check out our full hands-on with the Samsung Galaxy Alpha — it's an interesting smartphone from Samsung for sure.
Get the Android Central Newsletter
Instant access to breaking news, the hottest reviews, great deals and helpful tips.
Derek Kessler is Special Projects Manager for Mobile Nations. He's been writing about tech since 2009, has far more phones than is considered humane, still carries a torch for Palm (the old one), and got a Tesla because it was the biggest gadget he could find. You can follow him on Twitter at @derekakessler.
Such a small fat iPhone you are. Posted via Android Central App

Samsung would have a nicer looking phone if they just went ahead and copied the rest of the iPhone 5, otherwise it just looks half baked. Posted via Android Central App

Well at the very least with the Alpha and Note 4, NoNexus gets what he's been harping about forever... both 'scratch and dent' and 'drop and shatter'. I think these are the best designed handset and phablet Samsung has ever produced.

I'm not concern about design copy or whatever. If I like it I buy it.
If I don't like it I don't buy it. iPhone looking android? Great! Good design and good OS. That really eases my mind. Let companies fight each other. We don't need to. Posted via Android Central App

New design is new design. Now let's see the haters blog sites talk about the Prince jewel Lg and it's crappy plastic phones. Even Huawei Ascend Mate 7 looks better than that plastic Lg G3. From my Galaxy Note 3 on T-Mobile via Android Central App

Am I the only one who sees the irony in Richard, the champion of all things Samsung, belittling another company because their phone is made from plastic? Posted via Android Central App

Nope I see it also, he is an idiot . lol talking trash about plastic phones now what next? Posted via Android Central App

His point might just be that Samsung has been ridiculed for plastic phones, but he doesn't expect LG to get the same flak - at least not to the same degree. They certainly haven't been so far.

LG took plenty of flack for the g2s plastic, because it was crappy. They haven't seen too much flack lately because they did the plastic well, unlike Samsung is wont to do. Posted via Android Central App

What are you talking about? Samsung has only made plastic phones for years. You really are an idiot. Posted via the Android Central App

Do you seriously think he doesn't know that? Use that knowledge to reread his comment with a bit of sarcasm. LG never got the crap Samsung got for plastic phones, and they probably won't get it now. The reason being nobody really hated the plastic so much as the fact it was Samsung's plastic.

I always see people trying to make this "Richard" guy look stupid, but the fact of the matter is they are so narrow minded and cant see what he is really saying....seriously how stupid and easly lead can you sheep be...

Ya.... That isn't quite right. Samsung deserved the criticism. The plastic they used felt cheap and high gloss, which gets scratched really easily. Then they used a fake leather plastic which wasn't bad if they hadn't also included fake stitching. Finally they settled on the texture of a band aid which is plain awful. LG on the other hand shared in Samsungs criticism with the G2 being more or less just as bad. The G3 however uses a textured plastic that feels good in the hand and has the appearance of metal without the heat issues and reception problems that can come with a metal phone. Not to mention no chance of wireless charging working. Samsung should have stuck with the faux leather plastic (without the fake stitching) or gone soft touch which everyone loves. Then do what they have done with the alpha with the metal frame (minus the iPhone knockoff polished chamfers)

when is it coming to tmobile usa is what i want to know?

The Alpha is as bad and me-too as the Note 4 is good and innovative. Hard to believe the same company makes both devices. Xperia Z3 Compact is a much better option than Alpha. Posted via Android Central App

Does the metal edge make it feel like real quality; or does Samsung need to do a lot more to hit that target? Awesome AC.

Ha ha, after reading that iPhone 6 speculation article so many iPhone fans have said the phone screen and size will never get bigger because it's too perfect the way it is now and it will never get NFC because BLE is the only way to go. Posted via Android Central App

Haha now look Posted via Android Central App