Rogers turns LTE on in Toronto, Montreal and Vancouver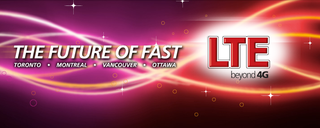 In what is great news for Canadian consumers, Rogers announced that its 4G LTE network is now available in Toronto, Montreal and Vancouver. This expansion brings the total number of people who can access LTE service up to 5.5 million.
The first LTE Android device will be launching on October 18th and will be the HTC Jetstream. The Honeycomb tablet will cost $499.99 with a 3-year service agreement and $799.99 off contract.
The first LTE-compatible smartphone will be the Samsung Galaxy S II and can be had for $199.99 with a 3-year contract or $649.99 without. Both the Galaxy S II and Jetstream can be reserved via Rogers website today.
Further LTE expansion is always great to see, especially for major cities like the ones listed above.
Source: Rogers
Thought the SGS2 would be launched today along with it. No official word on when it will be arriving.

Oh god, "Beyond 4G"? Pretty soon we're going to have claims of 5G networks all over the place.
Android Central Newsletter
Get the best of Android Central in in your inbox, every day!
Thank you for signing up to Android Central. You will receive a verification email shortly.
There was a problem. Please refresh the page and try again.