Ravensword Shadowlands: This is what a mobile RPG should look like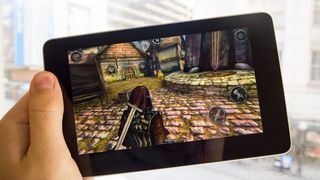 NVIDIA has a long history of pairing up with game developers to make games that look great on devices running its chipsets, and there's no better way to show it off than with an RPG. Ravensword: Shadowlands is a follow-up to the original Ravensword: The Fallen King, and surely doesn't disappoint in the gameplay or graphics departments.
Hang around with us after the break to learn a little more about Ravensword: Shadowlands, the latest RPG (Role Playing Game) to hit TegraZone.
Ravensword has all of the components to be considered a capable console-level RPG, from the storyline and depth of gameplay down to the graphics and game controls. You take on the role of potentially the last surviving human soldier from the war -- one that has left the land devastated. In typical RPG fashion you start off with little more than the clothes on your back, and a few gold in your pocket to pick up some supplies. Within the first few minutes of starting you understand how in-depth this game goes, having to wander the town to shops for supplies. This continues when you notice most characters in the game are capable of interacting -- from talking to shop purveyors about their wares to asking guards for directions.
Also in typical RPG fashion there's a lot to get the hang of when picking up Ravensword for the first time. The controls themselves are generally simple, with two virtual joysticks to control movement and a pair of attack and jump buttons pinned in the bottom right. The rest of the interface is rounded out with a compass/map key and a first-person to third-person view toggle. The top left houses a "backpack" button, which is where things get more complicated. Your backpack is the portal for managing not just items and gear, but also your stats, talents and quests. It will take some time to get used to everything in here and the way to navigate through it all, but things are pretty well laid out for a touch screen device.
Because Ravensword is launching as a TegraZone title, it naturally looks best on a Tegra device. Playing on a Nexus 7 it was apparent that a lot of work has been done to up the level of detail and shadows, all while the gameplay remained extremely smooth. You'll be spending a lot of time wandering around, but when it comes time to jump into battle, the game doesn't skip a beat. There are some long load times -- when entering the game for the first time, for example -- but luckily these are few and far between. You'll have no problem getting quickly sucked in and spending a good bit of time playing this game.
At $6.99 in the Play Store, Ravensword: Shadowlands certainly sets the expectation that it needs to be a worth-while game. If you're a fan of the RPG genre -- especially this medieval style -- and want a slower-paced game to spend a good amount of time on, we think it will be worth the cost. If you have a Tegra device to play it on as well, it will provide you with an even better experience.
Get the Android Central Newsletter
Instant access to breaking news, the hottest reviews, great deals and helpful tips.
Andrew was an Executive Editor, U.S. at Android Central between 2012 and 2020.