Prime Gaming offers three classic LucasArts adventure games this summer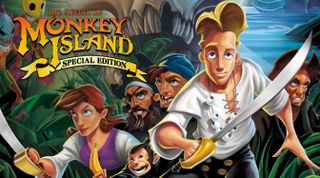 (Image credit: Amazon)
What you need to know
One of the benefits to being an Amazon Prime subscriber is that it offers free games under its Prime Gaming umbrella.
Prime Gaming subscribers can pick up three classic LucasArts adventure games throughout summer, including The Secret of Monkey Island and Indiana Jones and the Fate of Atlantis.
The first game you can download, Monkey Island, is available today, as are the seven other games Amazon is offering for free through the month of July.
Amazon today announced it'd be offering a series of classic LucasArts games to its Prime users throughout the summer. In total, Amazon will give three games out to Prime users: The Secret of Monkey Island: Special Edition on July 1, Indiana Jones and the Fate of Atlantis on August 1, and Sam & Max: Hit the Road on September 1.
All three games are adventure games with the classic point-and-click style of gameplay. Secret of Monkey Island: Special Edition is an updated version of the title with a new score and art design. Fate of Atlantis should hold us over until we get that Indiana Jones Bethesda game that's in the works. This is the second Sam & Max title coming out this summer, as the duo's VR game This Time It's Virtual is set to launch sometime soon.
In case you weren't already aware, one of the benefits of Prime Gaming is that you get free games every month, as well as various other in-game perks. Amazon usually announces the games on a month-to-month basis, so for it to stagger the games across multiple months is a special event.
These games will be offered in addition to the free games that will be available to Prime members throughout the month of July. Amazon has announced that its July Prime Gaming lineup will include Batman: The Enemy Within, Rad, The Wanderer: Frankenstein's Curse, Tales of the Neon Sea, Automachef, and Portal Dogs.
The classic LucasArts titles have been making a comeback on various gaming subscription services, including Prime Gaming. Last October, Double Fine's Tim Schafer announced that the remastered versions of several classic LucasArts games -- Grim Fandango Remastered, Day of the Tentacle Remastered, and Full Throttle Remastered -- would be coming to Xbox Game Pass.
Get the Android Central Newsletter
Instant access to breaking news, the hottest reviews, great deals and helpful tips.
Rachel Kaser is an Android Central gaming contributor, who's been writing since 2013 and gaming since the age of five. She's covered everything from gaming news, reviews, and analysis -- if it exists in gaming, she knows about it. She also contributes to Future's other sites, iMore and Windows Central. If you want to hear her opinions on games, pop culture, tech, and everything in between, follow her on Twitter @rachelkaser