Pandora control for Pebble comes to Android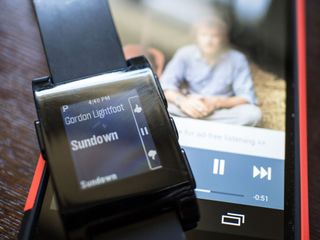 Just a few weeks back, Pebble users with iOS devices landed support for Pandora control, and today Android users join the fun as well. Pebble has announced today that Android users can now view and change stations, thumb songs up and down, skip, play and pause tracks. We heard about Pandora compatibility back at CES in January, so it's good to see that it's finally arrived.
If you have Pandora installed on your device, you should receive a notification to install the Pandora for Pebble app, or you can start it manually by visiting the Pebble Settings page. If you do give it a spin, be sure to drop a comment and let us know what you think!
By day, Adam is a writer for multiple Future Publishing brands with over fifteen years of experience. He's expertly researched and written hundreds of articles ranging from mobile phones to mobile homes to baby mobiles. By night, he's a gadget geek, avid disc golfer, 80s nerd, cord cutter, cook, husband, dad, and memory collector.
How about we just fix the pebble app for android first.

The recent update has seemed to have fixed the issues I was experiencing.

Actually the latest update from last week FINALLY fixed all my year-old bluetooth issues - they watch will actually stay connected to the phone and I can turn on my Jawbone Era without first having to disconnect my Pebble.

I've had zero issues. Posted via Android Central App

Why does Apple shit seem to be Pebble's focus? Posted via Android Central App

Maybe they have more people that use apple products using pebble compared to Android so they develop for that first. Posted via Android Central App

But from what I've seen/heard. That's not the case Posted via Android Central App

So far I am really liking the Pebble app. I like how you can hold down the middle button to access your stations.

Ha I installed this and it popped up a window saying "this requires the iOS companion app - download now?". On my Nexus 5. Besides not updating the text for the companion app message, I wonder why it didn't detect that Pandora was already installed on my Nexus 5, especially considering I launched the Pebble app to download the watch app FROM Pandora ...
Android Central Newsletter
Get the best of Android Central in in your inbox, every day!
Thank you for signing up to Android Central. You will receive a verification email shortly.
There was a problem. Please refresh the page and try again.