Panasonic unveils the 7" JT-B1 Toughpad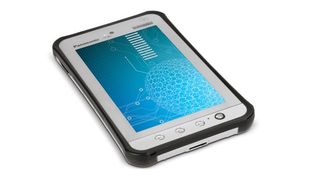 Panasonic has expanded their Toughpad line with the introduction of the 7-inch JT-B1, bringing military grade construction and toughness in a new smaller form factor. Like the 10-inch predecessor (which is still available), the JT-B1 is designed to meet MIL-STD-810G durability certifications and IP-65 specifications for ingress protection. In simple terms, that means the thing is tough -- hence the name Toughpad.
Like the popular Toughbook line of laptops, the JT-B1 is built for folks who need a tablet that won;t be destroyed by the environment it is working in. Users in fields such as construction, first responders, warehouse and industrial work, and utility companies need a mobile solution that won't fall apart. Toughpads are built to take the abuse. Panasonic lists the Toughpad JT-B1's key features.
Operating System: Android 4.0
Processor: TI OMAP4460 1.5GHz Dual core
Memory: 16GB ROM, 1GB RAM, micro SDHC
Rugged: MIL-STD-810G, 5' drop, IP65, 14° to 122°F (operational temp range)
Display: 7", daylight viewable, 500nit, WSVGA (1024 x 600)
Camera: Front: 1.3Mp fixed focus, Rear: 13.0Mp auto focus w/ LED light
Battery: 8.0 hours - Large 5,720mAh battery (user-replaceable)
Dimensions: 8.7"x 5.1" x 0.7"
Weight: 1.2lbs
Wireless: Bluetooth V4.0, 802.11 a/b/g/n Wi-Fi, optional embedded 4G LTE + 3G
I/O: Micro USB
The JT-B1 isn't going to be the lightest or prettiest tablet available, and at $1,199 (available in February) it's certainly not the cheapest. It's also not going to be something most of us will pick up for casual use. Based on the specs it looks like it will excel in it's intended use case, and Panasonic hopes for 80-percent market penetration with the Toughpad line. Hit the break for the full press release and a short product video.
PANASONIC EXPANDS TOUGHPAD™ ENTERPRISE-GRADE TABLET LINE
Ten-inch Windows 8 Pro-based and Seven-inch Android™-powered Tablets offer Choice to Meet Expanding Business Tablet Expectations
Las Vegas, NV, January 9, 2013 – Panasonic, an industry leader in rugged, reliable mobile computers since 1996, today expanded its Toughpad™ line of enterprise-grade tablets with the introduction of the Toughpad™ FZ-G1, a 10" tablet featuring Windows® 8 Pro, and the availability of the Toughpad JT-B1, a 7" Android™-powered unit. Both devices follow the original 10" Android-powered Toughpad FZ-A1 which became broadly available late last year. With the Toughpad (#Toughpad) family of ruggedized tablets, businesses and government institutions have a single partner delivering a selection of highly reliable and purpose-built devices ideal for numerous operational needs.
"For nearly 20 years, Panasonic has engineered the most reliable mobile computing devices on the market," said Rance M. Poehler, president, Panasonic System Communications Company of North America. "Because our customers know they can count on our products to deliver performance and return on investment, Panasonic – through its Toughbook brand – holds nearly 80 percent market share in the rugged mobile device space. We believe our engineering acumen, vertical market expertise and reputation for reliability, backed by our world-class service, will result in the Toughpad family being the leading B2B tablet solution in the coming years."
Hide Harada, Director, IT Products Business Unit added, "The goal for Panasonic is to achieve 50% market share in the ruggedized tablet space by 2015."
Toughpad tablets are designed for mission-critical and highly mobile workers in fields such as the military, construction, healthcare, public safety, utilities, retail, maintenance, supply chain logistics and insurance. The devices are ideal for a host of usage scenarios, including inventory control, eForms, field sales, field service, route delivery, eCitations, electronic medical records, inspections, mobile point-of-sales and GIS.
Panasonic Toughpad FZ-G1: Key Features
Operating System: Windows 8 Pro
Processor: 3rd Generation Intel® Core™ i5-3437U vPro™ 1.9GHz up to 2.9GHz with Intel® Turbo Boost Technology
Memory: 128-256GB SSD, 4-8GB RAM, optional micro SDXC
Rugged: MIL-STD-810G, 4' drop, IP65, 14° to 122°F (operational temp range)
Display: 10.1", sunlight viewable, touch screen and active digitizer, 800nit, WUXGA (1920x1200)
Battery: 8.0 hours (user-replaceable)
Dimensions: 10.6" x 7.4" x 0.75"
Weight: 2.43lbs
Wireless: Bluetooth V4.0, 802.11 a/b/g/n Wi-Fi, optional embedded 4G LTE or 3G
I/O: Full size USB 3.0, HDMI, optional micro SDXC, Full size USB 2.0, wired LAN, true serial port or dedicated GPS.
Panasonic Toughpad JT-B1: Key Features
Operating System: Android 4.0
Processor: TI OMAP4460 1.5GHz Dual core
Memory: 16GB ROM, 1GB RAM, micro SDHC
Rugged: MIL-STD-810G, 5' drop, IP65, 14° to 122°F (operational temp range)
Display: 7", daylight viewable, 500nit, WSVGA (1024 x 600)
Camera: Front: 1.3Mp fixed focus, Rear: 13.0Mp auto focus w/ LED light
Battery: 8.0 hours - Large 5,720mAh battery (user-replaceable)
Dimensions: 8.7"x 5.1" x 0.7"
Weight: 1.2lbs
Wireless: Bluetooth V4.0, 802.11 a/b/g/n Wi-Fi, optional embedded 4G LTE + 3G
I/O: Micro USB
Toughpad tablets are MIL-STD-810G tested for drops, fluid ingress and temperature, to assure they deliver reliable performance under circumstances that render typical tablets non-operational. Devices feature daylight viewable screens, user-replaceable or serviceable batteries, a stylus for signature capture and handwriting (on the FZ-G1 and FZ-A1 with 3rd party apps), and multiple options for peripheral connectivity.
"Our Toughpad tablets were designed based on years of input from customers," continued Poehler. "This customer feedback is a critical part of the development process and will continue to shape Toughbook and Toughpad devices in the future. The wide variety of devices in the Toughbook and Toughpad families is a clear indication that we build products to meet our customers' needs."
Enterprise-class mobile computing requires an enhanced level of device security and the Toughpad family is designed with this in mind. Security features like encryption, IPsec VPN, trusted boot, root protection and FIPS compliance are available in various configurations of the Toughpad FZ-A1 and Toughpad JT-B1. Compatibility with world-class Mobile device management (MDM) tools are also available to allow IT managers to manage applications, secure devices from unauthorized use and perform many other tasks.
Toughpad tablets are supported by an ecosystem that includes an enterprise-focused app store, developer tools and deployment support. Panasonic will offer a full set of professional-grade accessories to support the Toughpad line, including cases, mounts, printers, keyboards, magnetic stripe readers, smart card readers and multi-unit storage and charging solutions.
Pricing and Availability
The 10" Windows 8 Pro-based Toughpad FZ-G1 will be available in March starting at $2,899. The 7" Android-powered Toughpad JT-B1 will ship in February starting at $1,199. The 10" Android-powered Toughpad™ FZ-A1 is now shipping, starting at $1,299. All Toughpad tablets can be purchased through authorized Panasonic resellers.
Toughpad FZ-A1 LTE Certification
Powered by Android 4.0 (Ice Cream Sandwich), the 10" Toughpad FZ-A1 is now certified on the Verizon Wireless 4G/LTE network.
All products in the Toughpad family come standard with the industry's most comprehensive 3-year warranty.
Sales inquiries for Panasonic's Toughpad family of tablets should be directed to sales.psc@us.panasonic.com or 877-803-8492.
For more information on the Toughpad family of tablets and detailed device specifications, go to http://www.PanasonicToughpad.com.
Follow the Toughpad™ Brand (#Toughpad):
The Panasonic Toughpad brand can be followed on various social media channels, including Facebook, Twitter, YouTube, Flickr and our blog, Panasonic for Business.
Panasonic Solutions for Business
Built on a celebrated engineering foundation, Panasonic architects business technology solutions that help build a better world. Customers in government, healthcare, production, education and a wide variety of commercial enterprises, large and small, depend on integrated solutions from Panasonic to help them acquire, manage and interpret the information that drives innovation. The complete suite of Panasonic solutions addresses unified business communications, mobile computing, security and surveillance, retail point-of-sale, office productivity, high definition visual conferencing, visual communications (professional projectors, displays, digital signage) and HD and 3D video production. As a result of its commitment to R&D, manufacturing and quality control, Panasonic engineers reliable and long-lasting solutions as a partner for continuous improvement. Panasonic solutions for business are delivered by Panasonic System Communications Company of North America, which is a division of Panasonic Corporation of North America, the principal North American subsidiary of Panasonic Corporation (NYSE: PC).
All brand and company/product names are trademarks or registered trademarks of the respective companies. All specifications are subject to change without notice. Information on Panasonic solutions for business can be obtained by calling 877-803-8492 or at www.panasonic.com/business-solutions.
About Panasonic Corporation of North America
Based in Secaucus, NJ, Panasonic Corporation of North America provides a broad line of digital and other electronics products and services for consumer, business and industrial use. The company is the principal North American subsidiary of Osaka, Japan-based Panasonic Corporation (NYSE: PC), and the hub of Panasonic's U.S. branding, marketing, sales, service and R&D operations. Panasonic is committed to becoming the electronics industry's leader in green innovation by its one-hundredth anniversary in 2018. In the 2012 Interbrand Annual Best Global Green Brands ranking, the Panasonic brand jumped four spots to number six: http://www.interbrand.com/en/best-global-brands/Best-Global-Green-Brands/2012-Report.aspx. As part of its continuing efforts to reduce its carbon footprint, Panasonic Corporation of North America will relocate its operations to a new eco-efficient office tower adjacent to a mass transit hub in Newark, NJ in 2013. Information about Panasonic Eco Ideas initiatives is available at http://panasonic.net/eco/ecoideas. Information about Panasonic and its products is available at www.panasonic.com. Additional company information for journalists is also available at www.panasonic.com/pressroom.
Android Central Newsletter
Get instant access to breaking news, the hottest reviews, great deals and helpful tips
Senior Editor — Google Ecosystem
Jerry is an amateur woodworker and struggling shade tree mechanic. There's nothing he can't take apart, but many things he can't reassemble. You'll find him writing and speaking his loud opinion on Android Central and occasionally on Twitter.
At $1,199, it's FIVE TIMES the cost of a Nexus 7 tablet. I'm a bean counter and that buying the "Touchpad" just makes
absolutely no financial sense. Let each employee carry on main Nexus 7 tablet with an OtterBox case,
and a back-up Nexus 7 in the trunk. (or two back-ups) If the first one gets crushed/drowned/shot/burned, have the employee
take out the back-up Nexus 7 and start working again. Everything is
cloud-based, so there should be very little, if any, data loss.
Come back to the home office and give him/her another spare Nexus 7
to keep in the trunk.

You're clearly missing the point: a Nexus 7 with an Otterbox case is hardly military standard. It makes more financial sense than you give it credit for. Instead of cheaping out for a solution that might not work, the military will spend the money to get the right product the first time around. Going into a situation where the equipment already has a chance of failure is in the best interests of no one. But, I will agree, at this price, I would just opt for the Toughbook: more processing power and less of a chance of breaking.

Everything about your comments is void. You show me company that puts sensitive data that is classified as secret or higher (police, military) on the cloud. Not to mention you would have to spend the money to have multiple devices worked in, secured, and have licensed software. Also, as an officer I promise you days like today I could have fifty Nexi in the trunk and they would be toast by the end of the week. Torrential rain. We use tough books in our cars for a reason and that's why they cost so much. However, we only need to purchase it once for each car. I really wish someone would make a phone with high end specs and this toughness.

You obvious have no clue about the intended market for this device. Where we go there is no "cloud". We get there in tracked vehicles and sometimes quads. We carry everything we need with us to get our jobs done. military? No, construction crews in remote areas. Lineman maintaining the country's electrical grid. Officers patrolling remote national parks and remote highways of America. This device is not a toy for the coffee table like most tablets, but a tool, for people who do real work in dangerous conditions. Open your narrow view and realize not everyone has a cushy job.

My concern is it can handle only a 5' drop? For $1200, I would expect a good 15-20 feet. That way workers in large equipment can have it go tumbling down and it still be ok. And only 122F? I'm in Arizona and temps reach near that for several months out of the year. My Xoom can handle 115F for an extended period of time (I've done it). I would expect this thing to be able to handle temps near the high end where vehicles can get when sitting in the hot sun. $1200 seems like over kill here, just because they know companies will buy them for the added protection. Purposely overpriced.

I know some branches of the Army use the Panasonic Toughbook laptops so maybe there will be a market for these with the military at some point?

There will definitely be a market for it. Though I would opt for a Toughbook over this, I have to admit that the tablet form factor is alot easier to use on the go, especially in an emergency.

1024 x 600 is soo 2007....puhlease....even on a 7 inch screen it still looks horrible..and it's ICS? Oh my....even if im in dire need for a rugged tablet i certainly wont be buying those
Android Central Newsletter
Get instant access to breaking news, the hottest reviews, great deals and helpful tips
Thank you for signing up to Android Central. You will receive a verification email shortly.
There was a problem. Please refresh the page and try again.