olloclip's new Multi-Device Clip is the most versatile tool for Android photography yet!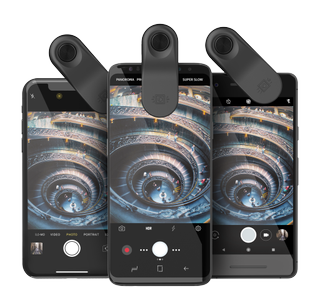 If you're someone who's an avid phoneographer (cough me cough), or maybe just someone who's spent some time scrolling through social media, then you've probably heard of olloclip, the awesome mobile photography company that makes high-quality lenses for your Android phone.
If you've never played with an olloclip lens, that's totally cool, but you are missing out big time: Which is why I'm so excited to tell you about the new Multi-Device Clip from olloclip!
What is a Multi-Device Clip, you might ask? Well, it's a tool designed to easily and quickly enhance the built-in camera on most smartphones and tablets. This super compact accessory can expand to fit a variety of case and phone sizes, meaning that you don't have to take your case off if you're trying to quickly snap that fleeting picture-perfect moment.
The new Multi-Device Clip will work with olloclip's Connect X interchangeable lenses effortlessly. You have options to shoot with lenses like:
Super-Wide
Ultra-Wide
Telephoto
Fisheye and Macro
Macro 7X +14X
Macro 21X
Olloclip's new Multi-Device Clip will be available with any of the Connect X lenses mid-September starting at $60. For more information, sign up (opens in new tab) to hear once the Multi-Device Clip launches!
Not familiar with this product. So what does it do? The article doesn't really explain.

Apparently olloclip has finally made a clip to mount their add-on lenses to other phones, not just iphones which they were nearly exclusive with for years. I'd been waiting for this a long time after I played with putting my Moto phone up to a pair of binoculars once, and was hoping to use the telephoto and wide-angle ones on my S8+. Not so clunky as trying to hold binoculars still...

I'm actually surprised this hasn't been done or marketed before... Maybe it has, I just wasn't aware of it. Anyway - 👍

No, it hadn't been done by olloclip until now, I had checked into it about 2 years ago when some of my apple-loving friends showed off their olloclip lens adapters. I really want a set because I used such adapters on my ancient film cameras, they screwed onto the filter ring of the lens, giving 2x and 4x magnification; not a zoom but handy for some things.

If price isn't a big bother, moment lenses are better. I really dislike those clips that go over the phone and cover a portion of your screen. And getting them aligned can sometimes be annoying too. Moment lenses just twist into the case and the lense quality is awesome.
Android Central Newsletter
Get the best of Android Central in in your inbox, every day!
Thank you for signing up to Android Central. You will receive a verification email shortly.
There was a problem. Please refresh the page and try again.