NHL 19: Everything you need to know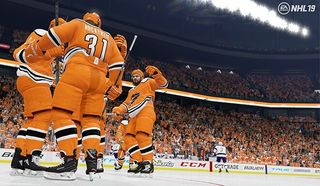 NHL 19 is due out in a short couple of days. It's EA's hockey simulator that, although not quite as popular as their Madden and FIFA games, certainly has earned its scratch as a quality annual sports title. Here's everything you need to know about NHL 19.
What is NHL 19?
We're not exactly sure when it happened, but EA found themselves the sole owners of a licensed annual hockey franchise. Like many of EA's other sports titles under the direction of Peter Moore, the NHL games have gotten increasingly better as time goes on.
As is usual, EA's focus is on combining the authenticity of the NHL license with rock-solid simulation-style gameplay and a wealth of modes and features to keep you busy.
A whole new feeling
The big trend for EA Sports games this year is Real Player Motion. This physics-based engine is designed to make the act of movement feel more natural and fluid. Although the floaty feeling of player movement in other sports games is typically referred to as ice skating and hockey is literally an ice skating game, Real Player Motion aims to eliminate that feeling.
On the ice, that means you'll see an engine that takes weight, momentum, velocity, and overall player skill into account when determining how players can go, stop, and turn. You won't be able to stop on a dime and instantly change directions at full speed. EA wants you to feel like you're driving your skates into the ice and having to build up your speed as you race from one end of the sheet to the other. Players' legs will churn and swing as they look to speed up on the ice, too.
Another thing EA likes to do with Real Player Motion is to incorporate the actual styles and characteristics of the hockey stars in the game. Wayne Gretzky will skate like Wayne Gretzky. Connor McDavid will feel more explosive than your average hockey player.
It doesn't always sound like much on paper, but the Real Player Movement engine changes the entire feel of these sports games. NHL 19 will look familiar, but it'll feel entirely new. That's of no consequence to newcomers as they have no prior history to compare, but series veterans will surely notice the difference almost immediately.
The game's collision engine is also beefed up. Hockey is a pretty violent sport, as evidenced by all those pads the players wear, and it's always important for EA to improve this area of the game. There'll be an infusion of new animations as well as dynamic physics to make each hit feel just right.
You'll see different types of collisions that'll be determined by skills and attributes, speed, weight, angles and positioning, and strength. Stamina will also play a part in your ability to take a check. If your player is tired, he is more likely to fall down from a collision and will take longer to get up. All of this builds on a Frostbite-based engine which has offered a satisfying time at the digital hockey rink for years now.
Go for gold
Another thing NHL is adopting from other EA Sports titles is a create-a-player mode which lets you build up your own hockey superstar from scratch to use him across a variety of game modes. It's being called World of CHEL and is to be considered a direct extension of the Hockey League mode from years past. Here are all the different things you can get into:
NHL ONES: You and two other competitors duke it out in a series of free-for-all showcases that displays individual skills and talent. Daily challenges let you climb the ladder and earn chances to compete in more prestigious outdoor environments, including The Lot, The Cove, The Docks, and The Ring.
Pro-Am: Join a team with two other NHL stars of the past and present to take on an equally-skilled AI-controlled team in a series of challenges. The better you do, the more rewards you earn for your World of CHEL player.
Hockey League: This is the big competitive play mode where you can take everything you've learned, practiced, and trained for into fierce cooperative head-to-head matches against online opponents.
World of CHEL offers you the opportunity to create the player you've always wanted, with 12 different skater classes and 3 of the goalie variety. Each class offers differing playstyles, advantages and disadvantages, and unique abilities. And you don't just have to stick with one throughout your career thanks to a new Loadouts feature — just set up your classes and swap between them at the press of a button.
Beyond the competitive stuff, customizing your World of CHEL player's cosmetics will be quite fun this year with over 900 player items to choose from. These range from your hardcore NHL-approved gear to parkas, hats, and all sorts of other cool winter gear you'll be able to sport in several game modes.
When you're less concerned about building up your own personal character, all the other modes will let you run the rink in more team-oriented settings. Franchise mode is back, of course, offering you the ability to run your hockey club and go for the Stanley Cup. And NHL Ultimate Team lets you collect your favorite stars from the past and present to compete against others.
Pre-order bonuses
Pre-ordering the standard edition of NHL 19 will get you hooked up with 5 Ultimate Team packs. You'll also get loyalty rewards that net you goodies if you've owned any of the previous 3 NHL games. Those rewards include up to 3 World of CHEL Hockey Bags containing gear for your player, 2, 5, or 10 UItimate Team Packs, and you'll also get as many as three different NHL Ultimate team players:
NHL 16: Jonathan Toews
NHL 17: Vladimir Tarasenko
NHL 18: Connor McDavid
EA will automatically determine whether you've played those games and will issue your rewards accordingly.
You'll get all of the above if you pre-order the Legends Edition, plus access to the game 3 days early, 20 Ultimate Team packs (1 per week for 20 weeks), a rookie Ultimate Team player, a cover athlete Ultimate Team player, a legend Ultimate Team player, and a "Hockey Bag" containing World of CHEL items.
Last but not least, the Ultimate Edition has everything the previous ones do, except you'll get 40 Ultimate Team packs (2 per week for 20 weeks).
When can you play it?
NHL 19 launches for the PlayStation 4 and Xbox One worldwide on September 14, 2018. Those ordering premium editions of the game can enjoy it as soon as September 11, 2018.
And if you're on Xbox One as an EA Access subscriber, you'll get to try out a fully-featured trial of the game for 10 hours before you buy, as well as receive a discount of 10% on the game itself and all in-game purchases. Let us know if you'll be skating to pick this one up once it arrives.
Get the Android Central Newsletter
Instant access to breaking news, the hottest reviews, great deals and helpful tips.