London Science Museum goes mobile with an augmented reality app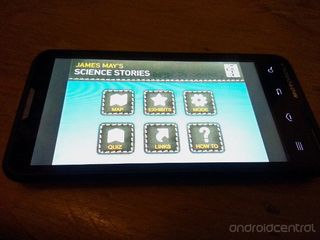 Using your Android phone in a museum might not be your first thought, but if you head to the London Science Museum that is exactly what you should do. Featuring well known British TV personality, Top Gear's James May, their Science Stories app takes advantage of augmented reality technology to bring the museum alive.
May will be your own personal guide to 9 of the best exhibits in the "Making The Modern World" gallery. By pointing the app at relevant points throughout the exhibits, your very own James May will appear on your screen and talk you through what you see in front of you. While not necessarily a completely new idea, it is refreshing to see an institution such as a famous museum moving into the mobile experience. Better still, at £1.99 in the Google Play Store, it's likely cheaper than those awful headphone tour guides you can purchase. Download links can be found after the break, and at the source link you can find a trigger for the app that you can try at home.
Source: London Science Museum
Wow.
Drilling on asteroids and augmented reality in famous museums, I really am seeing the future.
Android Central Newsletter
Thank you for signing up to Android Central. You will receive a verification email shortly.
There was a problem. Please refresh the page and try again.