IMDb app for Android updated with recommendations, check-ins and more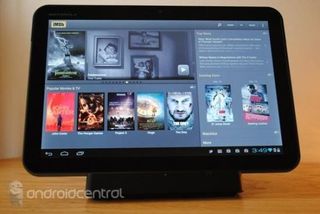 The Internet Movie Database has updated their Android app with a bunch of new features.
Sharing – check in on Facebook & Twitter to share what you're watching
Recommendations – discover other titles you might be interested in
Mobile IMDb message boards – join in the discussion on your Android phone or tablet
Filming locations & soundtracks – learn even more about the movies you love
Similar titles – discover new movies and TV shows
Metacritic – now see both the IMDb user rating of a title as well as how the film critics scored it
Amazon login – log in using your Amazon account
This is all in addition to the usual stuff, like looking up movie information, watching trailers, rating shows, checking the top charts, and perusing through interesting trivia. At the low, low price of free, it's hard to go wrong.
Are there any great movies coming out this summer that you're really looking forward to? The last big updates were geared towards tablet layout and HD video, but are there any other features out there that could complete your movie-watching experience? Maybe real-time actor commentary like IntoNow (opens in new tab) offers?
Download: IMDb (opens in new tab)
Simon has been covering mobile since before the first iPhone came out. After producing news articles, podcasts, review videos, and everything in between, he's now helping industry partners get the word about their latest products. Get in touch with him at simon@futurenet.com.
Finally mobile message boards. Been waiting for that for almost two years (or however long the app has been around).

agreed. mobile message boards finally makes the app complete. dschoenike

Crashes on startup on my S3.. totally unsuable at the moment.. =/

why does these check in apps always exclude google+ not everyone uses facebook

No Google+ API has been released for that yet.
Android Central Newsletter
Thank you for signing up to Android Central. You will receive a verification email shortly.
There was a problem. Please refresh the page and try again.