Huge Pebble update brings activity and sleep tracking, price dropped to just $99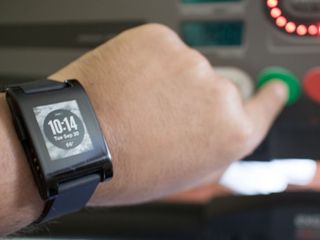 The good folks at Pebble today are kicking things up a notch with a new software update that allows for full activity tracking and sleep monitoring for all Pebble watches. No longer will you need your Pebble on one wrist and a fitness band on the other — Pebble now does it all. Today, Pebble is announcing new health and fitness apps from Misfit, Jawbone, and Swim.com that allow you to take advantage of the new integrated features.
With these new apps, you'll no longer need to use a fitness band in conjunction with your Pebble. Your Pebble does all of the activity tacking and can even work on its own without your phone. You can simply view your stats, or sync the data to the cloud when your Pebble is paired with your smartphone.
The updated Misfit app will now monitor your activity and sleep around the clock, the new Up watch face from Jawbone will show off your stats in style, and the new app from Swim.com allows you to measure paces, distance, times, strokes, and more.
In addition, Pebble and Pebble Steel prices are dropping $50. Pebble is now just $99 / €129 / £99 and Pebble Steel is $199 / €229 / £179. If you haven't been able to justify picking up a Pebble or Pebble Steel before, now you can. You'll also be able to do so in even more retail stores including Sam's Club and Fry's Electronics, and soon Sprint stores across the US. In the UK, Pebble devices will soon be heading to Dixons, O2, and Amazon.co.uk.
The latest software update is rolling out now, so be sure to check often and get to updating! The Pebble app is available free for Android (opens in new tab).
When we launched Pebble two and a half years ago, our mission was simple: build the most enjoyable, customizable, and versatile smartwatch on the market at an accessible price. The market has exploded since then, but our mission remains the same.
Last January at CES 2014, we unveiled Pebble Steel to critical acclaim. It was a resounding success and the catalyst for tremendous growth. Since then, we've opened the Pebble appstore, which boasts over 4,000 apps that have been downloaded five million times. Our open platform counts over 18,000 developers, from passionate hackers to partners like Mercedes-Benz, Pandora, the Weather Channel, and ESPN.
Today, we're announcing a new area of growth for our ecosystem — health and fitness — and releasing a software update that enables non-stop activity tracking and sleep monitoring (thanks to Pebble's class-leading multi-day battery life). This update lets Pebble users display their favorite watchface while tracking their activity in the background (full release notes below). At Pebble, we believe that providing consumers with a world-class experience means working with market-leading app partners. As such, we're introducing new health and fitness apps from Misfit, Jawbone, and Swim.com that take full advantage of this new functionality.
The Misfit app for Pebble has been updated to enable continuous, round-the-clock activity tracking and sleep monitoring. Jawbone is launching its own activity tracking watchface for Pebble called UP which shows daily and weekly activity progress and automatically syncs with its new UP app for iOS (and coming to Android soon). Swim.com is the first watch app that allows users to measure distance, pace, times, strokes, and efficiency while swimming with their Pebble and automatically sync this data with their phone and the cloud when returning to the locker room (this is where Pebble's 5 ATM water-resistance comes in handy).
Growth also means that we're expanding Pebble's retail presence in a significant way and making our watches even more accessible. Pebble is now available at Sam's Club, Fry's Electronics, and coming soon to Sprint stores across the US—joining Best Buy, Target, AT&T stores, and Amazon.com. Our watches will be rolling out in the UK at Dixons retail, O2, and Amazon.co.uk starting in October. We're also entering new markets tomorrow in Benelux (MediaMarkt, Coolblue.nl, Wehkamp.nl, Bol.com), and Scandinavia (MediaMarkt, Teknikmagasinet, coolstuff.se/no/dk, Verkkokauppa.com, and more).
Right from the start, Pebble's mission has been to make technology more accessible. Our growth lets us to take another step in that direction. To celebrate our success and spread the love, we're making Pebble irresistible. Pebble is now $99 / €129 / £99 and Pebble Steel is now $199 / €229 / £179 everywhere. You're very welcome.
Pebble Firmware 2.6 Release Notes
NEW: Activity. Activity tracking apps (e.g. Jawbone, Misfit, Swim.com) for Pebble now work seamlessly in the background. View installed Activity apps and toggle preferences in the Pebble Settings menu. An Activity icon is visible within Pebble menus when a compatible app is installed and running.
NEW: Quick Launch. Set shortcuts from a watchface to your favorite Pebble apps with a long press of the Up or Down buttons. Enable Quick Launch and set app shortcuts in the Pebble Settings menu.
Battery icon is now persistent within Pebble menus.
Select button once again dismisses notifications when paired with an Android device or iOS device on iOS 7 or lower. iOS 8 users get notificaion dismissal for both Pebble and the paired device when pressing Select.
Bug fixes and improvements.
To update to the latest firmware:
Open the Pebble smartphone app for iOS or Android.
Select Support » Update Your Pebble in the Menu if the update does not begin automatically.
Get the Android Central Newsletter
Instant access to breaking news, the hottest reviews, great deals and helpful tips.
Editorial Director - High Yield
Getting his start writing about BlackBerry in 2008, Adam is the Editorial Director of High-Yield content at Future. Leading an outstanding team, he oversees many of the articles the publisher produces about subscriptions and services – VPN, TV streaming, and antivirus software. From buying guides and how to watch content, to deal news and in-depth reviews. Adam's work can be seen on numerous Future brands including TechRadar, Tom's Guide, T3, TTR, Android Central, iMore, and Real Homes.
Need additional $50 discount to get in the game.

Even a regular Casio runs about $50 come on now!

Pebble is the best value and has the best apps already. I'm hoping my favorite app, Bodybuilding Jesus, gets these new features. Posted via the Android Central App

I've never heard of "Bodybuilding Jesus"... is that a good app? Didn't know He was a bodybuilder! :o)

Not a killers fan? "he doesn't look a thing like Jesus" Posted via Android Central App

Don't think he needs to work out. He's got, like, REALLY good genes! Posted via Android Central App

Jesus, are you a carpenter, because you're lookin' CUT.

...+1 Posted via the Android Central App on my Moto X

This is why I keep my Pebble around even when I have Android Wear, it has potential.

Definitely picking one up today

got one on slickdeals a while back for around 80 bucks... had it for months and sold it in anticipation of Wear. I sold it for 120... I might go buy another one :)

This is a great update! Was thinking about selling it for a Moto 360 but... I might wait till version 2 now. Posted via Android Central App

My moto 360 arrived yesterday I really like it so far but the important thing about getting one is knowing what you're getting into you have to know it's very 1.0 Posted via Nexus 7 2013 or Galaxy S5

I currently don't have any wearables. I was planning on buying the $50 Misfit Flash (when it comes out next month) to hold me over until Android Wear matures a bit. Now I think I'll pick this up and use it until Android Wear matures a lot.

Least I I know I don't have to rush to Best Buy this week. Posted via the Android Central App

I got a brand new pebble sitting stored away after warranty exchange. I decided to try a Gear Live. After this i might go back and see how the pebble fairs again. I really like the pedometer tracking on my Gear live, so if the pebble can do this awesome!

Will the Pebble be a "trusted device" once my N5 gets L?

It's a trusted device on the Moto X now, so I'm guessing "yes".

You can use any bluetooth device as a trusted device ... just get Delayed Lock from Google Play $2.99 US https://www.androidcentral.com/e?link=https2F2F...

I use Pebble Locker and it makes my pebble a trusted device. Love it! Posted via Android Central App

To bad the companion app is only on IOS does Pebble really have more iPhone users then android?

Companion app will be out on Android soon. I love my Pebble, but it's not as accurate as my Gear Fit at steps. It counts hand motions as steps as well and misses many steps. I'v tried the Misfit app hoping it had a better algorithm, but it's just as bad, I can't tell on the UP watch face as the app is not out yet to see the steps. They need better pedometer hardware in the watch and the ability to load more than 8 apps and it'll be perfect.

Cool, so we should start seeing American ones on eBay for £70-75 in the next few weeks... Could be tempting. Posted via Android Central App

With their updates, Pebble has done a great job getting the most out of their devices . My hope is to see them come out with a second gen that improves on the original.

Nice !! Posted via the Android Central App on VZW Moto X

As glad as I am about Pebble's price reduction. This wouldn't have anything to do with Apple's iWatch would it?

I kind of doubt it. Even before the price reduction, the base model of the Apple Watch costs well over twice as much. It probably has more to do with the fact that the Pebble has been out for well over a year now and their per-unit production cost has probably lowered. Not to mention the fact that people's expectations for smart watches have changed.

Whats the battery life on the pebble? And does it have a silent alarm? I have not used an alarm clock in over a year since I got my fitbit flex, and its silent alarm feature wakes me up every morning. 5 days of battery life means it lasts a week of work, and I can recharge it friday night when I don't have to wake up early on Saturday. If the pebble can last 4 days and has the silent alarm, I'll take one.

My Pebble Steel would go almost 7 days till it shut itself down. That was before I loaded apps like Canvas that are fairly battery draining. I still go 4-5 solid days on a charge and I swear it charges in an hour or less.

The Pebble has a silent alarm and the vibration is definitely strong enough that it will wake you up, but quiet enough that the sound won't wake your partner. I use it every night and it's great. I get four to five days of battery life on a full charge. I travel three to four days a week for work, and I don't even bother to pack the charging cable because I've never run out of power before getting home for the week.

I charge my pebble every morning while I'm in the shower. Battery is always full. Posted via Android Central App

Great that Pebble is officially coming to the UK, not so great is the $99/£99 pricing ($99=£62 according to xe today) even taking account of different taxes and shipping costs. Posted via Android Central App

EU and UK pricing huge rip off compared to US (and yes, I am accounting for tax). Was tempted for a moment based on the US pricing. Not now.

So my Pebble updated, but only to firmware version 2.4.1. I can't force it to check for updates to 2.6, and the font is kind of messed up. Any suggestions? Edit: Nevermind. I somehow missed the fact that "check for updates" is in the Support menu. All is well.

Dig that watchface what is it? Posted via the Android Central App

i think it's Love Weather http://www.mypebblefaces.com/apps/22441/11015/

At this price I'm thinking of finally getting a Pebble Steel, or I might just get another regular Pebble in a different color. Posted via Android Central App

Ah gahd DAMMIT! I literally received my Pebble in the mail not 4 hours ago.

I plan to get one of these soon. Posted via Android Central App

That's right! ... ( 0ppo F5) ...