How to insert and replace the SD card on the LG G3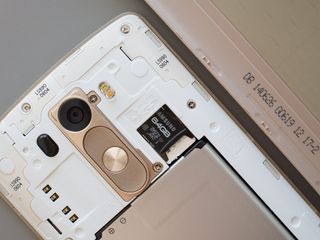 Expand your storage by up to another 128GB in seconds by putting in an SD card
In most regions the LG G3 comes with a hearty 32GB of internal storage, leaving nearly 25GB for you to use as you wish. As is often the case, one size never fits everyone — and if you need more than 32GB in your mobile device, you'll have to resort to using an external SD card to expand it. The LG G3's MicroSD card slot supports up to 128GB cards, giving you more room than you'd likely ever be able to fill.
If you've decided to expand the storage capabilities of your LG G3, it's super easy to get that SD card in your phone and get to using it. Here's your simple guide for inserting or replacing the SD card in your LG G3.
Remove the back cover
First, you'll need to remove the back cover on your G3. Grab the small notch on the bottom-left corner (when looking at the back) of your phone and pry the flexible plastic cover off — don't worry, you're not breaking it. The back cover will completely separate from the phone.
Place the SD card on the slot
Just to the right of the volume and power buttons, you'll notice a metal slot that's holding your SIM card — the SD card actually goes in on top of that card. Unlike many phones, you don't actually have to remove the battery in order to put an SD card into the G3. Set down the SD card on that plastic slot, minding the direction of the card. You'll want the smooth edge of the card to be on the left side, with the notched edge on the right. The SD card's contacts should be facing down against the tray.
Push the SD card up into the slot
Last step. Once the SD card is safely in the tray, push upward with some pressure to slide the card up into the slot. You'll feel a satisfying "clunk" indicating that it's slotted in. Roughly 20 percent of the card will now be hidden in the slot, but no more.
To remove the SD card, all you do is give it a small tug down out of the slot, and you'll be good to go. It's recommended to first power down your phone before removing it, though, to prevent data loss issues.
For more, see our LG G3 help page, and swing by our G3 forums!
Get the Android Central Newsletter
Instant access to breaking news, the hottest reviews, great deals and helpful tips.
Andrew was an Executive Editor, U.S. at Android Central between 2012 and 2020.