As we approach the end of 2019, it's about time you replaced your old manual vacuum cleaner with something a little smarter. This deal at Amazon offering the Ecovacs Deebot 601 robotic vacuum cleaner with an Amazon Echo Dot for just $217.94 gives you the perfect opportunity to kickstart your smart home while saving almost $90 in the process. Considering the Deebot 601 is selling for $256 on its own and the Echo Dot retails at $50, this is a no-brainer deal even if you've already got Echo speakers in a bunch of rooms already or you don't ever intend to use the Echo Dot. You could add Alexa somewhere else in your house or give it away as a gift this holiday season. You're paying less for the vacuum regardless.
Vac it up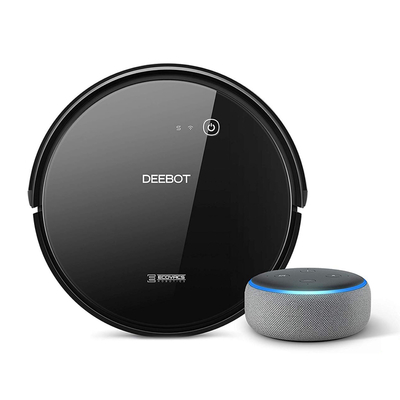 The Deebot 601 has sensors to prevent collisions and drops, a battery life that lasts for up to 2 hours, and the ability to return to itself to its charging station. The bundle with an Echo Dot scores you almost $90 off purchasing the two separately.
$217.94 $306.39 $88 off
The Deebot 601 uses an S-Shape cleaning path and works particularly well with hard surfaces. It has a three-stage cleaning system along with sensors to prevent collisions and drops. The battery life lasts for up to two hours, and the vacuum will return to its charging station on its own to refuel. It is compatible with the free Ecovacs apps for your phone or you can connect it to your included Echo Dot and control it with your voice. It also works with Google Assistant. You'll be able to schedule and track cleaning sessions, monitor accessories, and receive error alerts. It comes with a main brush, two side brushes, and a docking station.
In our review of the Ecovacs Deebot 601, we called it a great value robotic vacuum for budding internet-of-things fans, praising its battery life and surprisingly quiet operation. Of course, there are tons of great smart vacuums out there. If you're still unsure which is right for you, check out our guide to the best robot vacuums of 2019.
We may earn a commission for purchases using our links. Learn more.