Casio WSD-F20 hands-on: Android Wear 2.0 that can go anywhere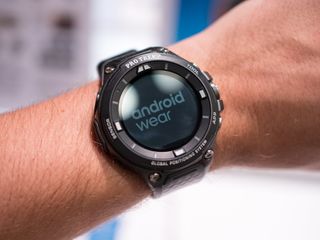 Casio's second Android Wear watch is just as huge, feature-packed and ostentatious as the last, and it's running Android Wear 2.0. It's the not-so-smoothly named WSD-F20, a follow-up to the F10, and just as the brand name and a single glance at the watch would lead you to believe it's a perfect match for those with an active lifestyle.
Just as before we're looking at a huge, hulking watch that will dwarf most wrists and even put my lowly Gear S3 Frontier to shame. The new watch has a bigger bezel than its predecessor with some extra wording to accompany its bevy of screws, knobs and buttons. The 1.32-inch display honestly doesn't look as great as others out there (plus, yes, there's a "flat tire"), but then again this watch is built for strength.
Image 1 of 5
Image 2 of 5
Image 3 of 5
Image 4 of 5
Image 5 of 5
The WSD-F20 didn't feel particularly heavy considering its size — perhaps that's just a weight distribution thing — but Casio has put a ton of stuff inside, including standalone GPS, a considerable battery and storage to download offline maps. With a MIL-STD 810G rating and water resistance up to 50 meters, along with this brawny case, the WSD-F20 is likely to survive most situations in which your wrist would ever be in.
Playing around with the build of Android Wear 2.0 loaded on the demos here at the show the software seemed quick and had some very aptly designed watch faces that complemented the thick size and bold black and orange color schemes. The side buttons can also be mapped to instantly launch favorite apps. There are built-in tools for tracking your speed while skiing or snowboarding, finding your depth while diving or elevation while hiking.
Image 1 of 5
Image 2 of 5
Image 3 of 5
Image 4 of 5
Image 5 of 5
Though Casio didn't officially unveil pricing at the show, representatives from Casio informed us the launch price was expected to be $449 when the watch goes on sale in late April.
Andrew was an Executive Editor, U.S. at Android Central between 2012 and 2020.
Great to see that this is actually running 2.0. the beta on the Huawei watch feel almost fully baked now and works very well. Excited for the Zen watch 3 to finally drop.

Android Wear will be coming to older Android Wear watches as well. I love the fact that you will be able to install apps directly on the watch. Without the need to use your phone in order to install apps on your Android Wear watch. This will help Android Wear give much better support on platforms that are not Android. Like iOS, Linux, Chrome OS, Tizen, and even Windows. So your Android Wear watch could be paired with different platforms, and now be able to install 3rd party apps as well.

I've been using the Zenwatch 3 for the last three weeks. I went with it over the Huawei watch mainly due to price and I don't care about NFC and having a heart rate monitor (plus the Huawei watch I wanted is easily scratched). It's pretty damn solid and will also be getting 2.0. It was supposed to launch with 2.0 but Google pushed it back. Still, for $229, it's hard to find a watch that's better than what Asus has done. Edit: The Zenwatch 3 is also like the Huawei ones in that it doesn't have that stupid flat tire design but still features an ambient light sensor so that the watch automatically adjusts its brightness.

I just hope Casio has improved since I purchased an Portable handheld colored TV. . I guess they never considered to put more than one poorly working channel. Sad, but now we have 10 times better with our cells.

Very nice. I like chunky watches.

Wear 2.0 runs pretty good on my LG watch Urbane 2 LTE

The big question is how long between charges? With just one day of charge the watch is like those 4-wheel off-road vehicles that never leave the blacktop. Hey, Casio... How about adding the solar charging from the Pathfinder series?

For a smartwatch, the power drawn from solar cells would be insignificant.

Just strap a phone to your wrist and be done with it. #toobig

If you don't understand what a smartwatch is supposed to do, then I suggest you don't buy one until you do... It's not replacing your phone, it's an accessory that helps with notifications and certain commands in connection with your phone.

He wasn't commenting on the "smart" aspect of the watch. Just the size. Notice the #toobig

Current fashion trend for men's watches is big and bulky. Most of my collection is between 50mm and 63mm.

Holy ****! That's too big of a watch.

Agreed stet. I have a Bentley by Breitling, its down right massive....and I love it. This is going in my collection for sure. The 20 is a sweet watch.

Get the Nixon Mission I purchased the Nixon. It is water resistant to 100 meters and has a brighter 400x400 AMOLED display with no spare tire. 48mm in size which is slightly smaller and has built in GPS. It is also cheaper than the Casio. Doesn't have Wear 2.0 yet but will get it this Spring.

How's the battery life? And are you a power user? tia

That is on my shirt list, but waiting to see how long 2.0 takes, once fully released. Great looking watch. $49 cheaper too, for base model I believe.

Wow. I like. Now I kind of wish I would have held off on buying my Gear S3 Frontier. Oh well. Love my Frontier.

I didn't realize how much I'd love the S3, but yeah, I don't think AW 2.0 has a chance to bring me back.

"…my lowly Gear S3 Frontier to shame."
What criteria would make anyone describe the Gear S3 as "lowly" -especially in the context of an Android-ware Smartwatch?

It's a reference to the size. Everyone makes a big deal about how large the Gear S3 is ... so I'm expressing that it's impressive that the Casio is even larger.

Pretty sure he was referring to the size of the Casio , not performance...

It says so right there in the article. That sentence is discussing the size.

For $450 I can get a pretty good mechanical watch the will last a lot longer than this electronic monstrosity. With the addition of my Xiaomi mi band, I get what I need.

That's something you can say about every smartwatch, really. $150, $450 or whatever.

The 1st gen model has a 20% off discount at Amazon.com

What, no idiot comments this time? You know, like the comments in your last GS3 article where you constantly derided it for being large as if it were a fatal flaw that everyone should avoid. Statements like, "it's too big for most people". Yet, I don't see any comment like that in this article.

Of course, because over 90% people reading AC just hates every samsung product with no reason. However, it isn't Samsung this time so of course no bad comments

I specifically call the Casio "huge" twice and point out that it's bigger than the already-large Gear S3. Sorry I didn't crap on it enough for you, though.

My comment on the GS3 was that it is still too small.

Also, no, "it's not worth the money." This watch is $200 more than the S3 if I'm not mistaken? Where is the cost/value comment on this watch? Someone really took the n7 saga personal.

Huh? I mean, this is a hands-on from a limited amount of time at a trade show with a device that hasn't been released. There is no intent to make a value judgement on it.

Managed to spend some time with this watch at CES. It's HUGE.

I never know if guys who say this know what they're talking about or do they just have girlish wrists. The watch in my avatar photo is a G-Shock.

I think it's the girlish wrists. A lot of reviewers were saying the Gear S3 Frontier was huge. I find it to be a normal sized watch.

I like, but not getting the price. The case is a very lightly modified Gshock case, the screen is the same Moto uses in the 360 Sport. Water resistance can't cost that much. I will be waiting g for my next wear watch. It is either this, Google or another year to be determined. Figure I can wait as my 360 Sport does well for me.

I like the idea of this watch, but the execution just leaves something to be desired. If I have to charge it every night then this is not a viable outdoors solution for me. If I have to turn everything off that makes it a smartwatch to get more than a days use out of it then I might as well just buy a watch. Also the commenting environment seems to have gotten far more toxic lately, not really a fan.

I have my Gear S3 Frontier and I love it. This Casio though... I just can't get over why they would actually design the product with the flat tyre. What exactly is the reasoning? There's no positive to it that I can think of, it just smacks of poorly designed. It's also not a requirement in the Android Wear spec, at least not that I know of (I stand to be corrected), so somebody had to design this watch that way. What was their rationale?

i believe the same reason as Motorola - light sensor so the display can get brighter or darker to suit the light setting you're in automatically.

HTC to make a completely round smart watch with a light sensor built-in: the ZenWatch 3. At this point, OEMs should have this figured out.

My Gear S3 Frontier has auto dimming and no flat tire. With the size of this thing, they could have place the light sensor someplace else.

I agree. i have a Casio Protrek (non smart watch) that I absolutely love, so i was excited when i saw this article. Unfortunately the flat tire kills it. I will not buy any smart watch with the "flat tire" effect. I did get a Gear S3 which has a beautiful round display with no flat tire. I will be sticking with it.

I have been wearing the Garmin watch for 3-4 years and I was just looking for an upgrade

This thing is way too big. But I understand who would use it...outdoor sports guys and such.
While I still like my 1st gen Moto 360 I know it will never get Android 2.0 and would love to upgrade to a Huawei Watch, since I think it´s still the best looking smartwatch out there, even if it was launched more than a year ago. But it is still very very expensive, I had though that by now it would be much cheaper, like 150 bucks or something. I will not pay 300, never.

I made the move from the 1st gen 360 to the Huawei and never looked back - everything that didn't work on my 360 worked great on the Huawei and the better battery life made it a much more useful device. It's well worth it.

I have huawei, urbane 2nd edition, and Gwatch R 3rd part ban. I love them all. Urbane 2nd is my favorite

There is absolutely NO reason for that flat tire with that insanely thick casing.

It's designed to make the watch more rugged. One of the historical primary features of the Casio G-Shock form.
Android Central Newsletter
Get the best of Android Central in in your inbox, every day!
Thank you for signing up to Android Central. You will receive a verification email shortly.
There was a problem. Please refresh the page and try again.