Black Friday deals 2021: Shop now and secure the bag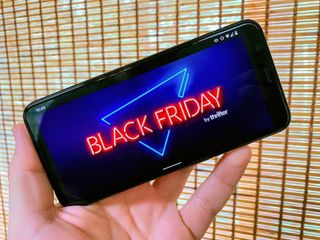 (Image credit: Android Central / Russell Holly)
When is Black Friday 2021?
Last year proved that just because things have been a certain way for a while doesn't mean they always have to stay that way. Amazon's Prime Day had traditionally been in the summer but got pushed. Black Friday sort of became a blend of Prime Day and other retailers' sales and all kinds of stuff that covered the span of several weeks. This year, though, it looks like things are mostly back to normal.
So, since Black Friday is traditionally the Friday after Thanksgiving that would make it November 26 this year. If you plan to shop in store on that day, which is actually going to be an option in 2021, you can expect your favorite stores to open early on that day. Some places like to start on Thanksgiving, others have said "No, Thanksgiving is for families" and many are just turning to online sales overall. How store hours will shape up has yet to be fully determined, but if you were paying attention last year it should be no surprise to you that online is becoming the way to shop for Black Friday.
Amazon has already kicked off a ramp up to Black Friday with its "Epic Daily Deals" page that has had some big sales already on Bose, Sony, Samsung, and Apple products. Walmart has announced three different sales starting early in November and concluding with a huge Black Friday extravaganza. Best Buy, Target, Newegg and other retailers are already putting out deals and have 'Black Friday Price Protection' promises in place to encourage you to shop early. Last year's huge turn to online shopping created a lot of problems, including major shipping delays. It's no wonder retailers want to try and spread out when people are shopping.
Black Friday sales at Best Buy, Amazon, Walmart, and more
Yes, Black Friday is November 26. No, you should not wait until then to start shopping. Retailers are busting the deals out early. Early, early, early. Some sales have already come and gone! And if you're worried that buying now means missing out on a better price later, remember those "Black Friday Price Protection" promises I mentioned earlier. Shop those retailers because they have said anything you buy now you can get the difference on if the price drops even lower. But it probably won't because the deals are great.
Some of the retailers we know that have Price Protection include Target, Newegg, Best Buy, and even some smaller retailers like Dell. Amazon does not have an official one but is usually pretty good about that stuff.
Here are some of the places offering Black Friday-like deals already:
The name of the game this year, especially compared to years previously, seems to be all about spreading out the deals. Retailers want you to shop early and often so they can avoid some of the issues they had last year.
What deals do we expect during Black Friday 2021?
Now that a few ads from the biggest retailers are out in the open, we know the kinds of products we will see on sale and can start to make some educated guesses as to which products will be the most popular over the coming weeks.
At Amazon and most other retailers, there's a strong emphasis on Amazon device deals with Fire TV sticks, the Echo line, Kindles, Ring gear, and more being discounted back down to Prime Day prices in most cases. We'll also see a huge focus on Black Friday 4K TV deals, home appliances, toys, and more ahead of the holidays. Black Friday tends to bring many of these devices to historic low prices and the best Black Friday deals are generally focused directly around these items.
Beyond the usual suspects, we're seeing popular electronics like the TCL Roku TVs, Sonos speakers, Beats products, and more on sale, along with kitchen gadgets from Instant Pot, Keurig, and more.
What are the Black Friday hours in stores?
Not all retailers have released the relevant information we need to know what their hours will be in store this year. Last year, many of them were closed and emphasized online shopping. We think that's still going to be the case. If you plan on shopping in store, expect major retailers like Target and Best Buy (both confirmed) to be closed on Thanksgiving even while their Black Friday deals continue online.
There might also be precautions in place at some locations, depending on where you live and where you shop. Don't be surprised if the crowds are a little more socially distanced compared to the panicked mob mentality of Black Fridays past. You might also want to take a mask with you in case some places require it.
To be honest with you, shopping in stores is more about the experience than the savings. And the experience is going to be severely diminished this year much as it was last year. You won't find a whole lot that's better on the sales floor than you will in your shopping cart at home. And since you can easily compare prices at home, you'll probably end up saving even more.
Are Black Friday deals available online?
It's the only way to shop anymore! Not only are the Black Friday deals going to be available online, they already are in some cases! The great thing about shopping online is that you can see how the product you're buying compares at other retailers, you can get exactly what you want instead of impulse buying something you don't need, and you don't have to worry about lines or hours or anything like that.
Some retailers with early Black Friday sales are even trying to recreate some of that with online doorbusters that change daily or weekly. Walmart is going to have three different sales focused on different products, and those sales will probably include some unique limited-time deals as well. Keep an eye out for more online exclusives and incentives to keep you focused on your browser.
Why should I care about Black Friday?
Primarily you should care because you want to save some money. That's why we cover deals at all, really. To save you money on the best stuff. One of the reasons Black Friday is generally so successful is because it comes right before the major winter holidays like Christmas, which involve a lot of money spent on toys and games and things like that. If you prefer not to pay full price, that's why you should care.
Plus, one of the great things about Black Friday is all the retailers want you to shop with them. So it basically becomes a bidding war for your time and money, which only really means good things for you. Sure, there can be a lot of noise because of that. Bad deals and bad products, but that's why we have a team dedicated to finding you the absolute best based on our own expertise with these products.
Having Black Friday move primarily online has not been a bad thing, either. It means no more crowded storefronts and rowdy shoppers. It means you can shop from your couch without having to wrestle your neighbor for that blender you wanted. It's a great way to go whether you're looking specifically for one big purchase like an OLED TV or want to gobble up a bunch of toys for gifts.
How do I stay on top of Black Friday deals?
The Black Friday shopping experience can be an overwhelming one. There's a lot happening at one time, and even for us it takes all hands on deck just to sort through it all. But that's the point, right? We have a full team of people experienced with prices and products and retailers ready to sort through it all and find the best deals for you. So, how do you stay on top of it all? Stay here. Bookmark this page, follow our Twitter, and get ready for all the excitement to come.
How can I save on deals right now?
Deals come and go all year long, and we're always on the look out for brand new ways to save. Here are some of the deals we've covered recently that are live:
iOttie iTap 2 magnetic air vent car mount holder | $9 off
You get a choice of inner or outer metal plates that use adhesive tape and are easily removed. The rare earth magnets are strong enough for any phone and its case. The rotating ball joint lets you find a great angle. Twist and lock the vent clip for a secure fit.
Microsoft Ergonomic Keyboard | $40 off
Microsoft's sale on this keyboard is a great deal. This is our favorite pick for comfort and wrist support, and it's one you should use if those things are important to you.
Logitech G Pro X wired headset | $35 off
Designed with object-based surround sound so you can hear positional audio, like when an enemy is trying to attack you from behind in a video game. Includes a pro-grade mic with noise reduction and a compressor.
Razer Basilisk Ultimate with dock | $40 off
A fantastic wireless mouse with Razer tech that'll make it seem like it's not wireless at all. Plus it comes with a charging dock that ensures you'll never have to worry about the battery running low.
Need 63-inch gaming and writing office desk | $30 off
Clip the on-page coupon to take $40 off. Has a huge desktop with ample space for your computer. Made with wood. Surface is water resistant and anti-scratch. Has a metal frame for support and is easily assembled. Legs are adjustable.
Elgato Wave:3 USB condenser mic with digital mixer | $20 off
Uses a tight cardioid polar pattern to capture your speech. Use the Wave Link app to control the mic and up to seven other audio sources. You can even create two independent mixes. Prevents distortion with Elgato's Clipguard tech.
HD60 S+ Game Capture | $40 off
With the S+ you can bump up your gameplay recording to just a bit, going from the 1080p 60fps of the S to 2160p at 30fps with the S+. You can keep playing at 4K even if you record at a lower resolution, and the capture card works with most broadcasting software to make capturing your footage easy. It has an HDMI input and a USB-C port so you can record directly to a hard drive.
Crucial X8 2TB portable SSD | $90 off
With USB-C and fast read speeds up to 1,050 MB/s, you get fast speeds with this SSD for whatever you're working on. It also works on a wide array of platforms. Plus, since it's portable it's designed to be durable, too.
LG 27GL850-B 27-inch Nano IPS monitor | $77 off
This is a fantastic monitor for the price you pay, and today's deal makes this version with a USB hub even less expensive than the version without one. Great specs for gaming and media watching.
Select Acer monitors
Choose portable screens or giant 32-inch displays. Get curved or straight. Grab resolutions that vary between 1080p and 4k. Whatever you choose, you'll save money for a limited time.
Dremel Digilab 3D20 3D printer | $42 off
Comes pre-assembled so you can start printing basically as soon as you get it. Has a ton of safety features, including a non-heated build plate, a fully enclosed design, and 3rd-party UL safety approval. This price is one of the best we've seen in over a year.
Lenovo Yoga 7i laptop | $75 off
Grab this laptop with a 14-inch 1080p display, 12GB RAM, a 512GB solid state drive, and Windows 10 Home. While the deal is on eBay, it comes directly from Lenovo's eBay storefront.
HP Envy x360 touchscreen laptop | $170 off
You can customize this laptop and add some specs where you think they belong. You'll be saving up to $170 at the most basic level and the savings continue even as you add to it.
Razer Book 13 laptop | $300 off
What you get is an Intel Core i7-1165G7 processor, 16GB RAM, and a 256GB M.2 solid state drive. It has integrated Iris Xe graphics, a 13.4-inch 1200p touchscreen display, Razer's Chroma RGB for custom lighting, and more.
Asus ZenBook Pro 15 OLED 4K laptop | $166 off
A great laptop with a 15.6-inch screen that has 4K resolution and an OLED panel. It's also a touchscreen with 440 nits of brightness. In addition to that you get a Core i7 processor, a 1TB SSD, and 16GB RAM.
MSI Summit E14 laptop | $200 off
This is the lowest price ever for this laptop, which was selling for around $1,700 in early August. The specs include an Intel Core i7 processor, a Nvidia GeForce GTX 1650 Ti Max-Q graphics card, 16GB RAM, a 1TB NVMe M.2 SSD, and more.