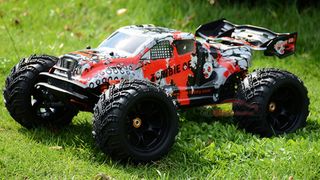 (Image credit: EC-Hobby)
Radio-controlled (RC) trucks are a blast for all ages. These miniaturized vehicles are manipulated from a distance using a remote and rechargeable battery. Like most radio-controlled vehicles, prices can run from toy-level novelties that creep along indoor carpeting to pro-level rigs with 4-wheel drive that can conquer any hill. So what's the best RC truck out today? Here are our favorites.
What's the best RC truck for your money?
Whether you want to race an RC truck, do a little four-wheeling, or take a Sunday drive over the living room carpet, there's something for everyone on our list. If you're introducing RC vehicles to a child for the first time, go with the BEZGAR 17. It has a strong alloy body, two batteries, and a remote and is fun to use indoors or out.
If you like monster trucks, you'll love the DEERC 9300. It hits 25mph with ease, handles rock climbing without stuttering, and has a battery that holds out for 40 minutes. If you're just starting and don't want to dip too far into your budget, the DEERC DE45 is worth more than its asking price. It has a sturdy metal shell, 4WD, dual motors, and even LED headlights.
Android Central Newsletter
Get the best of Android Central in in your inbox, every day!
Thank you for signing up to Android Central. You will receive a verification email shortly.
There was a problem. Please refresh the page and try again.