Android Quick App: Earth Live Wallpaper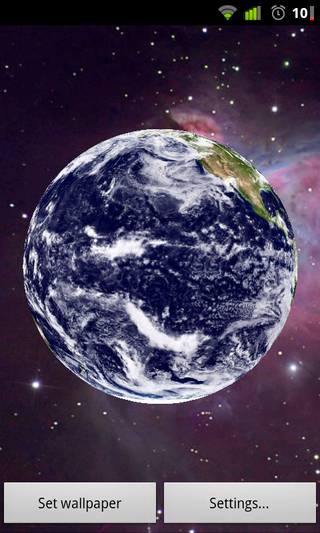 As long as I'm on a kick with live wallpapers, I figured I should show you guys one of the biggest and best, Earth Live Wallpaper. And trust me, I know what you're thinking. "Live wallpaper, again?" Trust me, you'll like it.
Earth Live Wallpaper is a pretty stock live wallpaper. You've got our beautiful blue home planet set against a backdrop of stars, and there's even the moon orbiting, to boot. Water is blue, clouds are white, and all is well with the wallpaper.
Then you open up the settings menu and realize this is an incredibly full-featured wallpaper that has absolutely no intention of limiting you to just Earth, and also simultaneously proves the developer has a great sense of humor.
Diving into the settings menu, you're presented with a few sub-menus. You've got things like globe aspect (for changing aspect and position), globe behavior (how you interact with said globe), maps, background, starfield, and foreground. The aspect and behavior menus are fairly straightforward. Want to move the position of the globe? That's the way to do it.
The part of this wallpaper that really won me over was the maps section. I was thinking, "Maps? Of what, highways and things?" Oh no, if you think like me, prepare to be pleasantly surprised.
Maps aren't different map overlays of our fine planet, but actually different skins for the otherwise generic globe to don and show off. You've got the standards, like a few for Earth, the Moon, Jupiter, Saturn and the like, but the developer really stepped things up a notch with their incredibly long and otherwise creative list of nonexistent planets and/or heavenly bodies.
In my perusing of the list, there's such greats as the Death Star (both versions), the Earth from Futurama, Krypton, Cybertron, and even their own take on Hades. There's a slew of Star Wars planets to pick from along with some Star Trek ones alongside, so there's something for everyone.
In terms of performance, I didn't notice any hiccups regardless of skin I'd chosen, so if you want to get your geek on live wallpaper-style, I'd seriously suggest this as one way to do it. Earth Live Wallpaper is free, so nothing lost if you change your mind, but it's still fun, even for a little while.
Download links and more pictures are after the break.
Android Central Newsletter
Get the best of Android Central in in your inbox, every day!
I've had this wallpaper pretty much since I've been using Android. It's great with all the options.

This is a great wallpaper, especially if you're a Futurama fan. Thanks for pointing it out!

No Gallifrey? No Arrakis? :-(

Can you tell me which application allows you to have the battery percentage in the top status bar? Does this require the phonr to be rooted? Thanks in advance

juez, I use Battery Indicator. The market has a free and paid version, I just use free. It gives a percentage in the status bar on the left side. Very helpful to gauge what's left at any point during the day. No root required.

the battery indicator on the top right of his screen shots is from cyanogen mod 7 rom & requires root access.

Hello world,
i've made a new version of the Wallpaper, all textures are in HD and there's some cool new features.
just check it out : https://www.androidcentral.com/e?link=https2F2F...
Android Central Newsletter
Thank you for signing up to Android Central. You will receive a verification email shortly.
There was a problem. Please refresh the page and try again.