Android Game Review: Ground Effect Pro XHD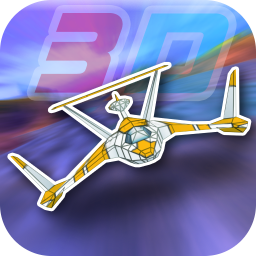 YouTube link for mobile viewing
If there's one game I loved playing as I was growing up, it'd have to be Hydro Thunder. Piloting souped-up speed boats with ridiculous turbo jets tacked onto their backs was one of the highlights of any trip to the arcade, and I could burn endless amounts of quarters playing again and again and again.
While Ground Effect Pro XHD isn't Hydro Thunder in name, it's pleasantly similar in design and gameplay. You pilot an incredibly fast hovercraft over all sorts of different terrain, taking corners at ludicrous speed, all while racing against computer-controlled opponents for the top spot.
When you open the game up, there's three game modes to choose from: Race, Ghost Race, and Just Cruise. Race is the main game, and where most of the action is at. You pick your favorite hovercraft (they're all the same, spec-wise), pick your race track (there are 14 of them), and hit the ground water running.
To ensure you follow the course fairly, there's checkpoints every so often you have to pass through. if you miss a set, you've got to turn around to go through it, which usually loses you a lot of time. Try to avoid obstacles, too. If you happen to go careening off into a mountainside or something, your craft will explode and you'll be reset close to a checkpoint.
Ghost Race is a sort of practice run, where you're racing a single computer opponent, fighting for first place. It's a bit less hectic than the normal eight-man racefests the normal mode has, and is awesome for learning a particular track.
Just Cruise is exactly what is sounds like: you, by yourself, just cruising around a track of your choosing. This is the ultimate practice, because there's no competition, no stress, and you can really enjoy the digital scenery (and secretly wish you had a boat of your own).
You control the hovercraft by turning your device like a steering wheel. The controls are fairly tight, so if you're like me and have a tendency to overcompensate turns, you'll definitely see the effects of that on screen.
Aside from that, there's two solitary pedals on the bottom-right corner of the screen. The left pedal is your air brake and the right one is your Hydro Thunder-esque super boost. Both abilities are limited (the brake is the green bar, the boost is yellow), but they replenish fairly quickly.
Oh, and did I mention you've got to place in the top three in a race to unlock the next track? That's the game's brilliant way of making sure you're not in over your head.
Ground Effect Pro XHD's other big feature (aside from tight gameplay) is that it not only supports stereoscopic 3D on devices that support it (I'm looking at you, EVO 3D), it also supports regular 3D using those tinted-lens glasses that were all the rage back in the day.
From the settings menu, you can choose either red/cyan, yellow/blue, or green/magenta glasses, and the game will adjust itself appropriately for your extra-dimensional gaming pleasure.
If there was a race you just absolutely killed it on, you can watch a replay of the entire thing from the Hi-Score/Replay menu. Very cool stuff.
Ground Effect Pro XHD is awesome. It's long (14 levels!), it's tricky, it's got a kickin' soundtrack, and it supports 3D (if you're into that sorta thing). If you like racing games (or have a soft spot for Hydro Thunder), give this one a look.
Ground Effect Pro XHD is $5.99 in the Android Market. We've got download links after the break.
Get the Android Central Newsletter
Instant access to breaking news, the hottest reviews, great deals and helpful tips.