The all-new Amazon Kindle Paperwhite is down to $89.99 for Amazon Prime members. That's $40 off this relatively recent release and, outside of Prime Day, today's price is a match of the best we've ever seen. Even on Prime Day it only went $5 lower than this. Price drops on this model are few and far between, so there's no telling the next time it'll go on sale.
As well as taking $40 off the entry-level Paperwhite, you can score up to $45 off other available models including versions with more storage and free cellular connectivity. To make things even sweeter, your purchase also includes three months of Kindle Unlimited, a service that has a value of $10 per month. It gives you access to thousands and thousands of well-loved books. You can borrow up to ten at a time, take as long as you need to read them, and exchange them for other titles whenever you'd like. It's a must-have for any bookworm.
Waterproof books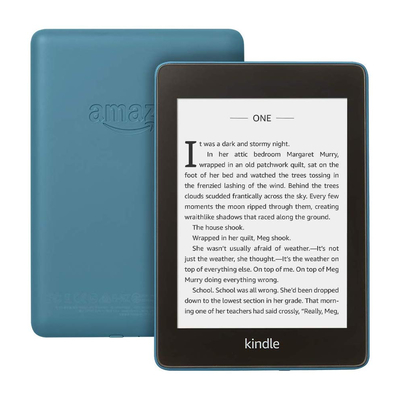 There's nothing quite like a good book, and this slim device gives you access to a veritable trove of them. The latest Paperwhite is waterproof and has twice the storage of the previous-gen. Outside of Prime Day, this price is its best ever.
$89.99 $129.99 $40 off
Chosen by us as the best Kindle in 2019, the new Kindle Paperwhite is the thinnest, lightest model yet. It has a built-in adjustable light to help you read at night, and the glare-free screen is easy on your eyes, too. It's waterproof, so you can read at the beach or in the bath. It can connect to your headphones for audiobook listening as well. The battery lasts for weeks at a time, and the display is higher-resolution than the original Kindle. This model also features Bookerly, which is an Amazon-exclusive font that was designed specifically for reading on digital screens. The base-spec Paperwhite does have special offers on the lockscreen, which are tastefully designed and unobtrusive, though you can go for the models without special offers and make the same savings.
Kindle books tend to be extremely affordable, especially when compared to traditional bound books. At least once per week, Thrifter posts a new Kindle book sale, but oftentimes the deals pop up more frequently than that. Prime members also get a free Kindle book each month.
If the Kindle Paperwhite is a little out of your price range even with these discounts, check out savings on the latest entry-level Kindle. That all-new device was only just released this April and now features a built-in front light, which is a huge improvement over previous generations. It's $25 off for Prime members and also snags you the Kindle Unlimited freebie.
We may earn a commission for purchases using our links. Learn more.