October Prime Day has ended, but these leftover phone deals are still available! LIVE updates
The big sale is over, but these deals are still going strong.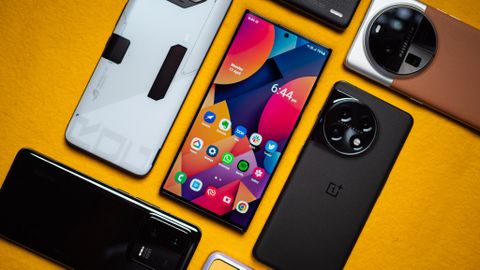 (Image: © Apoorva Bhardwaj / Android Central)
Amazon's epic Prime Big Deal Days shopping event has officially come to an end, but there are still plenty of great Android phone deals hanging around the nooks and crannies of the web. We'll keep running this live blog over the next few days so you know where to look if you missed the big sale. You might be surprised by what's still available.
I've been working in the e-commerce space for nearly a decade, essentially building a career around tracking down the best deals and offering the best shopping advice for customers. Needless to say, this experience puts me in a good position to tell you exactly what to buy and when. So whether you're just curious or you're hoping to get your holiday shopping done early, if you're looking to pick up a new phone, you're in the right place.
Quick links
Refresh
Taking an early look at these deals, and I can already tell this October Prime Day is going to feature a lot of firsts. For example, you can currently grab an unlocked Google Pixel 7a for just $399, which is the cheapest that the midrange phone has ever been through the retailer, no strings attached.

As we detail in our Google Pixel 7a review, this is one of the best midrange phone experiences that money can buy, thanks to the 7a's flagship-quality camera tech and the power of the Tensor G2 processor. It may be quite a while before Google unveils the Pixel 8a, so if you want a premium Pixel experience without paying a premium Pixel price, now's your chance.
The OnePlus 11 is perhaps the most eye-catching flagship phone on the market, but as detailed in our recent review, it's just as impressive on the inside, thanks to the addition of the ultra-efficient Snapdragon 8 Gen 2 chipset, a fluid 120Hz AMOLED display, and the best camera tech on any OnePlus phone that we've ever used.
The prospect of buying the OnePlus 11 becomes even more tempting during Prime Big Deal Days, as Amazon is carving an excellent $150 off the price of the 256GB model. That's a full $30 cheaper than the phone's lowest-ever point.
The Samsung Galaxy S23 Ultra is a beast of a phone, complete with a built-in stylus, cutting-edge camera, and the efficient power of the Qualcomm Snapdragon 8 Gen 2 chipset. You also get a massive 6.8-inch AMOLED 120Hz display and four years of Android OS upgrades guaranteed. In fact, the only significant strike against the S23 Ultra is its price. With a starting price of $1,199.99, the premium phone is out of reach for most people without a good S23 deal.
Luckily, October Prime Day is changing all that with an exclusive offer that'll drop a hefty $250 off the price of the 256GB phone, but only if you're a Prime member. It's just one of the many member-only deals that are launching over the next few days, so if you haven't joined Prime yet, now would be a good time — plus there's a 30-day free trial when you sign up!
If you're in the market for a foldable phone during this 48-hour sale event, allow me to introduce you to the Samsung Galaxy Z Flip 5. This stylish little smartphone boasts an eminently pocketable form factor with a new-and-improved cover display and a Snapdragon chip. Plus, as it's a Samsung device, you can expect plenty of software updates for years to come.
If you're a Prime member, grab a Z Flip 5 from Amazon and you'll get a cool 20% discount instantly. That's a straight $200 off, no strings attached and no trade-in required.
If you're looking to spend a little less during Prime Day 2.0, check out this offer that carves a hefty $120 off the price of the Samsung Galaxy A54 — if you're a Prime member. That's 20 bucks cheaper than the midrange phone's previous record low price, so grab the discount while you're can.
Didn't read our Galaxy A54 review? Well, for a starting price of $449.99 (without the above discount, of course), you're getting a Samsung phone with a large 5,000mAh battery, an AMOLED 120Hz display, and loads of software support. The camera software even supports 4K video recording.
The Google Pixel 8 series doesn't officially drop until this Thursday, October 12th, but if you preorder the flagship during Prime Big Deal Days, Amazon will hook you up with a pair of Pixel Buds Pro for 100% free. That's a value of $199.99! The best part is that you don't need to be a Prime member to take advantage of this Pixel 8 preorder deal, simply hit that Add to Cart button and the offer is yours.
The new Pixel 8 improves upon its acclaimed predecessor in a few key areas. You get the cutting-edge Tensor G3 chip, plus a bunch of groundbreaking AI features and years of software support guaranteed. Interested in learning more about the stylish flagship? Check out our Google Pixel 8 hands-on review.
Let's face it. New phones are great fun and all, and it's always exciting to be on the cutting edge, but you don't exactly need the absolute newest phone on the market to get a great mobile experience.
Nearly two years after its release date, the Samsung Galaxy S22 is still a solid flagship phone, complete with a sleek, compact design, Snapdragon 8 Gen 1 chip, and reliable camera tech. And thanks to Samsung's extensive software support, you'll still get Android 14.
Perhaps the best part is that older phones also tend to get the best discounts, such as this Prime Day offer that slashes a straight $250 off the base model Galaxy S22. This is a return to the 256GB phone's lowest-ever price point, and you don't need to be a Prime member to save!
Speaking of phones that are slightly older, check out this deal that carves a jaw-dropping 53% off the Moto G 5G (2022), an admittedly just-decent phone that nevertheless boasts excellent bang for the buck in the form of great battery life, reliable performance, and expandable storage.
Most importantly, since the Moto 5G (2022) 256GB has a starting price of just $399.99, this massive discount is knocking the phone down to a mere $189.99! That's serious budget phone territory, plus you don't need to be a Prime member to take advantage of the savings.
If you want something a little more premium, look no further than the Samsung Galaxy Z Fold 5. As senior content producer Nicholas Sutrich detailed in his glowing review, the Z Fold 5 is the "best large foldable phone that you can buy today", complete with the top-of-the-line Android hardware, two gorgeous displays, and all the extensive software support that Samsung is known for.
To make the prospect of buying this foldable phone even sweeter, Prime Big Deal Days is dropping 17% off the price of the unlocked Z Fold 5, which is the deepest discount that it's ever received. That deal is great on its own, but if you're a Prime member, you could save an additional $100 on your purchase!
One of the biggest debates in Android phones this year is whether the Galaxy Z Flip 5 or the Motorola Razr Plus (2023) is the better foldable phone. And now that Prime Big Deal Days is slashing 20% off both options, the decision isn't getting any easier any time sooner.
Regardless, with a discounted price of $799.99 for the 256GB model, you can't go wrong with the Razr Plus (2023). This sleek device features two vibrant and fluid displays, a Snapdragon chip, and all those fun gestures that Motorola has become known for. The only catch is that this discount is exclusive to Prime members, so make sure you log in before checking out!
It's no secret that the Google Pixel 7 is one of our favorite Android phones of the last few years. It has just about everything you could ever want in a modern flagship, from the efficiency of the Tensor G2 chipset to its fun camera features and stylish design and colorways.
Now that the Pixel 8 has come along, the Google Pixel 7 may begin to feel like old news — which basically just means it's going to be discounted more often than before. Case in point: you can grab an unlocked Pixel 7 128GB for the discounted price of $479.99 during Prime Big Deal Days, and you don't even need to be a Prime member! That's a 20% discount, no strings attached.
Who says you need to spend an arm and a leg to get a sweet stylus phone? The Moto G Stylus 5G (2023), which already retails for a reasonable $399.99, is getting the Prime Day treatment with a deal that knocks the price of the phone down to just $284.98 when you're logged into your Prime account. That's the cheapest that the phone has ever been!
As detailed in our Moto G Stylus 5G (2023) review, you're also getting a pretty sweet smartphone out of the deal. In addition to the built-in stylus that gave the phone its name, this midrange device comes with a vivid 120Hz display, loud stereo speakers, and some surprisingly-great performance under the hood.
Whenever Amazon launches a major sale event, you can bet your bottom dollar that Best Buy won't be too far behind with excellent deals of their own. For an example, simply check out this offer that gets you a FREE Google Pixel Watch 2 when you preorder the Google Pixel 8 Pro ahead of its release date on Thursday.
That's a $349.99 value on a brand new wearable, plus you're getting one of the best Android phones that's likely to drop until next year. Sharp eyes might notice that this is the same preorder deal that Amazon is currently offering for the Pixel 8 Pro, but Best Buy is sweetening the offer by throwing in a full month of Xbox Game Pass Ultimate for free.
We're already nearing the end of the first day of Prime Big Deal Days, but it seems like the phone deals are showing no signs of stopping. For example, you can grab the OnePlus 10T and save a whopping 30%, and you don't even need to be a Prime member!
Although it lacks a telephoto lens and wireless charging support, the OnePlus 10T is a great phone, complete with a Snapdragon 8+ Gen 1 chip, ultra-fast performance, and amazing battery life that juices up quick when you need it to. Read the review if you're still on the fence, but don't wait too long: October Prime Day is almost halfway over.
This blog post mostly focuses on Prime Day phone deals, but people happy with their current phones shouldn't sit idle. There are a ton of Prime Day phone case deals available, and one of our favorite brands (Otterbox) has some particularly great ones.
We couldn't possibly list every deal available, but some of our favorite phones — the Galaxy S23 and S22 series, Pixel 7a & 6a, Moto G series, and others all have Otterbox Defender, Commuter, Symmetry, or Lite cases available. Now's a great time to keep your phone protected, so that it'll last you for years and then work as a trade-in for your next phone deal!