The smallest of the Galaxy S22 family makes up for its small size by offering big power, thanks to the latest Qualcomm Snapdragon chipset. The design has been refined from its predecessor, giving us possibly the best-looking Galaxy smartphone we've ever had. However, all this power comes at the expense of some comfort, which could be a deal-breaker for some.
Pros
+

Beautiful design, particularly the green colorway

+

AMOLED display looks fantastic

+

Good camera performance

+

Great software support and AI features
Cons
-

Middling battery life

-

The camera can be slow to capture images

-

Gets fairly warm when gaming

-

Display scratches somewhat easily
Why you can trust Android Central Our expert reviewers spend hours testing and comparing products and services so you can choose the best for you. Find out more about how we test.
When Samsung launched its latest flagship series earlier this year, the Galaxy S22 Ultra got all the fanfare as the first Galaxy S phone to feature a built-in S Pen, a staple of the now-dead Note series. That left the other models to linger quietly in its shadow, particularly the smallest of the three.
It's clear to see why the standard model and Galaxy S22 Plus would be overshadowed. Compared to the S22 Ultra, these offer fairly minor upgrades over their predecessors, with similar but refined designs and some new attractive colors. But despite its small size, the base Galaxy S22 still has a lot going for it, and if you're looking for a small but powerful Android smartphone, this could be the one for you.
The Galaxy S22 features a powerful Snapdragon 8 Gen 1 chipset, improved camera sensors, a great-looking display, and a software promise that would make even the Pixel 6 jealous. However, the impressive power might be too much for the phone at times, and the smaller battery could very well be the Achilles heel of this flagship.
After spending nearly an entire year with the Galaxy S22, my feelings about the phone have not changed, and I still find it to be one of the small Android phones to beat.
Samsung Galaxy S22: Price and availability
The Galaxy S22 was announced on February 9 and was available for preorder through February 24, with sales beginning February 25. The phone is available at Samsung's website, various retailers such as Best Buy and Amazon, and all of the best wireless carriers in the U.S.
You can get the Galaxy S22 in various colors, including Phantom White, Phantom Black, Green, and Pink Gold. There are also Samsung-exclusive colors that you can find on the company's website.
The Galaxy S22 retails for $800, although there are plenty of deals that can land you the phone for as little as $0. You'll have to check with retailers or your carrier for details on how you can get the best deals.
Samsung Galaxy S22: Hardware and design
Swipe to scroll horizontally
| Category | Samsung Galaxy S22 |
| --- | --- |
| Display | 6.1-inch Dynamic AMOLED 2X Display (1080 x 2340), 120Hz refresh rate (48-120Hz), Up to 1,300 nits |
| Chipset | Snapdragon 8 Gen 1 |
| Storage | 128GB, 256GB |
| Memory | 8GB |
| Rear Camera 1 | 50MP Wide-angle, F1.8, 1/1.56", 1.0μm (12MP 2.0μm), 85° |
| Rear Camera 2 | 12MP Ultrawide, F2.2, 1/2.55", 1.4μm, 120° |
| Rear Camera 3 | 10MP Telephoto (3x), F2.4, 1/3.94", 1.0μm, 36° |
| Selfie Camera | 10MP, F2.2, 1.22μm, 1/3.24, 80° |
| Battery & Charging | 3,700mAh, 25W wired, 15W wireless |
| Connectivity | 5G (sub-6, mmWave), Bluetooth 5.2, Wi-Fi 6 |
| Dimensions | 70.6 x 146 x 7.6mm, 167g |
| Colors | Phantom White, Phantom Black, Green, Pink Gold |
Off the bat, the Galaxy S22 has a great design. It takes after its predecessor, the Galaxy S21, and looks nearly identical. However, Samsung has refined the design, giving the S22 a more angular look. The front and back are flat slabs of glass, held together by a nearly flat aluminum frame. The effect: the Galaxy S22 looks nearly like an iPhone 13, depending on how you look at it, and that's definitely not a bad thing.
But looks are just part of it. The device feels great, as well. The glass on the back is frosted, so the phone is incredibly smooth to the touch, and you don't have to worry about collecting fingerprints. Of course, you can always throw on a case, but the phone feels so great that I try not to when I can help it. And surprisingly, despite how smooth the phone is, it doesn't feel at all slippery. I never felt like I was going to drop the phone, something I've experienced with other devices in the past, like the similarly sized LG G8, which I managed to drop (and crack) within days of owning it. Of course, this is why I wear cases now, but I take it off every so often just to get a good feel.
I managed to get my hands on the green colorway, which is absolutely stunning. While the official renders and images look great, somehow, they don't do justice to just how amazing this green looks. In some lights, it appears green, but view it in a different light, and the phone appears bluer. The phone comes in a few other colors such as Phantom White, Phantom Black, and Pink Gold, not to mention the Samsung-exclusive colorways, but none as impressive as the green in my opinion.
However, it's not all perfect, and I have a few small gripes with the design. While the phone has a decent heft that adds to the premium feel, some may find it a bit on the heavy side despite its small stature. Initially, you may not notice it, but after some time holding the phone, my hand will start to get uncomfortable. This is also a negative side effect of such an angular design. The edge often digs into my pinky finger the longer I hold the phone, which would drive me to throw the case back on.
Also, while the Galaxy S22 has stereo speakers, I've never been a fan of the bottom-firing speaker below the display and wish more phones would come with front-facing stereo speakers, even if that means a slightly larger chin at the bottom of the display. However, the speaker audio sounds great, although I recommend during off Dolby Atmos if you want a fuller sound.
Samsung Galaxy S22: Display
I personally haven't used a phone this small since the LG G8, and coming from a Galaxy Note 20 Ultra, I was nervous about missing my larger display. However, despite the Galaxy S22 being a smaller phone, the display manages to provide a surprisingly adequate experience for me. No, it's not as large or as sharp as the Note 20 Ultra or even the new Galaxy S22 Ultra, but it's a great display nonetheless.
The Galaxy S22 has a Full HD+ AMOLED 2X display with a 120Hz refresh rate. It's not QHD+, but it still appears quite sharp, probably due to the smaller size, which is one way the base S22 one-ups the Plus. The variable refresh rate also manages to keep things smooth, colors are vibrant even when I set the display to "natural" mode, and it's bright enough that I don't have a problem seeing it even in direct sunlight. The display reaches a peak brightness of 1300 nits, 450 nits shy of the S22 Plus. That said, I haven't found that the extra brightness is even necessary.
I have to say, I love that the display is flat. Curved displays are frankly annoying, and it's the biggest gripe I have with my Note 20 Ultra. The flat display on the S22 is surprisingly refreshing because that means no more accidental touches that would pull me out of whatever I'm doing on my phone. I'm also impressed by the incredibly small yet symmetrical bezels that, frankly, are hardly noticeable. Aside from the hole-punch selfie camera, the flat, nearly bezel-less display creates a very immersive experience when watching videos.
The display also houses the in-display fingerprint sensor, which works very well. Unlike a certain Google phone, it's very fast and responsive. All in all, you won't be disappointed with this display.
That said, I might recommend throwing on one of the best Galaxy S22 screen protectors. While I'm not particularly rough with my phone, I've noticed after a few months of use that the display has received some unsightly scratches across the display, particularly around the selfie camera. I feel like this is typical wear and tear for a smartphone, but it can be easily minimized or avoided completely with a screen protector.
They're not too prominent, and the display hasn't cracked once, but I also can't imagine what caused the display to get scratched up like it has when I normally keep it in a pocket clear of any other items.
Samsung Galaxy S22: Software and performance
The Galaxy S22 was launched out of the box, running One UI 4.1 based on Android 12. However, it has since been updated to One UI 5 based on Android 13 in many regions, bringing a host of new features and UI enhancements. You won't really notice many visual changes from Android 12, which is fine for me as the software was already pretty great. However, I do appreciate that notifications are even more condensed to save space, and the added Material You dynamic color selections are pretty nice.
Smart Widget on Android 12 was one of my favorite features, letting you create a carousel of widgets without crowding your home screen. The feature has received a slight upgrade with One UI 5 and is now called Smart Stack, which does more or less the same thing, except now you can create multiple stacks on a home screen. That way, you can have one stack focused on essentials, another on music apps, and so on. You can swipe through different widgets depending on what you need, or the widget will auto-rotate itself based on what might be relevant at the time.
For example, when I listen to music with the Samsung Music app, the widget will automatically show me the player if I have it enabled in the carousel. It will also pop up relevant calendar events that you may have coming up, which is quite handy. It's kind of like Samsung's version of the At a Glance widget on the Pixel, although it's much more akin to the Smart Stack widget on iPhones.
Samsung has also made improvements to the camera app, making it easier to zoom in and out or add a watermark to images. The new Camera Assistant module gives you even more settings to adjust your camera to your liking. Samsung also included new features for the Expert RAW app, like a dedicated Astrophoto mode that's actually pretty cool to use.
The Gallery also gets some nice improvements, like the addition of the Recents album, which is a nice space to see all the images recently captured or saved to your device. The software is now able to recognize text within an image, and with a tap, you can select and copy the text if you need to search or translate something.
Of course, my favorite Gallery features are still here, such as Samsung's Object Eraser. It's similar to the Magic Eraser on the Pixel series, using AI to remove unwanted elements from images. On the Galaxy S22, Samsung has a couple of additions called Reflection Eraser and Shadow Eraser. I tested Object Eraser on some old photos and ended up quite surprised at how well the results came out.
Overall, the software is pretty on-point, and while it brings a bunch of small updates, One UI 5 (Android 13) nicely refines software that already felt pretty mature. Be sure to check out our One UI 5 review for our thoughts on the new update, which is currently rolling out to more and more Samsung smartphones.
I'd be remiss not to mention the fact that Samsung promises four OS upgrades for the Galaxy S22 (we're already one down) in addition to five years of security updates. That's seriously impressive, considering Google couldn't match that for its latest Pixel 6 or even the latest Pixel 7. That means you can hold onto the Galaxy S22 for years to come while still getting the latest features up to Android 16.
Samsung already offers fast updates for its smartphones, often ahead of the Pixels, so the fact that it's extending its software support is pretty awesome.
For the most part, the overall experience is generally what you should expect from a flagship Samsung smartphone, and thanks to the Snapdragon 8 Gen 1, everything runs very smoothly. I haven't noticed any jitters while navigating the UI, and with just 8GB of RAM, the Galaxy S22 seems to be able to handle anything I throw at it. I'll often forget to close a lot of apps, but fortunately, the phone doesn't seem to mind, even while playing a video in picture-in-picture mode, juggling between apps, or even when playing games. In fact, despite reports of throttling earlier this year, the Galaxy S22 has always handled games much better than my Pixel 6 Pro despite having less RAM.
That said, when playing graphically intensive games like Genshin Impact, GYEE, or NieR Re[in]carnation, the phone does get quite a bit warm. Sometimes I won't even have to play games, and I'll just be juggling through apps or watching videos, and I'll often notice the phone getting hot.
Other phones I've reviewed or used this year, like the Moto G Stylus 5G (2022), have not gotten nearly as hot when playing these same games. Throttling may no longer be a problem, but thermal issues still remain, whether it's due to the chipset or Samsung's own thermal management. That said, wearing any of the best Galaxy S22 cases seems to mitigate the issue. Still, given that Samsung has opted for a glass back on the base Galaxy S22, you may want to be wary of your gaming time on this phone, especially if you want to make your battery last.
Samsung Galaxy S22: Battery
While my experience with the Galaxy S22 has been mostly positive, I can't say I've been too impressed by the battery life. I start my days pretty early — around 5 a.m. — and I'll notice the phone will be on its last legs by noon. Between charges, I'll average somewhere around 4-ish hours of on-screen time, which isn't fantastic. I'm often surprised at how quickly the phone will get down to 15% battery life on a day of average use. That includes streaming on YouTube Music, juggling between social media and messaging apps, snapping a few pictures, about half an hour of mobile gaming, and light swiping through Tinder or Bumble BFF.
Granted, you may be able to squeeze out more battery life if you omit some gaming or doomscrolling on Twitter, but frankly, that shouldn't be the case. Plenty of people seemed concerned about battery life given the smaller 3,700mAh battery, a downgrade compared to the 4,000mAh battery on its predecessor. I initially brushed off these concerns going into my review, but I do see how it's a bit problematic.
If I'm going to spend flagship money on a smartphone, I should get flagship performance with battery life that can keep up. Instead, I haven't been able to get through a full day on a single charge in my use.
You may fare better with the Galaxy S22 Plus, which has a larger battery and faster 45W charging. The Galaxy S22 charges at 25W, which is nothing to write home about compared to some of the best Android phones on the market. However, it charges relatively fast given the battery size, and I often find myself surprised at how quickly it tops up. That said, it would be cool to see Samsung toying with OnePlus levels of charging speeds, at least.
Samsung Galaxy S22: Cameras
Samsung took a slightly different approach to the camera setup on the Galaxy S22. Instead of the tried and true 12MP primary camera from its predecessor, Samsung went with a new 50MP sensor, capable of capturing more light for better daytime and nighttime photography. Photos from the primary sensor are good, although nothing to get too excited over. I do enjoy how the camera reproduces colors, which appear slightly on the warmer side, but with plenty of vibrancy without being oversaturated.
The 12MP ultrawide angle camera manages to keep up with the primary sensor, and images seem to match up nicely between the two sensors. This is nice to see since the ultrawide sensor tends to be a bit of an afterthought for OEMs. That said, I'm not as impressed with the 10MP telephoto sensor, which Samsung downgraded from the 64MP sensor on the S21. It's decent enough in certain situations, but colors don't reproduce quite as well. Although you might get a good shot sometimes, depending on the conditions, the new telephoto lens is less consistent overall.
Nighttime shots are surprisingly good, even without Night Mode turned on. This applies to video as well, as there was little noise when recording in 4K in low-light conditions.
Image 1 of 21
Throughout the first half of the year, I juggled camera responsibilities between the Galaxy S22 and the Google Pixel 6 Pro. While the former is Samsung's entry-level flagship and the latter is Google's "premium" flagship, both phones offer triple camera setups with wide, ultrawide, and telephoto lenses, making them easy to compare.
The below image was taken from the primary cameras, both 50MP. The Galaxy S22 images appear bright and plenty vibrant, with highlights punched up a bit but good overall color balance. The Pixel 6 Pro, on the other hand, has a lot more contrast and detail, and the clouds are more easily discernible.
This next image uses the telephoto lenses of both phones. The Galaxy S22 has a 3x zoom lens, while the Pixel 6 Pro uses a 4x zoom. In my regular use of both phones, I rarely ever deviate from the preset zoom levels, so I did not change them here either.
Once again, the Pixel 6 Pro shows more contrast, particularly when you look at the orange on the Space Needle, which is much brighter in the Galaxy S22 shot. However, the Galaxy S22 image appears a bit cooler in comparison, which I definitely prefer here.
As mentioned before, ultrawide sensors are often an afterthought for smartphones, but both the Galaxy S22 and Pixel 6 Pro appear to take them seriously enough. In the below image, you'll notice that the Pixel has a bit more detail in the trees and the clouds, whereas the Galaxy image is a bit softer with a slightly greener tint.
This next image appears a bit washed out on the Galaxy S22, while the Pixel evens everything out, making the pillars much clearer. This is one example of when the Pixel's punched-up contrast works in its favor and isn't too over-the-top.
While the Pixel is often regarded as the low-light king, I think the Galaxy S22 handles indoor and nighttime images a lot better, as the image appears to have more dynamic range, brightening up the shadows and revealing a bit more detail.
With Night Mode turned on, things are a bit of a mixed bag on both phones. The Galaxy has plenty of detail, although the trees are still too dark, and there's some flaring around the lights. Meanwhile, the Pixel punches up the warmth, and the bell tower is much clearer, but the trees are a bit too bright.
Lastly, the Galaxy S22 shows that it might be the true low-light king in this next image. The scene was incredibly dark, but I kept Night Mode off for this shot. Surprisingly, the output from the Galaxy was a lot better than what I got from the Pixel, which didn't even seem to try to brighten up the image at all.
I also took some comparison shots with the Pixel 7 and found the results to be largely the same, although the Pixel lacks a dedicated telephoto lens. Still, the phone held up fairly well in all conditions. You can see more on how the two phones stack up in our Galaxy S22 vs. Pixel 7 comparison.
My main gripe with the Galaxy S22 camera is the time it takes between pressing the shutter button and the actual image being captured is too long. This can be quite inconvenient when trying to capture a quick moment, with the subject often coming out blurry or the camera missing the moment entirely. That said, I do enjoy how consistently bright images are, meaning I can rely less on Night Mode for low-light images.
The Galaxy S22 takes respectable selfies, even at just 10MP, and I especially like the Portrait selfies. There's also a fun "Director's View" mode that lets you preview all the cameras simultaneously and switch between them. You can even include a window for the selfie camera while you're recording.
Expert Raw is another interesting feature in Samsung's camera arsenal, something for users that like to really take control of their photography settings instead of relying on AI. I haven't played around with it much because I am not a master photographer, but it seems focused on capturing only RAW images and has a cool shortcut to Adobe Lightroom, so you can edit with ease.
Samsung Galaxy S22: Competition
The brand new Pixel 7 is a force to be reckoned with, thanks to its sleek design. It is powered by Google's latest Tensor chip for improved AI capabilities and better camera performance. It also gets an upgraded selfie camera for crisper selfies and face unlock, which is pretty handy. That said, you're dealing with a much slower fingerprint sensor, inferior display specs, and no dedicated telephoto lens. You are paying less for the Pixel, so you have to decide if the shortcomings are worth it.
If you want something a little larger and faster, the OnePlus 10T is a great option. It has a great set of cameras, a newer flagship chipset with faster performance and better efficiency, and a fantastic design. Plus, OxygenOS has plenty of helpful software additions to get the best out of the phone. Not to mention, it has a much larger battery than the Galaxy S22, and charges much faster at a whopping 150W (125W in the United States). It's also cheaper, starting at just $649. However, it lacks a telephoto camera and opts for a macro sensor, the display isn't as sharp, there's no wireless charging, and OnePlus software may not be your cup of tea.
The new Motorola Edge (2022) is a surprisingly good phone that sits somewhere between mid-range and flagship. It's powered by a MediaTek Dimensity 1050, has a large 6.6-inch OLED display with a 144Hz refresh rate, and comes with a 5,000mAh battery to keep it going throughout the day and then some. However, given Motorola's reputation, you won't get nearly as many software updates. The cameras are also decent at best, and the device doesn't look or feel as premium.
Samsung Galaxy S22: Should you buy it?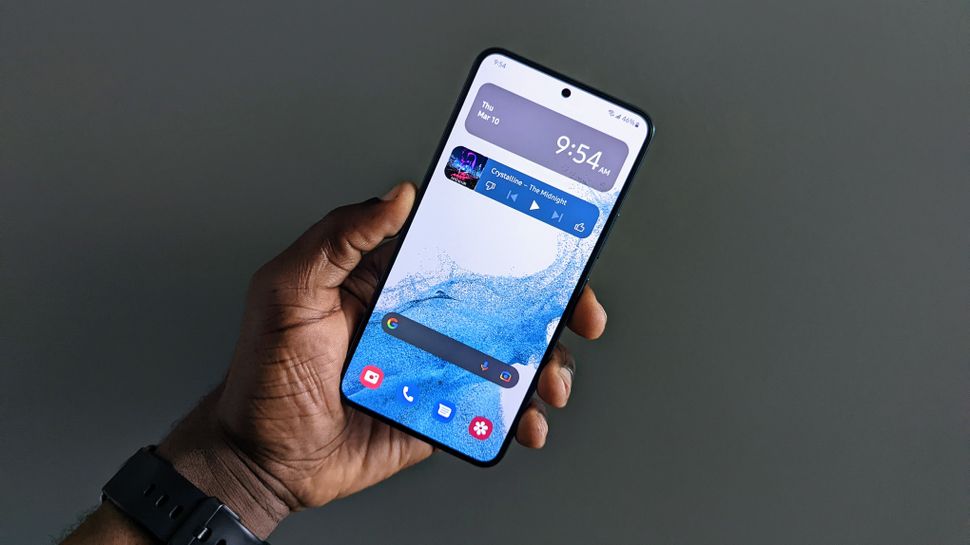 You should buy this if...
You want a flagship smartphone with great cameras
You prefer smaller phones that can fit in your hand or pocket
You want great software support
You shouldn't buy this if...
You prefer large displays
You don't want to worry about charging your phone often
You absolutely need microSD card support
The bottom line with the base Galaxy S22 is that big things come in small packages. While not packing the most impressive specs, it manages to provide excellent performance that should be more than enough for anyone interested in a smaller flagship smartphone.
Not too much has changed between the Galaxy S22 and its predecessor, especially regarding design, but that's okay. Samsung chose to launch the Galaxy S22 as a refinement of an already excellent smartphone, and that shows in several aspects of the device, from the design to the cameras, which provide excellent output. And thanks to the extended software support, Samsung is banking on you owning the Galaxy S22 for years to come.
Of course, battery life is something to consider if you're planning on making this your daily driver. Samsung curiously decided to lower the battery capacity on the S22, so battery life is not this phone's strong point. you may want to consider that if you're looking to buy a new phone. Additionally, there's no microSD support here, so you may want to spring for the more expensive 256GB variant.
That said, if you can get past the battery concerns and the lack of expandable storage, I find the Galaxy S22 to be a pretty solid smartphone. Even with the Pixel 6 Pro on hand, I still prefer to have the Galaxy S22 as my daily driver.
See here for more information on how we test and review our phones.
Small, but mighty
The Galaxy S22 may be small, but it packs a lot of power thanks to the new Snapdragon 8 Gen 1 chipset. This makes multitasking a breeze, and the triple camera setup is just as impressive with the new 50MP primary sensor. If you're going to pick this up, green is definitely the color you should go for.
Review changelog
This review was originally published on April 20, 2022. It was last updated on November 23, 2022, with the following changes:
Updated the software section with details on the One UI 5 (Android 13) update.
Added a comparison image with the Pixel 7 in the camera section.
Swapped out two of the phones in the competition section for the Pixel 7 and Motorola Edge (2022).
This review was updated on August 26, 2022, with the following changes:
Updated the main image
Included information about the One UI 5 (Android 13) beta in the software section
Switched the OnePlus 10 Pro for the OnePlus 10T in the competition section
This review was updated on June 20, 2022, with the following changes:
Expanded camera section with comparison images from the Pixel 6 Pro
Updated some of the camera samples in the gallery with new images
Switched the Pixel 6 for the Pixel 6 Pro in the competition section
This review was updated on June 9, 2022, with the following changes:
Updated the display section and included a new image
Added additional information to the Software and performance section regarding my experience with the Object Eraser and expanding on thermal issues
Updated the Competition section, which now includes the OnePlus 10 Pro and RedMagic 7