Bottom line: The Note is back! This time, with a different name. The Galaxy S22 Ultra is the cutting-edge phone you expect from Samsung, with incredible cameras, super-fast charging, a gorgeous display that's easier to see in sunlight, and the return of the S Pen. It's hard to overlook the fact that the price actually went up compared to last year, there's no 45W charger in the box, and the camera still struggles with some moving subjects.
For
Substantial camera improvements
It's literally a Galaxy Note
The S Pen now has a home
Stunning display and performance
45W charging
Software updates for five years
Against
No charger in the box
Camera has a hard time with some moving subjects
Least expensive version is a downgrade from last year
When rumors began to fly of Samsung's exclusion of the Galaxy Note line from its release schedule, many scratched their heads. The Note has been incredibly popular and has been responsible for pushing larger screens and the resurgence of the stylus in modern devices. It's a triumph, any way you slice it.
Enter the Galaxy S22 Ultra, a dead ringer for what should have been the return of the Galaxy Note series.
To me and, I presume, several others, this branding is very confusing. By all accounts, there was no reason for Samsung to do what it did. It could have just as easily released the Galaxy S22 Ultra as the Galaxy Note 22, and it would have made far more sense. The design is significantly different from the rest of the S22 family, and it's clearly derived from the Galaxy Note 20 Ultra's design.
Just as you would expect from a Note, the Galaxy S22 Ultra pushes the boundaries of specs for a mobile phone. A cutting-edge display, incredibly powerful processor, substantially improved cameras, and even an S Pen inside the body. This is the phone Note enthusiasts have waited for.
But that last thought precisely precludes the S22 Ultra's audience. This is an enthusiast's phone at an enthusiast's price. Samsung tried to hide the price increase by offering a model with 33% less RAM and storage, but the price for a phone that's specced more comparably to last year's S21 Ultra is $100 more.
Is the Galaxy S22 Ultra worth it? Find out in our Galaxy S22 Ultra review.
Samsung Galaxy S22 Ultra: Price and availability
Samsung made an interesting decision with the least-expensive Galaxy S22 Ultra, which starts at $1,199 and offers just 8GB of RAM and 128GB of storage. That's the same launch price as the Galaxy S21 Ultra but with 33% less RAM.
The remainder of the Galaxy S22 Ultra models offer 12GB of RAM and additional storage. The Galaxy S22 Ultra with 12GB of RAM and 256GB storage sells for $1,299, while Samsung offers additional configurations with 512GB and 1TB of storage for $1,399 and $1,499.
The Galaxy S22 Ultra is available in four colors from retailers and carriers: Phantom Black, Phantom White, Green, and Burgundy. Three additional colors can only be obtained by ordering the phone from samsung.com: blue, red, and gray. You can preorder the Galaxy S22 Ultra right now and should expect to receive it on or around February 25.
Samsung Galaxy S22 Ultra: Hardware and design
If you've ever used a Galaxy Note 20 Ultra, you'll know exactly what to expect here. Except for a few extremely minor tweaks to the size — and, of course, those cameras on the back — the Galaxy S22 Ultra looks and feels identical to the Note 20 Ultra. That's good since this phone is the proper successor to that device, and anyone who upgrades will feel immediately familiar with it.
Category
Galaxy S22 Ultra
Operating System
Android 12 with One UI 4.1
Chipset
Snapdragon 8 Gen 1
Display size
6.8-inches Edge, Dynamic AMOLED 2x, 3088 x 1440
1-120Hz refresh rate, 240Hz touch sampling (game mode)
Frame
Gorilla Glass Victus+ front and back, Armor Aluminum frame
Memory
8GB or 12GB
Storage
128GB, 256GB, 512GB, 1TB
Expandable Storage
No
Rear Camera
108MP, ƒ/2.2, 0.8μm, (85-degree wide-angle)
12MP, ƒ/2.2, 1.4μm (120-degree ultra-wide)
10MP, ƒ/2.4, 1.12μm, 3x optical zoom (telephoto)
10MP, ƒ/4.9, 1.12μm, 10x optical zoom (telephoto)
Front Camera
40MP, ƒ/2.2, 80-degree wide-angle
Battery
5,000mAh
45W Fast Charging
15W Wireless Charging
4.5W reverse wireless charging
Security
in-display ultrasonic fingerprint scanner (4x9 mm size)
Wireless
Bluetooth 5.2, 5G, Wi-Fi 6E
Dimensions
163.3 mm x 77.9 mm x 8.9 mm
Weight
229g
Water and dust resistance
IP68
Colors
Phantom Black, Phantom White, Green, Burgundy
Samsung.com exclusive: Red, Blue, Grey
For me, this design is less comfortable to use than the regular S22. I think it's a step back from the S21 Ultra, with its lovely curves that make it more pleasant to hold, especially one-handed.
As someone who has owned multiple Galaxy Note devices over the years, I've never liked the boxier design the series took on, beginning with the Note 10. I was happy to see the S21 Ultra get S Pen support last year because it meant a more rounded-off phone had S Pen support.
Too bad that was fleeting.
In short, 90-degree angle phone corners are not something I enjoy using day-to-day.
Image 1 of 7
The phone itself is rather heavy at 229g — that's the same weight as the S21 Ultra — and the fogged glass back and perfectly rounded edges mean this one is super difficult to hold onto in colder or less humid weather.
Samsung outfitted the S22 Ultra with Gorilla Glass Victus+ — a first for any phone — and it seems to do an admirable job of keeping scratches and scuffs at bay. In the image above, I had thought I scratched up the back pretty noticeably. Thankfully, removing the scratches was as simple as wiping the back of the phone with a microfiber cloth. However, it's still worth considering picking up a good screen protector if you're worried about damaging your display.
But there's no getting around how terrible this camera module design is. Those five massive cameras — all of which protrude from the back of the phone a few millimeters — toss the phone off balance when laid down on a table. Many modern phones wobble because of their off-center camera modules, but this one is particularly annoying because it makes note-taking on a flat surface more difficult than it should be.
Since the S22 Ultra has no interlocking metal contour as the rest of the S22 family has, those camera modules are going to attract every little bit of dust, lint, and hair that your pockets can gather.
It wouldn't be so bad if they were easy to clean off. As it stands, the only way I could remove all the dust was to wash the thing off, and usually, drying it reintroduced dust even if I used a microfiber cloth. It's maddening.
I also find the Galaxy S21 and S22/S22+'s metal contour design around the camera very attractive. The disconnected lens design of the S22 Ultra is both uglier and less distinctive. Overall, I'm not a huge fan of this phone's design.
If this will drive you as crazy as it makes me be sure to get one of the best Galaxy S22 Ultra cases (opens in new tab). Personally, I prefer the matte black CaseBorne ArmadilloTek S case, and Smarter's Wallet Slayer case will make the S22 Ultra an even more all-in-one solution, all while making it more comfortable to hold.
Samsung Galaxy S22 Ultra: Display and S Pen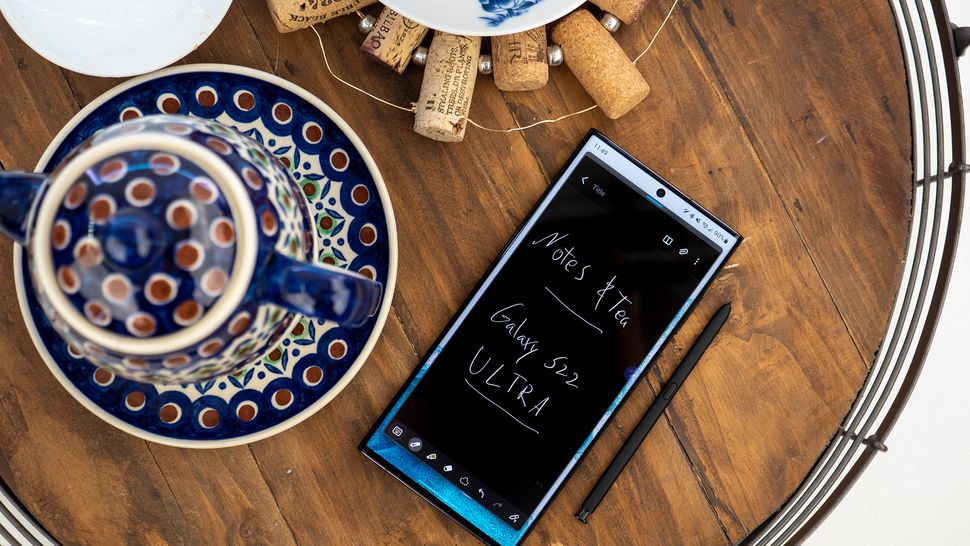 While the design isn't my favorite to hold, it's certainly conducive to housing the S Pen inside. Given there's little difference in the size of the S22 Ultra compared to the S21 Ultra — that's 2 mm shorter and 2 mm wider — it's impressive to see Samsung somehow got an S Pen to fit inside.
The S Pen itself has also been improved, with a lovely matte finish that makes it far easier to hold onto than previous Note S Pen models. It's still the same tiny little pen though, so don't expect something massively redesigned or even particularly comfortable for larger hands.
Samsung was able to reduce the latency down from 9 ms on the S21 Ultra to 2.8 ms on the S22 Ultra. In short, that means that the S Pen now feels even closer to writing with an actual pen on paper, as it only takes 2.8 milliseconds to draw from the moment you place the pen on the display. Tshaka illustrates this nicely in our video review in his slow-mo comparison (opens in new tab) between the S22 Ultra and the Note 20 Ultra.
The rubber tip of the pen feels phenomenal and even less like glass than I recall in the past. While the S Pen software is all the same as previous S Pen-enabled devices, the hardware got some noticeable improvements that make the difference.
Hardly a year goes by when Samsung doesn't improve something about its smartphone displays. While this is still an Edge curved display — which will surely irritate some people and makes writing notes more difficult — the rest of the display has been further improved.
It might retain the same WQHD+ resolution and 120Hz refresh rate as last year's Galaxy S21 Ultra, but this year's LTPO tech lets the device drop to as low as 1Hz when static images are displayed on the screen. That puts Samsung on par with OnePlus and Apple's 120Hz displays, all of which are supplied by Samsung, anyway.
Refresh rate changes are all done dynamically and are based on what's happening on screen. If you prefer the best battery life over the prettiest display, it's easy to lock the refresh rate to 60Hz at all times in the settings.
Samsung's gaming toolbox even lets you lock the framerate at 48Hz for games, giving you a decent balance between relatively smooth gameplay and better battery life while playing.
Two additional new display technologies are also packed inside the Galaxy S22 Ultra: Vision Booster and blue light b