Google Pixel 8 hands-on: The AI powerhouse phone
Google is leveraging its expertise in AI and packing it into the Pixel 8 series.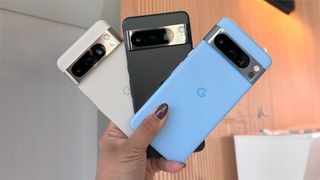 (Image credit: Shruti Shekar / Android Central)
Pixel phones rank among the most anticipated devices with Android enthusiasts every year for a reason. Google's own devices have been the tech community's mainstay for eight generations, and the Pixel 8 is undoubtedly the best, most polished entry yet.
Debuting in new colors with refined designs at the Made By Google 2023 event, the Google Pixel 8 and Pixel 8 Pro are gorgeous devices that feel incredible to hold and use. The new Tensor G3 features important upgrades over last year's Tensor G2, including more processing power, better battery efficiency, and, hopefully, a cooler design.
And it looks like Google isn't messing around regarding AI this year. The Pixel 8 is packed with more AI features than any Pixel before it — many of which are exclusive to the new hardware — and these aren't silly gimmicky features, either.
They have the potential to completely transform how people take pictures and videos and even how we use our phones every day. It's great to see Google truly leveraging its AI prowess in a way no other company can on its own devices.
In fact, I was surprised by the number of features that are exclusive to the Pro model. Likely, Google is doing this because the larger form factor of the Pro allows for better thermal management, but I have a feeling some of it is because the Pro is the more expensive model.
Google is keeping the Pro camera mode, improved Magic Eraser with generative AI built-in, enhanced Recorder app that can make summaries of transcriptions, and a handful of other features only available on the Pixel 8 Pro, not the smaller Pixel 8.
And while the Pixel 8 series is seeing a $100 increase in price year-over-year, there's a good reason for it. Aside from general hardware improvements, Google is promising a whopping seven years of Android updates, feature drops, and security updates. That's unheard of in the world of Android — excluding the Fairphone 5, of course — and should be a lesson for other companies to follow.
Packed with camera features
As we've come to expect from any good Pixel phone, the Pixel 8 and Pixel 8 Pro feature cutting-edge cameras that exceed even the lofty expectations we have for Pixel phones. All of that begins with new hardware, which gives way to plenty of new software tricks.
Google is directly addressing the issue of video quality on Pixel phones in many ways this year by offering better stabilization, better color accuracy and less noise in lower light, and wider dynamic range in all situations. Some of this comes from the new sensors, which include a brand new 50MP main sensor on both phones that brings in 21% more light than the Pixel 7 series' main camera.
The Pixel 8 Pro gets an upgraded 48MP ultrawide camera that brings in 105% more light than the one on the Pixel 7 series. The Pixel 8 retains a 12MP camera like last year, but it also takes in more light. Plus, the ultrawide camera now has a 125.5-degree field of view, autofocus, and doubles as a macro camera on both phones.
Image 1 of 4
The Pixel 8 Pro also has a 48MP telephoto camera with 5x optical zoom, and that new camera also brings in 56% more light than the Pixel 7 Pro's telephoto camera. The Pixel 8 Pro now features autofocus on its selfie camera as well.
The additional "pro" camera hardware — a word Google used a lot in its presentation to describe the Pixel 8 Pro — makes way for a new exclusive Pro mode on the camera that enables the manual controls people have wanted on Pixel phones since the inception of the series. Yes, that even includes full JPG and RAW image support from all cameras.
Thankfully, that seems to be the only Pixel 8 Pro exclusive feature, so regular Pixel 8 users can also enjoy new features like Best Take, Magic Editor, Audio Magic Eraser, Real Tone for video, Video Boost, and Night Sight videos.
Google says the new Video Boost feature will deliver "the best smartphone video quality you've ever seen" using a combination of on-device processing and cloud computing. This feature isn't on by default, so you'll need to choose Video Boost in an individual video after capturing it. This will send the video to the Google Cloud for processing, which could take "a couple of hours."
Among the many features Google is adding to the Pixel 8 series, Best Take might be my favorite. When snapping multiple photos of the same group of people, Best Take will allow you to swap out faces in a photo with the same person's face found in subsequent shots. This should make group photos a lot nicer looking, as it won't matter if everyone is smiling (or not blinking) in one single shot.
Best Take doesn't work for pets at this time but Google says you can always choose the photo with the best-looking pet first and swap the human faces as a workaround.
Image 1 of 2
Sticking with the AI theme, Magic Editor will let you use generative AI to quickly and easily reposition and resize subjects in photos. Just select a subject and move them around as needed, and Google AI will fill in the rest, similar to how Magic Eraser worked to remove objects from a photo.
Image 1 of 3
Audio Magic Eraser is the final new tool and can be used to remove distracting sounds in videos by automatically sorting identified sounds into different layers. Hit edit on the video, head to the audio tab, and boost or lower the audio on any layer you want. Google says this works best for constant noises like traffic, crowds, or even wind.
AI at the forefront
The new Google Tensor G3 inside the Pixel 8 and Pixel 8 Pro is built to "push the boundaries of on-device machine learning." The Tensor G3 includes a next-gen TPU, the latest generation ARM CPUs, a more performant GPU, a new ISP, and even a new DSP.
Plus, Google says it's working on getting generative AI running on Tensor G3 so that many of these new features can be used without a cloud connection in the future. For now, though, Google says most new AI-based features are processed with a mix of on-device and cloud-based processing.
Google Assistant is getting a major new update on the Pixel 8 series, starting with natural conversations. This gives you the ability to naturally pause and think for a moment when talking to Assistant without issuing the command early — or issuing the wrong command entirely.
Google is including support for more voice typing languages, and Assistant can now read aloud and translate web pages on the fly when you ask it. Plus, Assistant can utilize the power of Google Bard and deliver web page summaries complete with bullet points. That feature is currently cloud-based but will be fully processed on-device later this year.
Gboard can now proofread your messages with a single tap, highlighting any spelling or grammar mistakes and making suggestions. It only works with U.S. English for now, but Google will be expanding to other languages in the future.
Call Screen is also getting an upgrade featuring a more natural voice, "better spam filtering," and even the ability for Google Assistant to deliver contextual replies during a conversation. That's similar to how contextual responses in Android work, and Assistant will deliver suggested responses based on your conversation.
Folks who need vision impairment assistance will find the new magnifier app and Guided Frame updates particularly helpful. Guided Frame now allows Assistant to read documents instead of just working on selfies, letting you use the Pixel 8's camera to read documents and signage aloud.
Hardware improvements and more
In addition to an upgraded Tensor G3 chipset, Google is making several other hardware refinements and improvements that are surprisingly exciting. The Pixel 8 certainly maintains the overall look of the Pixel 6 and 7 series but softens things up a bit with more rounded corners.
Swipe to scroll horizontally
| Category | Google Pixel 8 | Google Pixel 8 Pro |
| --- | --- | --- |
| OS | Android 14 | Android 14 |
| Display | 6.2-inch Actua display, 120Hz AMOLED (2400x1080), HDR10+, 2000 nits, Gorilla Glass Victus | 6.7-inch Super Actua display, 120Hz LTPO AMOLED (2992 x 1344), HDR10+, 2400 nits, Gorilla Glass Victus 2 |
| Chipset | Google Tensor G3, Titan M2 security module | Google Tensor G3, Titan M2 security module |
| RAM | 8GB LPDDR5X | 12GB LPDDR5X |
| Storage | 128GB/256GB UFS 3.1 | 128GB/256GB/512GB, 1TB (US) |
| Rear camera 1 | 50MP f/1.68, 1.2um pixels, PDAF, OIS, 4K at 60fps | 50MP f/1.68, 1.2um pixels, PDAF, OIS, 4K at 60fps |
| Rear camera 2 | 12MP f/2.2, 1.25um pixels, 125-degree wide-angle | 48MP f/1.95, 0.8um pixels, 125.5-degree wide-angle with autofocus |
| Rear camera 3 | N/A | 48MP f/2.8, 0.7um pixels, OIS, 5x optical zoom |
| Front camera | 10.5MP f/2.2, 1.22um pixels, wide-angle | 10.5MP f/2.2, 1.22um pixels, wide-angle |
| Connectivity (US, CA, UK, AU) | Wi-Fi 7, Sub-6 5G (mmWave in US), Bluetooth 5.3, NFC, AptX HD, USB-C 3.2 | Wi-Fi 7, Sub-6 5G (mmWave in US), Bluetooth 5.3, NFC, AptX HD, USB-C 3.2 |
| Connectivity (TW, SG, IN) | Wi-Fi 6, Sub-6 5G, Bluetooth 5.3, NFC, AptX HD, USB-C 3.2 | Wi-Fi 6, Sub-6 5G, Bluetooth 5.3, NFC, AptX HD, USB-C 3.2 |
| Ingress Protection | IP68 dust and water resistance | IP68 dust and water resistance |
| Security | In-screen fingerprint module, face unlock | In-screen fingerprint module, face unlock |
| Audio | Stereo sound, USB-C | Stereo sound, USB-C |
| Battery | 4575mAh, 30W wired charging, 20W wireless charging, 5W reverse wireless charging | 5050mAh, 30W wired charging, 20W wireless charging, 5W reverse wireless charging |
| Dimensions | 150.5 x 70.8 x 8.9mm, 187g | 162.6 x 76.5 x 8.8mm, 213g |
| Colors | Obsidian, Hazel, Rose | Matte Black, Porcelain, Bay |
The Pixel 8 Pro even features a soft touch matte back glass, which feels a lot nicer than shiny glass. It's actually really surprising how much of a difference this makes, but the phone feels significantly higher quality because of it. The smaller Pixel 8 is, unfortunately, still a shiny fingerprint magnet.
The camera bar and rails are still polished, but a big surprise awaits seasoned Pixel users around the front: a completely flat display.
Google seems to have listened to feedback and got rid of the rounded sides on the Pro's display, making it easier to find a good Pixel 8 Pro screen protector.
The Pixel 8 Pro's display is the same 6.7-inch size and uses LTPO OLED technology for a 1-120Hz variable refresh rate. Plus, it's rated at 2,400 nits of peak brightness, significantly eclipsing the brightness of any Pixel phone before it — and even flagships like the Samsung Galaxy S23 Ultra.
The Pixel 8's display is a little smaller than last year's Pixel 7, coming in at 6.2 inches, and it uses a 120Hz OLED display. Plus, Google says it's 42% brighter than the Pixel 7, with a maximum of 2,000 nits of brightness. Google says both displays have been tweaked for maximum color accuracy, vibrancy, and clarity.
Image 1 of 4
But Google wouldn't talk about the PWM rates of the displays or what they plan to do for folks sensitive to PWM dimming.
Modern ultra-bright OLED displays often flicker to "dim" the display instead of actually reducing the voltage, and Google has long used the same low PWM refresh rates as Samsung, which can make sensitive users feel sick. Google has been good at catering to many disabilities in the past, and I'm hoping they consider this one soon.
Google is launching two new safety and health features with the Pixel 8 series: object temperature sensing and biometric face unlock.
The new temperature sensor is located on the back in the camera bar, and Google says it's designed to measure the temperature of objects — a cup of tea or a cold metal surface, for instance. While it can be used to measure a person's temperature, Google hasn't yet received FDA approval for this feature. Still, any personal temperatures taken can be saved to the Fitbit app.
Image 1 of 7
And that new biometric face unlock is interesting if for no other reason than the fact that it still uses a single front-facing camera, yet, it is considered the "highest biometric class" in Android and can now be used for payments. Google says a mix of machine learning and Tensor's processing allow for this new level of security.
Google has certainly solved its fingerprint sensor issues over the years — and the Pixel 8's is the best one yet — but it's nice to have additional options if you want them.
While the Pixel 8 initially appeared to be a largely iterative update in the initial leaks, Google has proved that it can still substantially improve its iconic phones year over year. That's particularly great since more people than ever now have a Pixel phone, and, based on my time with these two new Pixels, I think that trajectory will only continue.
Preorder now
The Google Pixel 8 and Pixel 8 Pro are available for preorder starting October 4, 2023, with general availability to follow on October 12, 2023. For the first time ever, every Pixel 8 phone includes seven years of Android updates, feature drops, and security updates, making the Pixel 8 the longest-supported flagship Android smartphone on the market.
The Pixel 8 retails for $699 and includes 128GB of storage, but you can upgrade to 256GB of storage for an extra cost. If you preorder at the Google Store, Google is including a free pair of Pixel Buds Pro with every Pixel 8. The Pixel 8 comes in Black, Hazel, and Rose colorways.
The Pixel 8 Pro retails for $999 and includes 128GB of storage but you can upgrade to 256GB, 512GB, or 1TB of storage for an extra cost. Google is including a free Pixel Watch 2 with every Pixel 8 Pro when you preorder from the Google Store. The Pixel 8 Pro ships in Black, Porcelain, and Bay (blue) colorways.
In North America, both phones are available in the U.S. and Canada. European availability includes Austria, Denmark, France, Germany, Ireland, Italy, Netherlands, Norway, Portugal, Spain, Switzerland, Sweden, and the U.K. It'll also be available in Australia, India, Japan, Singapore, and Taiwan.
Sign up for Black Friday email alerts!
Get the hottest deals available in your inbox plus news, reviews, opinion, analysis and more from the Android Central team.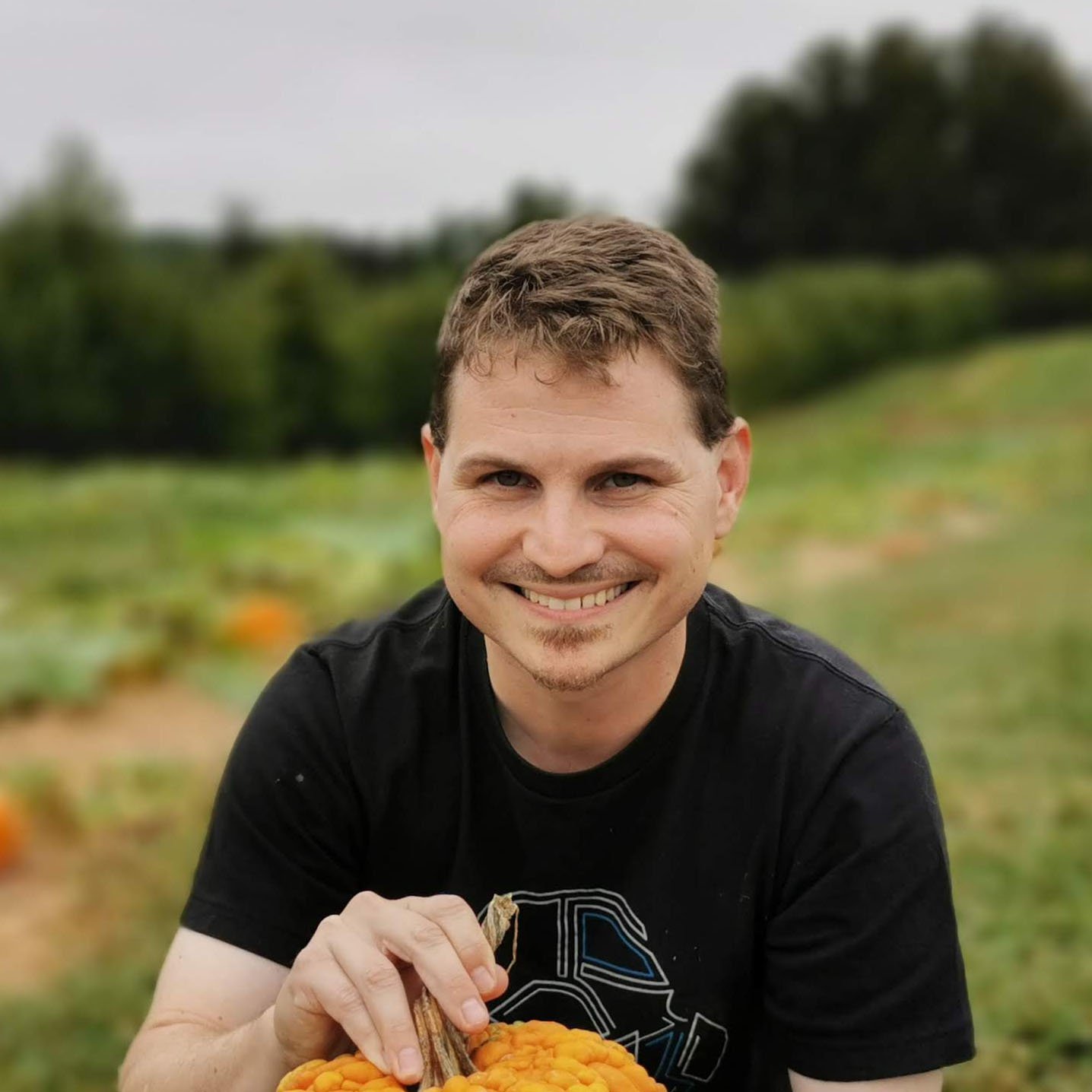 Senior Content Producer — Smartphones & VR
Nick started with DOS and NES and uses those fond memories of floppy disks and cartridges to fuel his opinions on modern tech. Whether it's VR, smart home gadgets, or something else that beeps and boops, he's been writing about it since 2011. Reach him on Twitter or Instagram @Gwanatu
What about PWM display flicker rate?

Reply