Google Pixel 8: Everything we know and hope to see
Tensor G3, revamped cameras, shrunk and flattened displays, and every other rumored change to the Pixel 8 Pro and Pixel 8.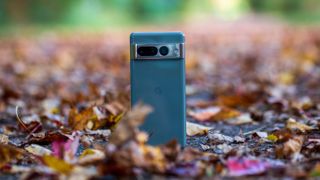 (Image credit: Andrew Myrick / Android Central)
The Pixel 7 and Pixel 7 Pro won our hearts last year with their unique designs, excellent software, and refining tweaks that made them more reliable than the Pixel 6 series. While plenty of people eagerly await the Pixel Fold launch in late June, other Pixel fans have already shifted their interest toward Google's next two slab phones.
Even though we probably won't see the Pixel 8 and Pixel 8 Pro until late October, leaks have already given us some intriguing information about these two phones, including size changes, the Tensor G3 chip, and another redesign to the Pixel's iconic camera bar.
Thanks to Google I/O 2023, we already know of one Google Photos tool that will come to the Pixel 8 series. Plus, based on one Pixel 8 Pro leak, we may see a new health-tracking feature that we never expected.
Here's what we know so far about the Pixel 8 and Pixel 8 Pro, as well as what we hope to see from these phones.
Pixel 8 release date
Every single Pixel flagship since the original has launched in October, with the Pixel 6 and 7 launching on October 28 and 13, respectively. We also have a leaked Pixel roadmap via an Android Authority source stating the Pixel 8 and Pixel 8 Pro are scheduled for late 2023.
So while we don't have a specific date yet, both Pixel 8 models will undoubtedly launch in October, with a livestream reveal earlier in the month.
We also hope that the Pixel Watch 2 will launch around that time, though we have no evidence yet that Google will use an annual smartwatch release schedule like Samsung.
Pixel 8 price
Until we hear any rumors to the contrary, we can assume that the Pixel 8 and Pixel 8 Pro will cost $599 and $899, respectively. This will match the pricing for both the Pixel 6 (Pro) and Pixel 7 (Pro), and make them quite affordable compared to many of the best Android phones.
One potential counterpoint: the excellent Pixel 7a got a price bump to $499, making it just $100 less than Google's next mainline phone. The lack of price differentiation between the budget Pixel 7a and the entry-level flagship Pixel 8 could confuse consumers; so Google could raise the price of the Pixel 8. Until a leaker actually confirms this, though, we won't assume anything.
Pixel 8 design
We've seen a lot of misinformation about the Pixel 8 and 8 Pro and possible size changes, so let's address that upfront.
Prominent leaker OnLeaks originally claimed that the Pixel 8 would shrink to a Mini-sized 5.8-inch display, and that Google would also narrow the Pixel 8 Pro down to 6.5 inches. But he later corrected himself, saying he had "measured diagonals the wrong way" but that the dimensions were accurate.
If his source is correct, the Pixel 8 will use a 6.16-inch display (150.5 x 70.8 x 8.9mm) and the Pixel 8 Pro will stick to a 6.7-inch display (162.6×76.5×8.7mm). DSCC CEO Ross Young corroborated these numbers, saying Google would begin panel production on the 6.16-inch Pixel 8 and 6.7-inch Pixel 8 Pro in May.
Compared to the 6.3-inch Pixel 7, the Pixel 8 will be slightly more comfortable for one-handed use, competing against the best small Android phones like the 6.1-inch Samsung Galaxy S23 — as well as the 6.1-inch iPhone 14 Pro.
Compared to its predecessors, the Pixel 8 is (unsurprisingly) shorter and thinner, but also 0.2mm thicker than the Pixel 7; the Pixel 8 Pro, interestingly, looks to be 0.2mm thinner than both the Pixel 8 and Pixel 7 Pro, but otherwise is nearly identical in size to the 7 Pro.
The main difference is that the Pixel 8 Pro will have a flat 6.7-inch display instead of a curved one. Our Pixel 7 Pro reviewer said that his "biggest issue with the device" was accidental touches along the side of the display, so those who otherwise loved the phone will see the switch to a flat Pixel 8 Pro display as a huge relief.
While the Pixel 8 looks like a smaller Pixel 7, the Pixel 8 Pro has one more noticeable design difference: the camera bar. Unlike the 7 Pro, which had two cutouts for its three cameras, the Pixel 8 Pro uses one cutout and spreads the main, ultrawide, and telephoto lenses evenly underneath it.
Both Pixel 8s have visible LED flash slots next to the rear camera sensors. Only the Pixel 8 Pro has a second small hole underneath it, which it will allegedly use for a unique health sensor (more on that below).
Image 1 of 2
Reaffirming OnLeaks' claims, a Pixel 8 cases leak from SlashLeaks shows what the phones could look like with clear cases. They show that the Pixel 8 and 8 Pro may have more rounded corners than previous generations.
Pixel 8 cameras
Google may use a Samsung Isocell GN2 sensor in the Pixel 8 series, an upgrade on the GN1s found in the last generation. And it could help Google cement its lead as the best smartphone camera brand.
Leaker and developer Kuba Wojciechowski claims that the Pixel 8 will support staggered HDR, tech that "uses rolling shutters over the same pixel arrays to capture multiple frames in short, middle, and long exposures," as Samsung describes it.
In other words, the Pixel 8 will use those three simultaneous shots to capture more detail and higher dynamic range in parts of the shot that are lighter or darker than the average. This tech isn't available with Pixel 7 camera hardware, so it all but guarantees the Pixel 8 will get Samsung's new GN2 sensor.
We expect the Pixel 8 and Pixel 8 Pro to stick to a maximum of 50MP — don't expect 200MP on par with the Galaxy S23 Ultra — but the quality of your photos should improve regardless. For example, the GN2 supports Dual Pixel Pro, auto-focusing tech that makes it easier to take an in-focus shot.
Otherwise, we expect Google to reveal new cutting-edge camera software tricks, as it did with the previous Pixel generations. The Pixel 6 introduced Magic Eraser and Face Unblur, while the Pixel 7 added Photo Unblur, Cinematic Blur, and Super Res Zoom.
Google still has months yet to develop new software for the Pixel 8, but we've already heard of one new tool: Video Unblur. As the name implies, this AI trick would let you select a blurry video you took and retroactively improve the focus quality.
The leaked code also showed the option to add "Overlays" like black and white or Polaroid to your videos, similar to how you can use filters on photos. We'll have to wait and see if this video tech is exclusive to Tensor G3 phones or comes to older Pixels down the line.
At Google I/O 2023, we learned about Magic Editor in Google Photos. An evolved version of Magic Eraser, Magic Editor uses generative AI to adjust or fill in content in photos. For example, you can move a person or object elsewhere in the photo, as well as fill in missing details that were out-of-frame.
Or, you can edit a specific part of the image (like the sky or background), so brightening the sky doesn't oversaturate the rest of the photo.
We know that "select Pixel phones" will get "early access later this year," so it's possible that the Pixel 7 series could get this first. But it's a certainty that the Pixel 8 will receive Magic Editor.
Lastly, let's return to the mystery sensor underneath the LED flash on the Pixel 8 Pro, as shown in leaked renders. A leaked Pixel 8 Pro video, which showed the actual phone before it was deleted, indicated that it's a temperature sensor.
To take a body temperature reading, you'll move the Pixel 8 Pro camera from your forehead to your temple in a 4-second span. We don't know how accurate this temperature will be compared to a thermometer, since the smartphone's own heat could influence the reading.
The Galaxy Watch 5 and Fitbit Sense 2 have temperature sensors, but most smartwatches with sensors only use them for menstrual cycle tracking. Seeing this tool on a smartphone is pretty surprising, and we're curious if Google has other plans for it besides body temperature testing.
Pixel 8 specs and performance
Google will once again partner with Samsung to co-develop the Google Tensor G3 chip. We know little about it so far, particularly in terms of benchmarks. We believe the chip, codenamed "Zuma," is a modified version of the Exynos 2300 with a Samsung 5G G5300 modem. Since Samsung used Qualcomm for its Galaxy S23 series, the Pixel 8 may be one of the only Exynos-based phones of 2023.
According to a recent rumor from leaker @_ImJason via WCCTech, the Tensor G3 will have one Cortex-X3 core clocked at 3.09 GHz, four Cortex-A715 performance cores (2.65 GHz), and four Cortex-A510 cores (2.1 GHz).
Compared to the Snapdragon 8 Gen 2, the rumored Tensor G3 has one more efficiency core but falls short in clock speed for the prime and performance cores. Specifically, the Snapdragon 8 Gen 2 Cortex-X3 hits 3.2GHz for most phones or 3.36GHz exclusively for the S23 series; the four performance cores hit 2.8GHz.
Also, TSMC manufactured the Snapdragon 8 Gen 2, whereas the Tensor G3 will likely come from Samsung Foundry.
After the Pixel 7 Pro barely beat the 6 Pro in benchmarks, the Tensor G3 should offer a marked improvement over the Tensor G2 based on these numbers. At the same time, it won't close the performance gap on Qualcomm, though we can hope the Pixel 8 series will be very battery-efficient thanks to the extra core.
Outside of Tensor rumors, we haven't seen any leaks yet about Pixel 8 or Pixel 8 Pro specs. Most likely, we can expect similar specs from last year's phones. You can check our guide on the Pixel 7 vs. Pixel 7 Pro for a breakdown of how the Pixel 8 and 8 Pro should compare to one another.
To summarize, upgrading to the Pro should give you QHD resolution and a faster refresh rate, an extra telephoto lens with optical zoom, more RAM (12GB) and a higher storage option, and a larger battery to counterbalance the bigger display.
Pixel 8 wishlist: What we want to see
Increased performance and efficiency
We want Google to bring the Pixel 8 series up to par with the rest of the flagship smartphone market, or as close as possible. The Galaxy S23 Ultra scores around 1850-1900 in single-core and 4900-5000 in multi-core performance, while the Pixel 7 Pro comes in with a 1051/3248 split in our most recent tests. That's a pretty significant gap to close!
Upgrade the ultrawide camera
The leaked info about a revamped 50MP camera with staggered HDR and improved auto-focus excites us. But we'd also love it if the 12MP ultrawide sensor got an upgrade as well, since Google basically hasn't changed it across the last few generations of Pixels. A higher megapixel count, paired with the on-device image processing, would be quite impressive.
Fix the fingerprint scanner or ditch it
Even though the Pixel 7 Pro offered a much more reliable in-display fingerprint sensor than the notoriously terrible Pixel 6 sensor, it's still unreliable at times, especially when it comes to multiple fingerprints.
We know thanks to 91Mobiles that Google has tested a Pixel phone with an ultrasonic fingerprint sensor instead of the current optical sensor. That would bring the Pixel 8 closer to the Galaxy S23 series in speed and security.
Otherwise, we'd be happy if Google went back to a side fingerprint sensor; it's just not especially likely.
Do better with build quality
We've written in the past about how the Pixel 7 Pro volume rocker falls off, how the camera glass seems to spontaneously shatter, and how the metal camera housing gets easily scratched.
Google has said it's "aware" of these issues, so we can only hope that it ensures the manufacturing process for the Pixel 8 addresses and resolves the issues. It needs to do more in the quality control aspect of building and releasing a smartphone, to make sure its most zealous fans don't lose faith in the brand.
Keep pushing the envelope with camera features
Now that Magic Eraser is available for pretty much every smartphone, as long as you're a Google One subscriber, it'll be interesting to see what "camera magic" the Pixel 8 can bring, beyond Magic Editor and the Video Unblur tool we've heard about.
What would this new AI trick look like? We're not entirely sure, but if there's one company that would be able to figure out something awesome, it's Google.
Faster charging
We've dealt with slow charging speeds from Google and Samsung phones for long enough. The Pixel 7 Pro uses a 30W wired charger but actual charging speeds are closer to 23W, the same as its wireless charging maximum. Meanwhile, the OnePlus 11 tops out at 100W if you have an international model or 80W for the U.S. variant.
It's not like we expect the Pixel 8 Pro to reach 240W charging speeds, like the Realme GT Neo 5. But Google has to do something, even if it's just to match the 45W charging found in the Galaxy S23 Ultra. It's all fine and dandy for a phone to go from 0-50% in 30 minutes, but if you need a full charge, the remaining 50% can take forever.
120Hz across the board
The Pixel 7 Pro already features a gorgeous AMOLED display with a variable refresh rate of up to 120Hz. But if Google really wants to make a splash, it would be wise to bring that same panel to the "regular" Pixel 8. Especially now that the Pixel 7a has jumped to 90Hz.
Plenty of budget-friendly phones offer flagship-like performance in many different ways, including 120Hz (or higher) refresh rates while making cuts in other areas. The Pixel 8 is unlikely to provide much of a change in the frame or build of materials, so an upgraded display would be a welcome addition.
Catch up on software updates
As our own Jerry Hildenbrand wrote back in August 2020, "it's now time to promise five years of Pixel updates." Almost three years later, that statement rings more true than ever. Samsung promises four years of major OS updates, as do some other Android OEMs with their flagships.
Google, on the other hand, limits its devices to three years of major OS updates, in addition to five years of security patches. While the Galaxy S23 and OnePlus 11 jump to Android 17, the Pixel 7 Pro will remain stuck at Android 16 in a few years. That's despite the fact that Google develops its own Tensor chips and controls Android development.
In this area, Google is lagging behind, which means Pixels have less resale value and longevity than they should.
The Google Pixel 7 Pro has cutting-edge AI performance and reliable cameras for some of the best photography we've seen from a smartphone. It sports a QHD 120Hz display, Tensor G2 performance, reliable battery life, and rapid software updates.
Get the Android Central Newsletter
Instant access to breaking news, the hottest reviews, great deals and helpful tips.
Senior Editor, VR/AR and fitness
Michael spent years freelancing on every tech topic under the sun before settling down on the real exciting stuff: virtual reality, fitness wearables, gaming, and how tech intersects with our world. He's a semi-reformed Apple-to-Android user who loves running, D&D, and Star Wars. Find him on Twitter at @Michael_L_Hicks.