Motorola has done it again, bringing us a phone that is both affordable and performs much better than we'd expect. Thanks to the Snapdragon 6 Gen 1, the Moto G Stylus 5G (2023) feels fast, fluid, and fun, handling apps and games almost like it was a flagship. And Motorola's new design language definitely brings home the idea that this phone is a midrange force to be reckoned with
Pros
+

Lovely design

+

Great primary camera

+

120Hz display looks and feels great

+

Performance feels almost flagship-level

+

All-day battery life

+

20W charging is a step up

+

Very loud stereo speakers

+

The built-in stylus is nice to have
Cons
-

The ultrawide camera is lacking

-

Selfie camera leaves a lot to be desired

-

Stylus is pretty basic

-

Software support sucks

-

No IP rating
Why you can trust Android Central Our expert reviewers spend hours testing and comparing products and services so you can choose the best for you. Find out more about how we test.
Coming off the heels of reviewing several new Moto G models for 2023 in a row, you think I'd be tired of looking at Motorola phones, and you'd be right to a point. However, I was such a fan of the 2022 Moto G Stylus 5G that I had to come back and review the successor.
The Moto G Stylus 5G (2023) is the latest in a series of mid-range Android phones from Motorola, sitting at the higher end of the price spectrum, at least compared to the other models. The phone carries some good specs for a $400 smartphone, bringing several welcome upgrades compared to its predecessor, which I already liked quite a bit. The newer Snapdragon chipset also brings a performance that feels a bit above its price point, which might make this one of the best non-flagship Motorola phones money can buy.
For a phone with a built-in Stylus, this may not compare to the Galaxy S23 Ultra, but it'll give you plenty of bang for your buck at one-third the price. But is it right for you? Well, it depends on what you're looking for. However, this phone feels like a great option for many people, even against other mid-range Android phones from the likes of Samsung and Google.
Moto G Stylus 5G (2023): Price & availability
The Moto G Stylus 5G (2023) was announced on May 30, 2023. The phone went on sale at Cricket Wireless on June 2 and will be available on other carriers, including AT&T, T-Mobile, Metro by T-Mobile, Google Fi Wireless, UScellular, Consumer Cellular, Optimum Mobile, Spectrum Mobile, Xfinity Mobile, Boost Infinite, and Boost Mobile. It's currently available to purchase unlocked on Motorola.com and through retailers like Amazon.
There are two colorways, Cosmic Black and Rose Champagne. The device retails for $399.99 and comes in two RAM/storage configurations that will be available depending on the retailer or carrier.
Moto G Stylus 5G (2023): Design & display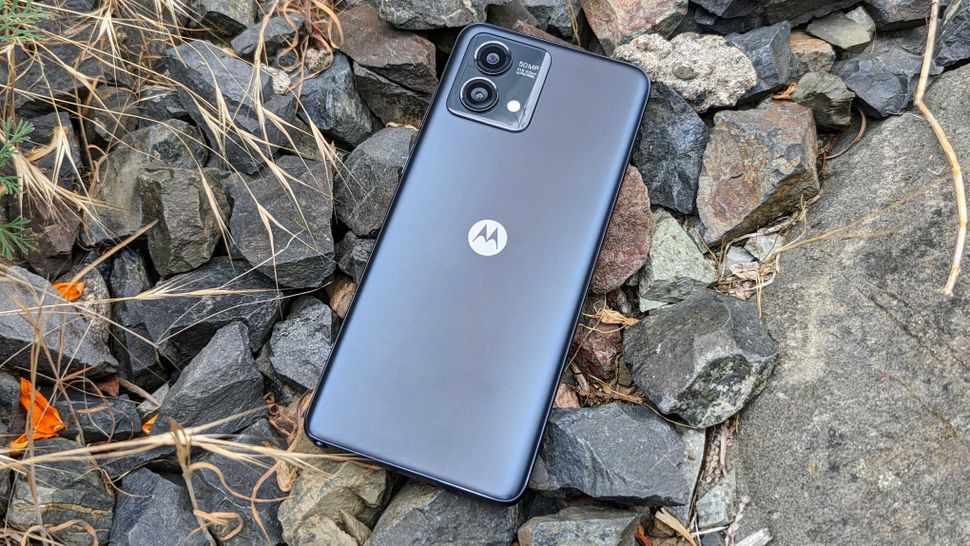 If you've been following Motorola's 2023 smartphone lineup (or have read any of my other Moto reviews from this year), you'll be familiar with the design of the Moto G Stylus 5G (2023). Its design is nearly identical to other models in the Moto G lineup, as well as the flagship Motorola Edge+ (2023). The back panel is plastic, but unlike its predecessor, the Stylus 5G (2023) ditches the glossy finish for a more matte, frosted look and feel.
While it definitely feels like plastic, it also doesn't feel cheap, and it's very soft to the touch. The Cosmic Black color of my review unit has a slight blue-ish tint depending on how the light hits it, which is a nice touch. This is all contrasted by the glossy camera housing that protrudes ever-so-slightly from the chassis. The rear panel also curves into the frame, which contributes to just how comfortable the phone feels when holding it.
At 202g, it's not the lightest phone, weighing slightly more than the Galaxy S23+, for example. There's definitely a heft to it, but it's not the heaviest phone either. Unfortunately, there's no IP rating, but Motorola gives it a water-repellant coating to help protect it from light rain and spills, so you'll want to be careful if you live in a rainy city as I do.
Fortunately, there are plenty of Moto G Stylus 5G (2023) cases that you can choose from to protect your device.
On the front, the display is completely flat, with fairly minimal bezels, save for the slightly larger chin at the bottom. Compared to other phones in the Moto G lineup, the Moto G Stylus 5G (2023) probably has the smallest bezels, giving it a roughly 92.42% screen-to-body ratio, by Motorola's calculations. Looking at the front of the phone, the bezels don't seem much worse than the Pixel 7a, a phone that costs a bit more than the Stylus.
These bezels flank a 6.6-inch LCD with a Full HD+ resolution and 120Hz refresh rate. It doesn't get particularly bright, but I don't have much trouble seeing content outdoors. The dynamic refresh rate also makes scrolling through menus look and feel really nice. And while you might not get the inkiest blacks from the panel, it still has great color reproduction and a pretty sharp image overall. You can always adjust the settings for a more saturated look, but I haven't found it necessary at all.
One of my favorite display features found on just about every recent Motorola phone is the peak display, which is something like an interactive screensaver that lets you view and manage notifications. Instead of having to immediately wake up and unlock the phone, you can simply tap and hold an icon to view the notification and slide it over to perform various interactions. This makes it easy to just delete all the spam emails I get or respond to a quick message on Instagram.
Moto G Stylus 5G (2023): Hardware & specs
As far as specs go, the Moto G Stylus 5G (2023) is a step up from its predecessor, thanks to the new Snapdragon 6 Gen 1 chipset. The SoC was launched in the latter half of 2022 and provides a 40% boost in CPU performance and a 35% improvement in graphics rendering. The Snapdragon 695 before it was no slouch and is still powering plenty of phones today, but the extra horsepower is quite noticeable.
As far as everyday use, using the Stylus 5G almost feels like using a flagship phone. There's very little in the way of stuttering, and I haven't noticed any glaring problems when opening or juggling between apps. The phone powers through just about everything I throw at it, which is no doubt aided by the 6GB of onboard storage.
Swipe to scroll horizontally
| Category | Moto G Stylus 5G (2023) |
| --- | --- |
| OS | Android 13 (My UX) |
| Display | 6.6" FHD+ (2400 x 1080), LCD, 120Hz refresh rate (LTPS) |
| Chipset | Snapdragon 6 Gen 1 |
| Storage | 128GB (carriers), 256GB, expandable |
| Memory | 4GB (carriers), 6GB |
| Water Resistance | Water-repellent |
| Battery & Charging | 5,000mAh, 20W wired charging |
| Connectivity | 5G (sub-6), Bluetooth 5.1, Wi-Fi (2.4GHz & 5GHz) |
| NFC | ✔ |
| Security | Fingerprint sensor, face unlock |
| Dimensions | 162.83 x 73.77 x 9.19mm |
| Weight | 202g |
| Colors | Cosmic Black, Rose Champagne |
Playing Honkai: Star Rail, the phone defaults to medium settings, which plays just fine. However, you can easily bump that to high settings at 60fps and still come out with a pretty smooth gameplay experience. Only pushing it to the highest settings did I notice some wonkiness, but only then would you remember that this isn't a phone that would easily compete with the best gaming phones on the market, and that's fine. For a $400 phone, the Stylus 5G performs better than I would expect.
Another area where the phone exceeds expectations is audio. Motorola outfits the Stylus 5G with dual stereo speakers, which are very loud and very nice. The phone supports Dolby Atmos, which can be tuned to your liking, and spatial audio for a more immersive experience, although I've never really been a fan of the latter, so I keep it off most of the time.
Battery life is also fantastic, which is typical for many Moto G phones, and Motorola says it should last up to two days on a single charge. On my use, I get roughly a day to a day and a half, which is quite good. And charging, while not fantastic, tops out at 20W, which is more than most Moto G models. It's still less than the 25W you'd find on some mid-range Samsung phones like the Galaxy A54, and charging takes longer than I would like. Filling up from 1% to full takes closer to two hours, so still not ideal.
Moto G Stylus 5G (2023): Software & stylus
The Moto G Stylus 5G (2023) runs Android 13 with My UX on top. It's largely similar to the experience you'll find on a Pixel smartphone, and while the Pixel-like UI isn't my favorite, the usual Motorola touches help to improve the experience. That means my favorite gestures are here: chopping twice for the flashlight, twisting twice for the camera, and double-tapping the back to access just about any app or function you want.
Customization options aren't exactly extensive, but there are enough for the average user to make the phone their own. Motorola does have its own set of widgets that I find quite useful, including the Adapt widget, which lets users view the date, time, weather, and user-selected options like battery life and air quality.
And while I've already talked about the gaming performance, the phone also comes with a whole gaming menu, where you can access certain features or turn the experience to your liking. It's easy to tap the floating icon to adjust brightness, turn up the volume, record gameplay, or adjust gaming performance.
In fact, when switching to high-performance mode, I notice that playing Honkai: Star Rail actually becomes much smoother even when playing on the highest settings. This does cause the phone to get a bit warm, and the battery will definitely drain faster, so I don't recommend extended gameplay sessions in this mode.
The software extends to the built-in stylus pen, which, in all honesty, is as basic as it gets. It's a passive pen, so you won't find any of the fancier features you might expect with something like the Samsung S Pen, but pulling the pen out with the phone unlocked will open a menu of options for interacting with the pen. That includes features like a GIF maker, a handwriting calculator, a screenshot editor, and Moto Note.
You can also set the stylus to automatically open Google Keep or Moto Notes when the phone is locked and the pen is removed from the housing. But, given the nature of the stylus, the note-taking experience is pretty basic. Still, it's a nice feature to have, and not one many smartphones possess outside Samsung's premium and very expensive Ultra models.
Unfortunately, as good as the Stylus 5G (2023) is, Motorola's poor software support extends to this phone with one OS upgrade and three years of bi-monthly security patches.
Moto G Stylus 5G (2023): Cameras
When it comes to the cameras, the setup has been changed quite a bit from its predecessor. While the 50MP primary camera is still here, Motorola has removed optical image stabilization, which is a pretty odd choice. That said, it doesn't seem to have affected image quality in any significant way, and the phone is capable of capturing very respectable photos.
Swipe to scroll horizontally
| Cameras | Specs |
| --- | --- |
| Rear Camera 1 | 50MP wide-angle, f/1.88, 2.0μm, Quad-Pixel |
| Rear Camera 2 | 8MP ultrawide/macro/depth, f/2.2, 1.12μm |
| Selfie Camera | 16MP, f/2.45, 1.0μm |
Daylight images are bright, colorful, and detailed, with plenty of contrast and enough dynamic range without going overboard. Images lose detail once you start to zoom in, but it's not terrible. At night, images also suffer slightly, even with Night Mode turned on, as the phone loses out on some detail. Still, images aren't exactly horrible when utilizing the primary camera sensor, and overall I'm pleased with what this phone is capable of capturing.
Image 1 of 8
When you get to the 8MP ultrawide sensor, things start to break down a little. During the day, ultrawide shots are good enough, although regardless of the lighting conditions, photos taken when the ultrawide camera tend to lean toward cooler temperatures. At night, however, images are very noisy and unpleasant, and the camera just isn't great.
Image 1 of 4
Interestingly, Motorola manages to utilize the ultrawide camera as the macro and depth sensors, as opposed to including separate camera modules to achieve the same feat. It's a decision that likely saves on the cost that would probably be associated with adding those extra sensors, so I applaud Motorola for finally ridding itself of them.
When utilized as a macro sensor, images are good enough during the day, better than what I find on most macro sensors, which usually sit at just 2MP. That also goes for portrait shots, and the phone does a decent job separating subjects from the background.
Unfortunately, my experience with selfies hasn't been all that great, as the phone tends to try and smooth my skin, which wouldn't be a big problem if the attempts were at least even and not random smooth blotches across my face. If you can, I'd avoid the selfie camera at all costs.
Fortunately, video recording is pretty decent, and the phone allows up to 4K at 60fps or FHD at 60fps. Slo-mo is also available in Full HD at 120fps, which is a nice feature to play around with.
Moto G Stylus 5G (2023): Competition
I feel like the best phone to compare the Moto G Stylus 5G (2023) is the Galaxy A54 5G, as I would consider both phones to essentially sit at the top of their respective OEMs' mid-range portfolio, particularly in the United States. The A54 5G is a fantastic phone from Samsung with a design that matches the flagship Galaxy S23. It also has a great set of cameras, an IP rating, and impressive software support.
However, you'd be paying a bit more for the A54 unless you can find a good discount on the phone. You'll also miss out on the built-in stylus pen, and gaming performance is, unfortunately, a letdown.
If you really want something with a stylus, you could go with the non-5G Moto G Stylus (2023), which may be a step down in performance, but it has a similar design, decent cameras, and great battery life. It's also quite a bit cheaper, meaning you'll have extra for accessories.
Then there's the TCL Stylus 5G, which launched in mid-2022. As you can tell by the name, this phone sports a built-in stylus pen. It's cheaper, has all-day battery life, a decent camera setup, and great software. However, the phone is also a step town in terms of power, and the display is a disappointing 60Hz. Additionally, stylus input is surprisingly lacking on this phone, and some app compatibility issues marred the phone's launch.
Moto G Stylus 5G (2023): Should you buy it?
You should buy this if...
You want an affordable Android phone
You like the convenience of a built-in stylus pen
You want a phone that can handle games like Honkai: Star Rail fairly well
You should not buy this if...
You want multiple Android OS upgrades
You like to take selfies
You want a phone with good zoom capabilities
After being pretty impressed by last year's Moto G Stylus 5G (2022), I wasn't sure how or if Motorola would top its best mid-range smartphone. Thankfully, a combination of good design and a much-improved Snapdragon chipset has made this one of the best cheap Android phones money can buy.
Sure, you won't get the picture quality of a Pixel phone or the software support of a Galaxy, but Motorola brings a lot to the table with performance and audio that could rival even some higher-end devices. Not to mention the novelty of a built-in pen, no matter how basic it is, still makes this a compelling choice, even if it means you miss out on those Pixel-exclusive features.
For a phone on the higher end of Motorola's midrange, the Moto G Stylus 5G (2023) is still cheaper than much of the competition, and it punches above its weight class. I would have no problem recommending this phone to anyone.
While there are plenty of options for affordable midrange Android phones, there are very few that have built in stylus pens. The new Moto G Stylus 5G (2023) takes one and pairs it with the impressive new Snapdragon 6 Gen 1, bringing great performance while still providing more than a day's worth of battery life.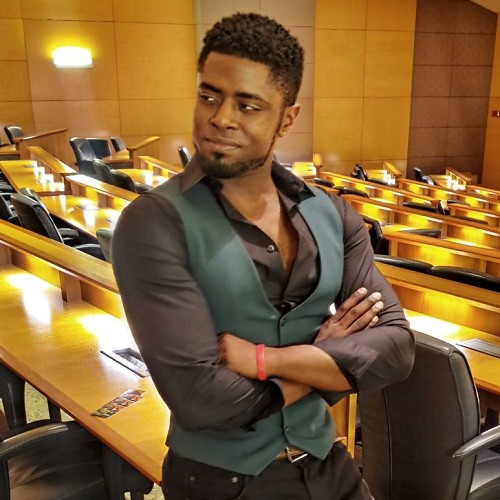 Derrek is a long-time Nokia and LG fanboy who loves astronomy, videography, and sci-fi movies. When he's not working, he's most likely working out or smoldering at the camera.