24 hours in the Oculus Rift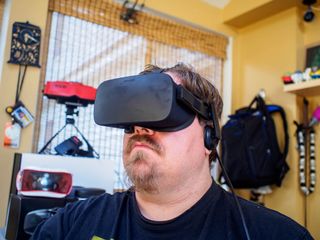 It was my own fault. I ran out of debris when I cut left instead of right, and now there's nowhere for me to hide. Alarms are going off all through the cockpit, cracks have formed across the glass canopy, and I've just burned through my countermeasures. There's no way out of this, and just as I start rotating the ship to face my enemy head on, everything explodes. Glass flies inward toward me, and then all of the air in the cockpit is sucked out into space.
In the real world, I exhale deeply and my heart rate increases. It happens every time I die in Eve: Valkyrie, and it's the first of dozens of times my body has reacted physically to something I've seen in the Oculus Rift CV1.
VR hardware is nothing new, but this generation's efforts in head tracking, higher resolution displays, and pricing that works in some but probably not enough homes has created a compelling place to play. In many ways, the current rush in VR started in promises made when future owners clicked on the Oculus Rift Kickstarter for the first time. An immersive environment for games, compatibility with the Xbox One, and a whole new world for video experiences were at the top of the list, and even as far back as the first developer kit it was clear Rift was going to be something special. Two years and several revisions later — not to mention a separate mobile partnership with Samsung — it's clear the early vision for the hardware capabilities of the Oculus Rift has been realized.
Image 1 of 5
The most important things for Oculus to have accomplished with the retail Rift are ease of use and a healthy selection of launch content. The former Oculus has mostly nailed. Out of the box, it couldn't be more clear what you're supposed to do with the Rift. Plug in the cables, follow the simple step-by-step instructions on the setup guide linked in the box, and put the headset on.
Oculus is a big fan of telling people you can put the headset on like a baseball cap, and for the most part that is true. If you wear glasses you're going to want to put the headset on eyes-first instead of the way the instructions tell you, and the fit is more than a little tight — weirdly less comfortable than using the Samsung Gear VR in fact — but it works. Once the headset is set on your head correctly, the eye adjustment tool is easy to use and effective. The headset sits on your head without resting on your nose, depending on the shape of your face. If you've got a slender nose, you'll find you can stare down your nose into the real world, which also causes a little bit of light bleed in virtual reality itself.
A few hours into use, and one thing that is clear about the design of this headset is a need for nearly constant cleaning. Dust on the lenses, skin particulates after letting someone else use it, and fingerprints everywhere will have you scrambling for alcohol wipes and microfiber cleaning cloths. Curiously, Oculus doesn't include anything in the package for cleaning. Most of the rubbery surfaces are easy enough to wipe out, but the IR-friendly cloth around the outer shell is going to collect anything and everything. The same is likely true of the velcro straps over time, though that's unlikely to be a problem unless you're constantly adjusting.
Similar to what we've seen with the Samsung Gear VR, Oculus has built a virtual environment with a friendly menu system to explore. The wall of content is broken out into a couple of simple groups, with large icons and text so you're not squinting to see what's going on. The virtual environment is currently a futuristic apartment, with you at the center on a large rug with books and a fireplace surrounding you. The content wall is filled with games, but few of them will be immediately familiar to most. Eve: Valkyrie and two other games are available immediately to install, but if you're looking for a big familiar name from traditional PC or console lineups you'll be disappointed. That's not to say there aren't plenty of interesting things here, they're just unfamiliar. What does seem to be missing are video apps. The Oculus-powered Gear VR has dozens to choose from, including Hulu and Netflix. It's possible these apps are delayed or require different licenses to work with the desktop hardware out of a browser, but it's strange to see them missing.
Installing a new game through the Oculus environment is currently a little on the frustrating side. You hit the install button with your included Xbox One controller, and when it is finished you're told to remove the headset and complete a "final installation" on your monitor. This means removing the headset, clicking a single button on your PC, and putting the headset back on. With Eve: Valkyrie, this happened a second time after installation so you can link your Eve and Oculus accounts. This process feels unnecessary; rendering the desktop in VR for you to click that one button would be trivial, and would put significantly less work on the user. There's even a Virtual Desktop app you can install from Steam to do exactly this, but it's not available out of the box and installing third-party software requires navigating through Settings to enable the option.
Playing games is clearly the main event, and that part works amazingly well. Head tracking is incredibly smooth in every title we tried, but head positioning is a little more finicky. There's a button in the Oculus quick menu for re-positioning yourself in the game, and it is frequently used at the start of Eve: Valkyrie. Games that recommend standing or sitting state it clearly, and getting those two confused is a great way to fall down or become nauseated, but the overall experience is fantastic. Visually, Oculus has delivered.
The level of immersion is exactly what we've come to expect from all the demos we've had so far with the developer hardware, but the inclusion of headphones is something new. The simple padding hides how capable these headphones are, as they look a little on the cheap side at first glance. Positioning them correctly over your ears is a great way to feel completely immersed with decent audio, but if you've got over-the-ear headphones you prefer you'll probably want to swap them out quickly.
The transition from Oculus Rift Developer Kit to the now shipping CV1 version of this generation's first big VR headset has been a long and exciting process. There aren't many opportunities to watch a company and their first product grow and change over time, and that's exactly what we got with the Oculus Rift as it moved from Kickstarter to trend starter. Now that we've finally had some time with the retail version of this VR headset, it's a lot easier to appreciate the journey so far and at the same time feel excited about the accessories and software that are on the way for this headset.
Get the Android Central Newsletter
Instant access to breaking news, the hottest reviews, great deals and helpful tips.