What's new on Amazon Prime Video for July 2018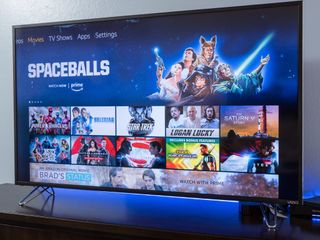 We're getting into the meat of summer. That means a couple things. First is that you should probably be spending a good bit of time outside. But that also means you'll be reminded of just how great things are inside, with conditioned air, a distinct lack of bug life, and a lot less perspiration. Outside? Hot. Inside? Cool. With loads to watch on TV — an specifically on Amazon Prime Video.
Amazon Prime Video has is one of the go-to destinations for on-demand content, thanks in no small part to devices like the new Amazon Fire TV Cube, the $50 Amazon Fire Stick, the $70 Amazon Fire TV, and even the $229 Amazon Echo Show.
In addition to some old favorites, Amazon has three new Originals coming up in July:
Comicstaan S1: The Prime Original series is a nine-episode series that brings together seven of the biggest comedians in India, to find the next big name in stand-up. The show will be hosted by Abish Mathew and Sumukhi Suresh and the top ten contestants will be judged by a seven-member jury panel. Comicstaan season one is available in UHD. (July 13)
Tumble Leaf S4a: The Prime Original kids series is aimed at preschoolers, set in a whimsical land where a small blue fox named Fig plays each day and discovers adventure, friendship and love around every bend in the path. Children will be enriched by narratives that promote play, the fun of learning and understanding the world around them. (July 24)
So let's just get to it — this is what's coming up on Amazon Prime Video in July 2018:
Coming to Amazon Prime Video on July 1
21 Jump Street, Seasons 1-2
Burn Notice, Seasons 1-7
Damages, Seasons 1-5
NYPD Blue, Seasons 1-12
The Closer, Seasons 1-7 (exclusive)
20,000 Days On Earth (2004)
A.I. Artificial Intelligence (2001)
All is Lost (2013)
American Psycho (2000)
American Psycho 2 (2002)
An Inconvenient Sequel: Truth to Power (2017)
And God Created Woman (1988)
Angel Heart (1987)
Angela's Ashes (1999)
Assassination (1987)
Avenging Force (1986)
Barfly (1987)
Blazing Saddles (1974)
Blue Chips (1994)
Body Count (1997)
Breakfast at Tiffany's (1961)
Cadillac Man (1990)
Christmas Trade (2015)
Cronicas (2004)
Dead Man Walking (1995)
Double Jeopardy (1999)
Dr. T. and the Women (2000)
Finding Bliss (2009)
Gran Torino (2008)
Highlander II: The Quickening (1991)
Incident at Loch Ness (2004)
Invaders from Mars (1986)
Jeepers Creepers (2001)
Killer Klowns from Outer Space (1988)
Ladybugs (1992)
Late Phases: Night of the Lone Wolf (2014)
Letters to Juliet (2010)
Maximum Overdrive (1986)
Mixed Signals (1997)
Monkey Shines: An Experiment in Fear (1988)
Ms. 45 (1981)
Mulholland Drive (2001)
Murphy's Law (1986)
Next (2007)
Number One with a Bullet (1987)
Our Nixon (2013)
P.O.W. the Escape (1986)
Patriot Games (1992)
Pee-Wee's Big Adventure (1985)
Pretty in Pink (1986)
Rabbit Hole (2011)
Sahara (2005)
Sex Drive (2008)
Six Shooter (2013)
Snake Eyes (1998)
State of Grace (1990)
Street Smart (1987)
Stripes (1981)
Switchback (1997)
The Act of Killing (2012)
The Adventures of Buckaroo Banzai Across the 8th Dimension (1984)
The Brothers Bloom (2009)
The Eternal (1998)
The Foot Fist Way (2006)
The Fourth War (1990)
The Graduate (1967)
The Haunting of Molly Hartley (2008)
The Invisible War (2012)
The Longest Yard (2005)
The Mechanic (1972)
The Monster Squad (1987)
The Twilight Saga (2008) (exlusive)
Trade (2007)
V for Vendetta (2005)
Waste Land (2010)
Witness (1985)
Woody Allen - A Documentary Parts 1 & 2 (2011)
Wooly Boys (2004)
Yelling to the Sky (2011)
Zodiac (2007)
Coming to Amazon Prime Video on July 8
Coming to Amazon Prime Video on July 13
Movies
A Fly in the Champagne (2009)
Between Two Harbors (2015)
*Comicstaan (Prime Original series), Season 1, Episodes 1-4
Innersection: Black (2013)
Innersection: Blue (2011)
Modern Collective (2009)
Ocean Driven (2015)
Surfing Presents: Du Ciel (2016)
Winter Out West (2018)
Coming to Amazon Prime Video on July 14
Coming to Amazon Prime Video on July 16
Cook Off! (2007)
Wanderland (2018)
Coming to Amazon Prime Video on July 20
Coming to Amazon Prime Video on July 24
*Tumble Leaf (Prime Original series), Season 4a
How to Talk to Girls at Parties (2017)
Coming to Amazon Prime Video on July 27
*Eat.Race.Win (Prime Original series), Season 1
The Glass Castle (2017)
Coming to Amazon Prime Video on July 28
Coming to Amazon Prime Video on July 29
Available to rent on Amazon Prime Video on July 3
7 Days in Entebbe (2018)
Beirut (2018)
Blockers (The Pact) (2018)
Available to rent on Amazon Prime Video on July 6
You Were Never Really Here (2017)
Available to rent on Amazon Prime Video on July 10
Coming to Amazon Prime Video Channels
Amazon Prime Video Channels is another section of Amazon Video that gives subscription access to countless other video feeds, including major premium movie providers an live sporting events. Here's what's coming up in July 2018.
July 1
July 2
Jakers!, PBS Kids, Seasons 1-2
The Tunnel: Vengeance, PBS Masterpiece, Season 3 Premiere
July 6
AVP San Francisco Open at The Embarcadero, AVP (7/6-7/8)
July 7
Jumanji: Welcome to the Jungle, STARZ (2017)
Justice League, HBO (2017)
*UFC 226 (PPV) - Miocic vs. Cormier, UFC
July 8
I'm Dying Up Here, Showtime, Season 2 Finale
Sharp Objects, HBO, Season 1
July 11
TKO: Total Knock Out, CBS All Access, Season 1 Premiere
July 14
Battle of the Sexes, HBO (2017)
July 20
Outcast, Cinemax, Season 2 Premiere
July 21
July 27
Wild Kratts, PBS Kids, Season 14 Premiere
AVP Hermosa Beach Open at Hermosa Beach Pier, AVP (7/27-7/29)
July 28
Victoria & Abdul, HBO (2017)
July 30
Endeavor, PBS Masterpiece, Season 5 Finale
Get the Android Central Newsletter
Instant access to breaking news, the hottest reviews, great deals and helpful tips.