T-Mobile's John Legere takes digs at competition in new holiday video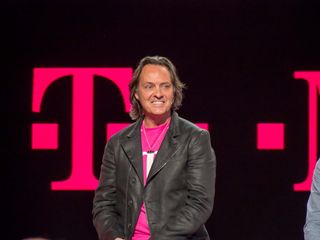 (Image credit: Android Central)
T-Mobile's has released a new video for the holidays, starring CEO John Legere. Legere sits by a fire reading a story about how worried AT&T and Verizon are about T-Mobile's gains in the last year. He says a little about T-Mobile's Q3 numbers, including the carrier's record growth.
Legere also went over some of the other initiatives from the Un-carrier this year that helped them stand out from the competition. These include Music Freedom and the recently-announced Data Stash data rollover plan.
Legere ends the video by thanking the company's employees, and promising customers that they've only just gotten started.
Source: T-Mobile on YouTube
Was that really necessary?

Stay out of it. I like to see a good fight. I'm the kind of guy that stops a microwave at 1 second to feel like a bomb defuser.

I'm grateful for T Mobile. If it wasn't for them I wouldn't be saving over 1300 dollars a year on my new AT&T plan with double data. I'm getting 30 gigs for the price of 15 to share aross 5 lines. Because t-mobile started introducing these "scare the other carrier " plans, now I'm paying so much less than I had been paying for the last 3+years to "screw you over and then fill your Android with apps no one wants " AT&T. And unlike everyone else's double data offer it is a grandfathered in data plan, not just for 2 years. Although I loathe AT&T for their oppressive apps and their past greediness. I am happy with their coverage service and my plan. Zenwatch rhymes with Winwatch. Coincidence? I think not.

Yes, yes it was. I got a good chuckle out of it. Posted via the Android Central App

How about you provide some reasoning? Posted via the Moto X Pure Edition

Drive a mile out of town, there's the reason. Posted by my soon to be retired Note 3

That's what you have to do to get service from Sprint. Magenta is the new Yellow

Where you live. I get sprint all over my area unlike tmo Posted by my soon to be retired Note 3

Touché Magenta is the new Yellow

Tmo kicks sprints ass... But I still like you... Truly Posted via the Android Central App

The reverse is true to me. The difference is I don't troll Sprint articles to crow about it.

You hit the nail on the head. "Where you live". Everyone's coverage is different. All this fighting about what service is better for who. Who is anyone to tell someone else that a certain service doesn't work where they live? You use what works for you. For a while I had both Sprint and Verizon. Then just Sprint. Had them for over 12 years and still have them on my business line. But since November of last year I've had T-Mobile and "in my area" it rocks. My speeds never go below 20mbps and we just got wideband lte. So I'm good. But if you travel for a living then most times the only solution is Verizon. It all depends. Stop fighting like little children. It just makes people look like idiots. Posted via the Android Central App

Your area must be 1 tiny town suburb. If that was my area and Sprint had LTE there I might have stayed with them. Posted via the Android Central App

Try the whole east coast of my state.
Yesterday I did go out in the boonies and had weak reception. Only 1 bar LTE but I survived Posted via the Android Central App

I have a good one . They took till December 19th to report my phone as returned which said they got on November 4th and had to wait a month and a half to cancel my service with t-mobile . They suck and rather spend a bit more at Verizon ($20 more a month )

Happened to me with AT&T and happened to my wife when she was on Sprint. Their processes suck.

Your iq must be smaller than your shoe size Posted via the Android Central App

Right because t-mobile is the best in the world . I get service with AT&T , Verizon or sprint in my home unlike t-mobile which is a good enough reason alone to say they suck

50 Mbps consistently right here in my own house.

If you can't get service other then big cities who cares

Such a great comment. It really helped me to learn so much. Posted via the Android Central App

yeah bro your mom def sucks cock

But their noise is working...

It's working, but only relative to how they were before. In other words, it's not making a huge dent despite all the noise. Heck, they're still barely in the black. Verizon is like a gallon of milk. AT&T is an almost full gallon of milk. Tmobile has gone from being a half-full glass of milk to a full glass of milk...

Of course it's only relative to how they were before. They didn't invent a time machine, they couldn't be relative to how they will be in the future, hah. The only way to catch up to the big 2 is by you know...catching up.

Hmm, a valid point... didn't realize how I sounded. lol

The only way T-Mo has any chance of really catching up would be to put up more towers. If you live any distance from a major metro area, they are pretty much useless. In the big city, they rock.

I'm 50 miles south of Louisville (Ky.) in a small town -- love T-Mobile. LTE everywhere. So your generalization is just that: a generalization.

You imply that everyone lives no more than 50 miles away from a metropolis. Where I live I'm 2 hours away from a city with a large enough population to get decent T-Mobile coverage. I also live in the largest town around my area, so yes in small town T-Mobile does still USUALLY suck. Posted via the Android Central App

So you live close to a "Metropolis" but not too far away. You must live in Smallville and I take it Star City and Gotham is around you somewhere too. We will find you so sayeth the Syndicate. Zenwatch rhymes with Winwatch. Coincidence? I think not.

Nope, didn't imply that at all. I'm sorry that's what you inferred from my post. I said *I* live in a small town and *I* have LTE service. The post to which I replied said, quote, "If you live any distance from a major metro area, they are pretty much useless. In the big city, they rock." I "live [a] distance from a major metro area" and they are not "pretty much useless." Quite the opposite. That's it. Look, somewhere, someone is happy with <insert service name here>. And somewhere, someone hates the same service. That's why choice is good.

I love in nyc and don't get service in my own house ......lmao

Who has a house in NYC? Are you one of those Brooklyn hipsters?

Lol its not a house ....apartment building and still get no service T-mobile is the worse company on the planet and I hope they go under and history forgets them.

So you lied. Got it. Why would you want a company to go under that saves people like me a lot of money and forces the bigger players to cut rates and offer more services? That's pretty selfish.

My point was in my home where I live I get no service They might save money but no service and horrible customer service

They'll give you a free $200 Asus Router to use WiFi calling, so you'll have voice and data at your place.

Yeah I have a router already and don't want s router that basically makes wifi calling a priority and degrading my network if it has to .

Their customer service is great. You are mistaken.

Speaking of anecdotal... :) (just giving you a hard time)

Well positive anecdotal and negative anecdotal cancel out.

Lol if they are so great why do they suck at helping people and lie to your face ?

You hope they go under? If they go under then prices from everyone else will go up. But hey, you must be loaded and don't care. Posted via the Android Central App

You still have sprint fighting on

Not making a huge dent...do some research on cellular technology then come back...what a tool Posted via the Android Central App

Instead of name calling why don't you back up *your* statement with some facts. Cellular technology doesn't mean sh*t without coverage and customers - and even that is useless if you are barely making it financially. I'm sorry you were so offended... Goodness....

TMo fans are like TMo, lots of noise and gimmicks with little to back it up. It's no wonder they're so defensive all the time. Posted via the Android Central App

T-mobile haters are worse. They fling FUD like it's their own feces.

If you understand the technology, the rest falls right after. Let me guess if a provider throttles your download speed, you would say they don't offer unlimited data Posted via the Android Central App

If you understood the business side of the industry you'd know that the technology is only a small piece of the puzzle. And no I don't say they don't offer unlimited data in that scenario. I do say it's misleading to the average consumer, however. Let me stoop to your pidgeon-holing for a moment... My guess is you believe a product alone is enough to make a successful company.

Too bad the coverage is terrible or else they might have something. Here in North Florida they suck bad and so does sprint. Posted via the Android Central App

Give me some coverage in my area please! Haha. Would switch in a heartbeat. Posted via Android Central App

I agree! I have T-mobile in Tallahassee and its great when it works but man the coverage is horrible.

Have LTE where I am, and it's amazing. I live in a pretty small town too. Posted via the Android Central App

I thought he was gonna keep things clean....and then the ending part. Had me busting up! Magenta is the new Yellow

He had me busting up too. Love that guy lol Posted via the Android Central App

I am perfectly happy with T-Mobile LTE. If I want excellent coverage in the US (i.e. coverage everywhere I go, even in very rural areas), I would become a customer with GlobalStar, Iridium or Thuraya since there are no carrier here that can offer "European coverage". No, not even Verizon is something to brag about compared to carriers such as Telia (Sweden) or Telefonica O2 (Czech Republic) where it really is possible to talk about "everywhere coverage". There are things to improve for T-Mobile, though and one of the most important steps would be to introduce UnCarrier UnBranded - i.e. selling unlocked and unbranded phones that are updated by their manufacturers rather than the carrier.

Wifi calling and T-Mobile specific radios would go out the window.

How big are those countries compared to the US? Wouldn't that come in to play. I'm the kind of guy that stops a microwave at 1 second to feel like a bomb defuser.

It is a huge part of it. Comes down to cost effectiveness Posted by my soon to be retired Note 3

I know that. I was attempting to be sarcastic. Thanks though. I'm the kind of guy that stops a microwave at 1 second to feel like a bomb defuser.

Sorry I missed it, thought it was a legit question Posted by my soon to be retired Note 3

You are thick as a brick.

Sweden is almost like the size of one big city in the USA, so, that's the reason coverage should be great. Texas alone is bigger than all those countries combined Posted via the Android Central App

That doesn't make sense. It's much harder to provide coverage in a less dense country.

Uh, a Verizon world phone will work just about anywhere there is cellular service. That includes all of Europe.

I'm sick of this guy. Anyone else? Posted via the Android Central App

Nop. He changed the game. Posted via the Android Central App

Cute. Posted via the Android Central App

They still have the worse customer service on the planet and perhaps the Galaxy

I keep pushing my sarcasm button, but it keeps telling me your serious. Maybe 10 years ago you were right, bit customer service is about the best thin T-Mobile has over the other carriers....and its not even close. Plenty of surveys to back that up too. Posted via the Android Central App

Lmao ? Really it is the worse crap ever .....took me a month and a half to leave them because of their horrible customer service . Returned a phone that ups said was received on October 31st and didn't get the EIP taken off till December 19th and I bet money I will have a hard time with this bill that I am getting which has no usage and only kept it open so I can have this EIP taken off . Monkeys can do a better job then t-mobile . Even as far as 5 years ago when I left them for AT&T they sucked . Had a sidekick LX with insurance and the screen crapped out about 15 months with the phone and got a replacement with deductible and that was broken on arrival and took me 2-4 hours to get a replacement . Left and gladly paid my ETF to get an iPhone at the time If you call that good customer service ....I wonder what you call bad

They still suck ...even my friends have had issues with their CS

No. The previous commenter was talking about studies which aren't anecdotal evidence.

No one is forcing you to read a story or watch a video. He's easily avoided. Meanwhile the rest of us will keep benefiting from the ass he is kicking. Posted via Android Central App

Nah. He's hilarious. Posted via the Moto X Pure Edition

Nope, just you. Posted via the Android Central App

Yep but I would have taken him gladly as the head of SprinT-mobile Posted by my soon to be retired Note 3

That's because you have no integrity.

No Hesse was that bad. Posted by my soon to be retired Note 3

Yup, tired of hearing and seeing Legere as well. It doesn't help that he always throws off a douche vibe to me.

Had to switch from T-Mobile to Verizon. Needed coverage here in the southwest. T-Mobile's data speeds were much faster, when I could get data coverage. Oh well... keep everyone on their toes, T-Mobile!

At least with At&t and Verizon you can can get a signal outside of a big city. Someone needs to show john several seats. Posted via Android Central App

When was the last time you used t-mobile... I'm getting pretty good signal in plenty of small places... Hell, I even get signal in the underground parking garage by lake erie these days. Grab a pre-paid sim card and try it out, is all I'm saying.

Don't have to use it, just look at their laughable coverage map. Posted via the Android Central App

I mean, maybe in your area... but I'm pulling down 64+ mbps pretty much everywhere I go... I guess if you trust the map, good enough... but it's definitely not the case everywhere...

Tell me that with 0 bars past 5 feet from my window in NYC ....

You would be the only person in the entire NYC metro who has that problem, then. Posted via the Android Central App

You live in NYC ? I had quite a few issues with t-mobile inside buildings...it's a joke they suck and customer service sucks . Plus good luck getting service anywhere outside of a city because they suck at that as well T-mobile is the worse company on the planet and I hope they go bankrupt because I'll throw a party if they do

nyc? sounds like a lot of lead paint over the years lol. or your area doesnt have band 4 which works better in buildings. same thing happens to my fried on verizon, at least i have wifi calling.

My building has no lead paint ....just horrible service with t-mobile . I get about 2-4 bars with Verizon, sprint or AT&T through 99% of my house with the exception of a small area in my basement but that's it . Place I work gets spotty service as well .

Lead paint would explain more than the coverage!

Get a new phone or celfi for free.. Posted via the Android Central App

Lol I ditched t-mobile and happily with Verizon . Get service in my house with no extra equipment. Lol a new phone .....

You don't have a house. We've established this. Your credibility is zero.

Lmao you take stuff way to literally ....house / home who cares what I said about what type of home do I live in .....my point was I get no service where I live

What map? The one Verizon showed you that's 10 years old? Posted via the Android Central App

Like it's been shown before, coverage maps don't tell the whole story.But hey, don't save money, no one is forcing you. Posted via the Android Central App

Set the controls for the heart of the sun, Legere, you magnificent bastard! Posted via the Android Central App

Wouldn't be right without some bleeps! Get your coverage sorted out in my area & I will be switching. Been waiting for 2 years now..... Posted via Android Central App from a beautiful Ebony backed Original Moto X or the amazing Nexus 10

T-Mobile is causing change in the industry and that's important. If Verizon or AT&T weren't concerned about T-Mo there would be no Edge or Next programs. There wouldn't be double data promotions. T-Mobile will really start to scare the big dogs once they can get their coverage to be at least 70% as good.

I was with them before the launch of the iPhone for years and never had an issue. I was tempted to return after I jump off the Apple bandwagon but the data network just want where I wanted it to be at the time. I ended up giving my old Google Play Edition M7 to a co-worker that has no clue what it is other than its a smart phone and it worked on her t-mobile account just fine. At the time it was only GPRS since the LTE bands were not compatible. That has now changed and when I helped her with the update for Lollipop I noticed she now has full LTE here showing up! So I tested the speeds of it and sure enough its blowing away my M8 on AT&T now. I am VERY tempted to move over all my lines over now if they can beat AT&T for the 4 lines we have with them. I wouldnt count them out just yet being I have now seen first hand an improvement in the last year..

Just switched a month ago with the whole family in Az and Los Angeles and I am very very impressed with the service. Getting service and full bars in places that Sprint and Verizon has always had holes. Posted via the Android Central App

LMAO, people are funny. I got called all kinds of names for saying T-Mobile sucks. I'm on Sprint, and they kind of suck too. But I know for a fact that Sprint us better than T mobile here in Augusta GA. As far as t mobile signal, ..every carrier has a strong signal somewhere, it's just that t mobile has a smaller coverage area than the top three above them. And this whole uncarrier nonsense, trust me, get a phone from them for four months and try to cancel your service and see how many cancellation charges they hit you with. Where I come from that's called a contract. SMH, I can't believe people actually believe it's not a contract.

OK genius......t-mobile has NO contracts anymore. It's all month to month now. Would u say that if t-mobile or any carrier offers you unlimited data, but throttles your download speed, that the data is not unlimited Posted via the Android Central App

Joseph there is also a little "Sprint" pun in there including all the other carriers. I am so happy I moved from Sprint the service and data speeds have been a huge upgrade for me up in the NE.

I'm thinking of going with Verizon prepaid. Great deal with great service Posted via Android Central App

Wow this community is just too funny.. You fight about everything. Goes from Apple bashing to carrier bashing. Can't you just appreciate the people who are changing the industry to help better provide you services and goods? Steve Jobs changed the smart phone industry and Legere changed the wireless industry. Our android phones are always getting better because of Jobs and our carriers are getting cheaper and better because of Legere. Don't hate for the sake of hating. Give credit where credit is due. Quit being so small minded. Posted via Android Central App

Lol. Its called trolling, and this place is chock full of trolls. Posted via the Android Central App

Music freedom... Shouldn't we be against that as it goes against net neutrality

Nope. It doesn't. Try again.

John Legere needs to shutup and improve his network. I tried T-Mobile for a month w/ a Nexus 5 in New York CIty. The data coverage was unreliable as I was using Google Maps for navigation. The only reason why they had success in the past year is because of their low prices. Low Prices mean nothing if there is no RELIABILITY with the quality of service. Ask yourself this question: Would you rely on T-Mobile's better than Verizon Wireless for your family's safety? I would pay $50 more, for the peace of mind knowing that my family's phone service is reliable

I have a Nexus 5 and travel all over the NYC metro. I go through Manhattan all of the time. Nowhere have I even found a blip of bad reception. LTE everywhere I go. Now inside buildings is a different story, but you're talking about outside, so I call total BS. Posted via the Android Central App

This debate is so stupid. If the places you go have good T-Mobile coverage, they offer the most innovative options on the market today.
If they don't cover where you need it, it's moot. For me, they'd great because they have good coverage where I go, and offer amazing other incentives. If I didn't have good coverage where I went, the incentives would mean nothing. But they do, and therefore they do! End of story. Posted via Android Central App

What the hell is wrong with you people?
If you are Unfortunate enough to live where T-Mobile does not work for you, *Your Loss*
For those of us that Can Take Advantage..
From their $30.00 a month plans to $90.00 for Unlimited EVERYTHING.. Never Throttled with Insurance and "Jump" coverage that allows us to upgrade our devices twice a year ( The Galaxy S6 in June and Note 5 next December for me ) T-Mobile simply cannot be matched.. Again..Too Bad if YOU cannot take advantage.

Yea now you get 2 lines unlimited no throttling for 100.00 I gave 4 phones unlimited no throttling for 180.00 what carrier has that price? T mobile works great where I live... So I get to save mega money.. And over the past few months they have added to the network. As i now have 4glte in areas that use to be 2g only. So they are expanding out side my little city already.. Posted via the Android Central App

Genius video, way to go Tmobile, what an awesome company!! Posted via the Android Central App

Lotta talk out of a service that sucks Posted via the Android Central App

Speak for yourself. It's great for me and many others.

Yea there is. Alot of the negativity is from people who are mad they are paying 2 paychecks to Verizon and AT&T and still don't have unlimited data. It could also be their under contract and can't leave. Either way who cares. You pick a service that works for you. Stop complaining about a service you don't use. Posted via the Android Central App

I'm on T-Mobile getting over 50mb down and 25 up. That is inside my brick single family house. I travel up and down the North East and never have any issues. I couldn't be happier. Thank You T-Mobile, Thank You John Legere. Posted via the Android Central App

It would be better saying "merry christmas" instead of happy holidays.

I looked at the LG3 at the mall at their kiosks and it gets a better signal than my LG unlocked phone with t mobile SIM card. Posted via Android Central App

What I find funny is that he actually thinks that AT&T and Verizon are worried about T-Mobile lol. When T-Mobile can provide the coverage that AT&T and Verizon do then they can begin to worry. But T-Mobile has a long long way to go. Anything outside city limits and your phone is useless. My friend just got rid of T-Mobile because he couldn't even get coverage in Long Island which isnt far from city limits Posted via the Android Central App
Android Central Newsletter
Get the best of Android Central in in your inbox, every day!
Thank you for signing up to Android Central. You will receive a verification email shortly.
There was a problem. Please refresh the page and try again.