T-Mobile updates Galaxy S5, Note 3 for VoLTE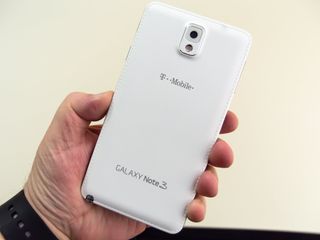 If you're in one of T-Mobile's newly announced VoLTE markets, the un-carrier network is starting to deploy a software update to the Samsung Galaxy Note 3 and the Samsung Galaxy S5 phones starting today. This will allow you to have a better, clearer voice experience while gabbing on your phones.
"Beginning June 19 after 5 p.m. PST the Samsung Galaxy S 5 will have a software update to Android 4.4.2/Baseband G900TUVU1BNF6 that turn on VoLTE services via OTA over Wi-Fi in available VoLTE markets only," T-Mobile said while not giving an exact time for the Note 3's over-the-air update.
For owners of these devices who are not in a VoLTE market, T-Mobile said that the update will be available via Samsung's Kies software starting tomorrow, June 20.
In addition to the Note 3 and Galaxy S5, it looks like LG's G Flex was also given the VoLTE software update treatment last month on May 22.
And in case you missed yesterday's un-carrier announcement, here are the VoLTE markets for T-Mobile USA:
Atlanta
Austin
Chicago
Dallas
Houston
Long Island
Los Angeles
Minneapolis
New England
New Jersey
New York
Philadelphia
San Francisco
Seattle
Washington D.C.
Source: T-Mobile Note 3 update (opens in new tab); T-Mobile Galaxy S5 update (opens in new tab)
Get the Android Central Newsletter
Instant access to breaking news, the hottest reviews, great deals and helpful tips.
Anybody know if Colorado is going to get this or already has it? Call quality out here is shit!! Posted via Android Central App

It would be great to know how many phones are capable of receiving these new options.

Um, if you're phone currently does not support voLTE, then you're not getting this update. This is only an add on to phones that are already running it now. As far as the future, IDK, just a guessing game at this point as I don't think T-Mobile has published anything official about future phones getting it and I'm sure will only keep it on the newest models to entice people to trade up to buy a new phone like all the other software upgrades. Another question would be even if you have a Note 3 or S5, its meaningless anyway if it's not implemented in the market list.

Google update for n5 coming?? Posted via Android Central App

Well hardware wise it is capable but who knows if Google has it turned on by default. You might have to wait for an upgrade cycle.

In terms of hardware, does a phone need anything beyond just LTE data capability to be VOLTE-ready?

I do not really know. Everything that I keep finding on the topic is that it should be as simple as a software tweak on both ends but I thought the same thing with the quick charge 2.0 stuff for the Nexus 5 (hint it doesn't support it no matter what). I guess we will just wait and see about this one.

As far as i understand it the Infrastructure had to be in place first (hence why major cities first, dense populations, higher percentage of happy customers.. etc.. ) to support the new update for all voice traffic to go over LTE.

Does anyone know what the base band will be for the Note 3? I downloaded a update last week via Kies and I am on Baseband: N900TUVUDNE6.

I downloaded that too and it has voice over LTE options Posted via Android Central App

Correct, I have been making VoLTE calls for a week now.

Ah, I just found the info! http://support.t-mobile.com/docs/DOC-9050 Looks like we will be getting another update.

Just got an update on my LG G Flex that gave me voLTE, but I'm not in any of the markets. Rather confused at the moment
Posted via Android Central App

Just hooked my Note 3 up to Kies and was told there was an update. Downloading now. I'm in NY by the way.
From NB4 to NE6

I like how they just put "New England" like wtf does that even mean. probably Boston that's it. Posted via Android Central App

I live in CT that is also new England state

but they should be more specific. I find it hard to believe that they have an entire region covered with the volte. especially since there are most parts of new England that don't even have data LTE...

Looks like I missed an update. I'm on N900TUVUCNB4. Connected to Kies and was told there's an update to N900TUVUDNE6. Looks like the VOL update is N900TUVUDNF1.

I live in new Haven, CT it's considered a new England state. So does this update mean the whole state

I think they were talking about New England, North Dakota...

"T-Mobile said while not giving an exact time for the Note 3's over-the-air update" That's because the update for the Note 3 is a month old already and those of us in the markets available have already been using it. The slightest bit of research before writing an article would be a breath of fresh air....

Let me just re-write the whole article for him. Here is the actual list of markets:
Atlanta, GA
Austin, TX
Boston, MA
Chicago, IL
Dallas, TX
Houston, TX
Long Island, NY
Los Angeles, CA
Minneapolis, MN
New Jersey
New York, NY
Philadelphia, PA
San Francisco, CA
Seattle, WA
Washington, D.C.

And still my Sony xperia z1s update is nowhere to be seen Posted via Android Central App

Is the St. Paul and surrounding communities included with the Minneapolis VOLTE upgrade?

Shortly after my previous post I found an update ready to install. So to answer my own question St. Paul is included. It only makes sense but funnier things have happened.......It was very quick, less than 10 minutes and we are VOLTE ready!!!

Still no update here in Chicago OTA or Kies. S5 or Note 3

Firmware upgrade process is at 50%. The update finally showed up on Kies 3

I received volte update yesterday evening on galaxys5 I'm from California

My galaxy s5 just got the update today.