Did you know that adding smart functionality to electronics in your home is not just simple but inexpensive too? Take this four-pack of Teckin Mini Smart Plugs at Amazon. The set is normally priced at only $40, and today you can drop their price even lower to just $25.99 when you enter promo code WNEG7ZXK during checkout. A single one of these plugs would regularly cost you $12, so springing for the four-pack makes a lot of sense in this case. This deal brings the plugs' price down to just $6.49 apiece.
The Teckin Mini Smart Plug can be controlled from anywhere in the world via the free Smart Life app on iOS and Android devices. You can even control it with your voice by using a device like an Amazon Echo or Google Home Mini.
Smart Buy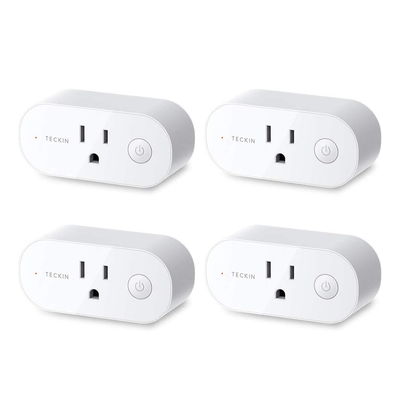 Add smarts to your old tech with this 4-pack of Teckin Smart Plugs. You'll be able to start controlling them from your phone or even with your voice. Using the following promo code during checkout scores you each plug for less than $7 apiece.
$25.99 $39.99 $14 off
Once you plug a device into one of Teckin's mini smart plugs, you'll be able to schedule it to turn on or off whether you're at home or elsewhere using the app on your phone or with your voice. You can also ensure your devices are turned off while you're away and monitor energy usage and costs, which is a big plus if you're someone who's always wondering whether you left a light on or not.
At Amazon, more than 600 customers have left reviews for Teckin's smart plugs, resulting in a rating of 4.3 out of 5 stars. There are plenty more ways to make your home smarter on a budget, and this guide on best smart home products under $50 can help you get started.
We may earn a commission for purchases using our links. Learn more.