Samsung Galaxy Tab 2 10.1" specs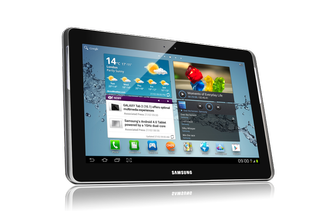 Dimensions: 256.7 x 175.3 x 9.7mm
Weight: 583g
Android 4.0 (ICS)
1GHz dual-core processor
10.1-inch WXGA PLS TFT Display (1280 x 800)
Network: 4G LTE & HSPA+
3-megapixel (rear) camera
Front-facing VGA camera
Bluetooth v3.0
Wi-Fi 802.11 b/g/n, Wi-Fi Direct
1GB RAM
16GB internal memory
MicroSD storage (up to 32GB)
7,000mAh Li-ion battery
Samsung TouchWiz / L!ve Panel
Samsung Hub & Smart Remote
Samsung All Share Play
Get the Android Central Newsletter
Instant access to breaking news, the hottest reviews, great deals and helpful tips.
Not really a step up from the Tab 10.1. Sooooo....? The Galaxy Note 10.1, on the other hand, will make you want to slap ya mamma....

it's not an upgrade from the 10.1 at all, I hope they don't expect existing owners to upgrade cause is not an upgrade. Hell they could have at least have Gave It More Ram. The S3 has more ram than this version of the 10.1, more processor too!

Am I missing something? Wasn't the original Tab 10.1 a 1ghz dual-core? Specs seem pretty weak. I love the front-facing speakers though

You could have posted this ~5 months ago, you know, when the Tab2 10.1 was first released...

There was a 4G LTE Tab 2 5 months ago??

aside from connectivity there is 0 differences. I don't know anyone who could tell the difference between a wifi only/4G LTE tab 2 by looking at the device, or the specs aside from the connectivity column. I don't really see how it justifies a rehash.

There is no model information or anything. If it has LTE support, what carrier is it getting LTE from? There is nothing useful in this "story" that wasn't known when the tablet was first released other than LTE support. Then again, I haven't seen many comments here that suggest anyone would even realize the tablet has been out that long.

The specs are screaming $199 street price. The battery spec is screaming 50 hour run time! Holy guacamole!

Yeah, I don't get what the deal with the postings re: galaxy tab 2 are today. It's way beyond old news at this point. Pretty weird AC, I don't really get it.