Polaroid announces range of Q Series tablets ahead of CES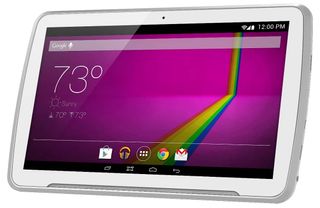 New 7, 8 and 10-inch tablets start at just $129
Polaroid has just announced some additions, called the Q Series, to its tablet lineup. Coming in a 7, 8 and 10-inch sizes, Polaroid hopes that its latest offerings will attract some attention. The Q7, Q8 and Q10 are all Wifi tablets that will launch running Android 4.4 KitKat — something many people will enjoy. Powered by a quad-core processor, each of these tablets will feature many of the other standard bells and whistles like Bluetooth, HDMI out, front and rear cameras, as well as front-facing speakers for great media enjoyment.
With pricing starting at $129 and going up to only $179, the tablets are definitely in the affordable range. Polaroid hopes to have these in the hands of consumers by Spring 2014, which isn't too far away. The Q7, Q8 and Q10 will be featured at CES, so stay tuned for some hands-on time with each of these from the show next week.
CES Booths: Central Hall #13613 & #13022
Polaroid Adds Q Series to their US Tablet Line at CES
New Tablet Line Features Quad-Core Processors & Android 4.4, KitKat OS
LAS VEGAS, January 2, 2014– Polaroid is pleased to announce the newest addition to their robust tablet offering, the Polaroid Q Series. The sleek new series will be on display in the Polaroid booth #13613 at the 2014 International Consumer Electronics Show, and is comprised of the Q7 (7" tablet), Q8 (8" tablet) and Q10 (10.1" tablet). All three sizes are Wi-Fi enabled and feature super-fast Quad-Core processors, and the new Android 4.4 KitKat operating system.
"Tablets are changing the way consumers use and share their favorite media and memories, and Polaroid's robust line of tablets is allowing more consumers to share with on-the-go convenience," said Polaroid President and CEO Scott W. Hardy. "Our Q Series provides consumers with super-fast quad core processing speeds allowing for faster performance and less wait times when watching movies, or playing games. In addition the Q series' sleek design and affordable price point make it a great choice."
The Polaroid Q Series tablet line is perfect for media and sharing on-the-go. Each tablet features an extended battery life, HDMI Bluetooth and front mounted speakers for hours of entertainment anywhere. The front and rear cameras allow users to capture their favorite memories, and share them via email and social media channels through the tablets' built-in Wi-Fi. Users also have access to a plethora of apps, games, movies, music and more to enjoy on their Q Series tablet through the Google Play Store.
Designed and manufactured by Southern Telecom, an authorized Polaroid licensee, the Polaroid Q Series line of tablets have a suggested retail price of $129.00- $179.00 and will be available spring 2014. For more information on all the Polaroid products that will be launched at the 2014 CES show, visit: http://www.polaroid.com.
The Polaroid Brand
Polaroid is one of the most trusted, well-respected and recognizable brands with a rich 75 year history beginning with Polaroid instant film. Our range of products include instant and digital still cameras, high-definition and mountable sports video cameras, tablets and flat-screen TVs that deliver the fun, instant gratification and value for which the brand has long stood. Today, the Polaroid Classic Border Logo rooted in our beginnings of instant photo sharing serves to designate genuine Polaroid branded products. For more information, visit http://www.Polaroid.com.
Polaroid, Polaroid & Pixel, Polaroid Color Spectrum and Polaroid Classic Border Logo are trademarks of PLR IP Holdings, LLC, used under license.
About Southern Telecom
Southern Telecom Inc, (STI) is a leading manufacturer of quality consumer products since 1988.
Find out more at www.southerntelecom.com
Android is a trademark of Google, Inc.
Jared started off writing about mobile phones back when BlackBerry ruled the market, and Windows Mobile was kinda cool. Now, with a family, mortgage and other responsibilities he has no choice but to look for the best deals, and he's here to share them with you.
Do we know any specs yet? posting while eating gummybears in your girlfriends bedroom

I'm sure if they had the info they would let us know. They're good about that. Keeps us coming back. Posted via Android Central App using an LG G2.

I am not really replying to you, but want this near the top of the thread. THIS IS NOT REALLY POLAROID! Not the guys who made the cameras that we all shook our arms off on. They went bankrupt quite awhile ago and sold the name to some crap outfit. They have been doing tablets for quite some time (why yes, I own one as a junk e-reader) and they are all shiat. No play store. no OTAs. maybe an update but you will never actually know about it. I do not know if they are going to up their game, but at that price point I DOUBT IT. BUYER BEWARE UNLESS YOU NEED AN E-READER

I was actually wondering if this was THAT Polaroid. Assuming your information is correct, thanks for telling us. Posted from my HTC EVO 4G LTE via Android Central App

Trust me I am correct. (I know internet expert right?) I looked into it before I bought the tablet (went in with my eyes wide open, but that is a different story). The build quality is pretty solid and they come with a SDcard slot if the storage is crappy (which it will be) but it is not going to be all that great...

Easy solution...get a Galaxy Tab 7. Better and cheaper than every tab out there (Including the over-hyped Nexus 7). And best of all it's made by Sammy! :)

Sorry, no. The N7 is much better. That is the only troll food you will ever get from me...

Battery life is all that matters. The Galaxy Tab 7 has 30℅ gooder battery life than the Nexus 7. Screen and Speed don't matter in this world. #WakeUpCall

Screen and speed do matter. Here's why: The screen is what you look at all of this on the device. Speed: Why I left Samsung. By the way, my Nexus 7 averages about 22 hours of battery including playing N.O.V.A 3, traveling, watching videos, and more. StealthDroid - Working on his HTC One Max in the Nexus Lab

Dude you need to just stop... Your posts are painful. If you want to make Samsung look good you are doing it wrong. ಠ益ಠ

Lol screen and speed do matter so you are saying that you would not mind a 400 by 800 screen or a 1 GHz single core processor on a expensive flagship phone Makes "sense" lol Sent from my Nexus 7 2013 or Moto G

You know why the battery life is supposedly better (which its not) because the display is bullshit. But your right, screen quality don't mean shit(/s)! Guys, get the nexus 7. Posted via 2013 Nexus 7 and the (boss) Android Central App.

Not in the least. My Samsung tablet had terrible battery life. It drains battery almost the same whether the screen is on or off. The Nexus 7 had way better battery life. I've gotten a good 6 or 7 hours of almost constant screen on time. The Nexus 7 is not "over-hyped," as you say. The only good thing I have gotten out of touchwiz is smart stay. My Samsung tablet is decent fur the features at the price I bought it, but the battery life and performance are not good. Most apps have terrible last, and just a few minutes on chrome causes the tablet to dump the launcher from the RAM when I return to the home screen. Posted via Android Central App

So these are just deceiving images with the play store? It looks like they are Google certified. Posted via Android Central App

2014 is starting off great with all these preannounced / ridiculously affordable phones, tablets, and smartwatches.

Considering that I'm used to seeing Polaroid tablets for $49 at Walgreens, I'm not too impressed by this.

I'm thinking they deliberately left out the specs on purpose because they are using old hardware to keep the price low. Would love to see a polaroid tablet that had instant hard copy's of pictures from what ever was on your screen in a screen grab though. But they announced they weren't making the instant film anymore.

Another tablet for iSheep.
I'm not talking about Apple.
I'm talking about the type of "Me Too" people that buy just because they want to be like everyone else. Posted from my "KNOX-FREE" 4.3 Sprint GS3...!!!

If someone wants to buy a tablet for whatever reason, then why should the option--especially low cost--not exist? Does it hurt you in some real way?

What is wrong with you? Posted via Android Central App using an LG G2.

The irony of someone calling others "me too" sheep while having a Samsung GS3...

What having the best phone for 2012 makes you like everyone else...?

1. It wasn't the best phone of 2012.
2. The design was a knockoff of the iPhone. The lawsuit over that is pretty stupid, but the GS3 was definitely 'heavily inspired' by the iPhone. That's about as "me too" as you get. Posted via Android Central App

Will be very interested to hear what the crew at AC think of it when they get their hands on one Posted via Android Central App

I think it sounds promising. Bare bones but pretty cheap!

Will they work even if you don't shake them?

Yes, but shaking makes them work faster. Posted via Android Central App on Nexus 4

But doesn't turn on the camera like it does with the Moto X. Posted via Android Central App

That soft button layout. Posted via Android Central App

Lol, I have no idea what Polaroid was thinking :P Posted from my pure Google Nexus 4 using the AC app.

That bezel is huge... I doubt these will have more than 8-16GB storage, and the screens will likely be terrible because Polaroid isn't known for quality these days. Dell's Venue 8 Android tablet is still an amazing value because you get 32GB storage for only $200.

I can't wait to see if Motorola comes out with a 32GB Moto G for (hopefully) $230. That would be an amazing deal.

Won't happen. You don't put 32gb of storage in a budget phone.

Really? Dell put 32GB in their Venue 8, which costs only $200.

I understand how you can confuse Polaroid Q with Motorola G. Its a common mistake.

I am just tired of hearing the G mentioned. Perspective, it is a POS prepaid cheapy phone. I have never seen one of those get the kind of press around here that that one does. Sure it has decent specs, but we are done with it now...

I am just tired of hearing the G mentioned. Perspective, it is a POS prepaid cheapy phone. I have never seen one of those get the kind of press around here that that one does. Sure it has decent specs, but we are done with it now...

I was changing the subject.

Right... Because you want to change the subject of the discussion about an article? Posted via Android Central App

A Polaroid running KitKat! A little surprising! Probably not too powerful but just enough for a good device aimed at first-time tablet users. Posted via Android Central App on my Nexus 5 (4.4.2)

Hopefully this means no more cheap Polaroid tablets! StealthDroid - Working on his HTC One Max in the Nexus Lab
Android Central Newsletter
Get the best of Android Central in in your inbox, every day!
Thank you for signing up to Android Central. You will receive a verification email shortly.
There was a problem. Please refresh the page and try again.