Official BlackBerry Priv listings pop up with detailed specs and price, November 16 ship date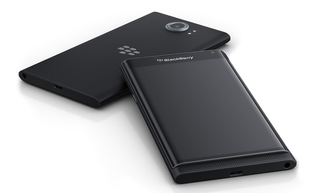 If the ads pointing to a Friday pre-order date for the Priv didn't have you salivating already,things are starting to heat up. BlackBerry is now listing the Priv on ShopBlackberry, and although you can't pre-order just yet, we now have a good look at pricing. For those of us in the U.S., it looks like the BlackBerry Priv is running a cool $750 unlocked. In Canada, on the other hand, it'll set you back $949 — definitely a pricey little beast. In addition, we're looking at a ship date of Novemeber 16 after pre-orders begin.
And while we already knew a few specs that would be packed into the smartphone, the listings give us a more complete picture. Aside from the 5.4-inch display, 3410mAh battery, 18MP rear and 2MP front-facing cameras, 3GB of RAM, and Snapdragon 808 processor, there's a bit more to check out. It looks like the screen will pack a resolution of 2560 x 1440 at 540 DPI, and the camera will be capable of 4k video at 30 fps, along with OIS and Phase Detect Auto Focus. BlackBerry adds that the large battery will also enable 22.5 hours of use.
To check out the listings, along with every little detail of what the Priv is packing, be sure to hit up the links below. Just keep in mind, you can't actually place an order as of yet. Those are expected to go live on October 23.
wow... in the wake of so many phones in 2015 being below the $500 mark... $750 feels like A LOT.

Feels... But indeed it isn't

Except it kind of is Posted via the Android Central App From my Blackberry Priv where I am out of toilet paper

To kids maybe.. Plus, the vast majority will be buying this on contract

Bullshit, it's overpriced.

Why? You've held it and used it to determine that? It's not solid or fast? What's wrong with it? It'll be $199-$299 on contract, on par with the best of them

It's an SD 808 phone on a 1440p panel, it's not like performance is an unknown at this point in the game.

Yeah, I wouldn't pay that much for a 808 or 810 based phone.
Other phones with the same specs are going for $500 or only a little bit more. It's overpriced, especially for blackberry who is trying to make a come back.

For the Fools that keep strangle themselves on contracts maybe. but there are fewer and fewer of them. Fi FTW!

The vast majority are these fool you speak of... Like 9\10 people are on contract, waiting for upgrades.

"For the Fools that keep strangle themselves on contracts maybe. but there are fewer and fewer of them." Wait...what?

The only contracts left are with att in the US so people will be paying the 750$. Lots will say it isn't worth it, some like me won't care about the money but the phone itself isn't worth it. The price tag is really gonna be the death nail for this +++ Insert witty signature, watch as others not get it, profit +++

You'll be paying $750 AT&T as well. You always have and always will. Posted via the Android Central App

Blackberry currently isn't rated as one of the best!

Contracts must end. My 350 unlocked Nexus 6 is looking mighty fine. No reason for single people to have contracts. Save for your phone. If you have a family then maybe. Posted via Nexus 6 running on any data plan I want

Except only one carrier in the US truly offers contracts anymore; and even then I'm thinking they will price it somewhere in the 250-300 range. I think that this device will draw some attention but you still have to look at how diminished the Blackberry name is with the average consumer.

Well, I must be a kid. Cause that seems like a fair chunk. Posted via the Android Central App

Don't worry, I'm not a kid and I earn a very good salary, I would NEVER pay 750 for a device. It's a PHONE. The most I'd pay is 600, and that was for the Note 4 which was ultimately not worth it seeing that it was BUGGY AS HELL! After 4 months with it, I returned it... yes, they returned it because it was BUGGY After 4 updates! Lame device. Anyways, I got my G4 OFF contract 5 months ago for under 500 euros. We don't know how Blackberry will treat Android, if it will update it, or anything like that. I think they went the wrong way and charged too much. Personally, I won't be buying it at that price. When it drops to sub 500 I'll check out reviews to see if it's worth 250 less than what they're asking for. Haha.

Note 4 isn't buggy with android 5.1.1 but use what you like i say. Posted via the Android Central App

He might be on Verizon and probably wouldn't get 5.1.1 on the Note 4 till the Note 6 comes out anyways... LOL

I'm with you. I'm on a Nexus 5.. I personally wouldn't pay that much either, but I still don't consider it expensive.. And these are far more than just phones, c'mon

I had the Note 4 since launch on Verizon and have never experienced a bug with the phone or OS. There are some things I would change in the UI but that is not a bug :) For other, if you are seeing software failures on the Note 4 I would do an exchange as this is clearly a HW problem with the specific device.

Hmm, I don't think so. Not calling you a liar, but there are SO many threads about the multitasking lag, camera lag, GPS lag while in the camera, launching gallery lag, and then there were the memory issues. A few were fixed in updates, but the important ones to me were never fixed in the months I had it. I returned it and never looked back. It ended a fantastic Note 2 era for me, and I doubt I'll go back to another Note. It was clearly not a hardware issue. It was a Samsung issue. But I'm VERY happy yours worked well for you! Mine didn't, thus the return.

The opportunities to buy on contract are quickly eroding. Financing, sure, but not contract.

Everything is financed here in Spain; I think it might be an OK idea. But I don't believe in buying something over payments. If you can't afford that SUPER expensive device, don't buy it. I always buy my devices right out from Amazon or online. Contract free, debt free, often MUCH cheaper than what they're selling it for at the carrier, and it's mine from the get go.

On contract, financing... no difference

Yes actually there is. If the phone is purchased on contract then generally its subsidised and you pay significantly less than full price up front. When a phone is financed, you pay the full price divided over the length of your contract. Big difference.

On contract is more expensive long-term. But my point is it's still broken into payments.

Rumour is this will be $399.99 CAD on contract. Which is very pricey indeed.

Its not necessarily about the cost, but more about the value. What are you getting for the money? $750 is cheap for a new car, but really expensive for a cheese sandwich. With this phone you are getting basically identical specs to a Nexus 6 (2014) at over double the price. So your paying an extra $450 for a slider keyboard and an SD Card slot. And don't be a dick. Not being able to shell out $750 doesn't make you a kid or any less an adult. Not everyone makes a ton of money and many of us have other responsibilities, such as raising kids, not acting like one.

I'm sorry, it's just not a lot of money. I didn't mean to offend you or anyone, I'm simply stating a fact. You get what you pay for.. I wouldn't buy it as I don't think anyone should spend over $500 for for a phone. But not because I think it's expensive, because I think it's illogical. I also think you shouldn't waste money on a 300 phone.. But that's me. I also think you should spend no less than $800 for a Windows machine.. You get what you pay for regarding quality AND specs. They seem to have hit a nice balance. Remember this device has mechanical movement. That adds to the costs.. They also have to make a profit.

It IS a lot of money. Maybe you're a millionaire and its not. Maybe you have no other bills or responsibilities, and all your income is disposable. Maybe phones are your top priority and to YOU that's not a lot. I make a very good salary, especially for the part of the country in which I live. But I'm also a single father with a mortgage and a truck payment. I have a daughter who will need braces, who will want to go to college, who will one day need a car. Those responsibilities change your definition of what "a lot of money" is.

And you weren't stating a fact, you were stating an opinion, in the most arrogant way possible. By telling everyone that can't afford $750 that they must be a child. I'm probably more of an adult than you, and I think $750 is a lot of money.

I can hear the violins playing as I read your comment... You can't afford it because you have other more important obligations - that's fine and respectable. It doesn't change the general fact it's not a lot of money "generally speaking". And if you read my comment, you would have read I would never spend that amount on a phone. I live in NJ, mortgage, car, etc.. blah blah too.. I will not be buying this either. Nothing wrong with my Nexus 5..

Not a lot of money for YOU. Generally speaking, you can't speak for everyone else. You can't project your financial situation on everyone else and then act judgmental when people say $750 is a lot of money. And I'm not talking about whether you're buying the phone or not. Don't care what you buy or don't. I'm talking about your elitist, flippant attitude, and then putting down anyone who either can't afford it or view $750 as a lot of money. That's a house payment. That's more than some people make in a week. Or two.

Omg.. Relax bro.. Nobody told you to dig yourself into your hole. We're two strangers talking about friggin phones on the internet.. Take it easy..

What hole did I dig myself into?

Don't worry. Just stop answering. 750 is A LOT of money. My BF made 300 a month as an intern for the past 3 months... Money is something very subjective. I find 50 euros a lot of money for some things. I have 6 living colors in my house by philips, awesome system, and for me that's worth it. It really sets a setting for friends, romantic dinners and movie night. I'd never drop 750 on a phone. EVER... It's not worth it.... It's a PHONE. What is it that this device will do that a Nexus 6P (another top tier phone) can't? Except the keyboard ,that's it I think... SO, yeah! But who cares. Let BB bring this device out and not sell as well as they can because they are on their high horse (singular hahaha, their last horse). I have G4 which cost me under 500 shortly after release and it has very similar specs and will take better pictures than the BB and PROBABLY have longer support :P... So I'm happy with my LG! Let someone buy their BB, just... don't even respond. I agree with you... 750 is A LOT of money... But it's subjective for each person. I know people who can't afford a 40 euro dinner, but had their parents buy them an iPhone 6 when it came out! I don't understand people.... Haha. As I'm sure people don't understand me!

The hole where $750 is a lot of money to you.

The specs MATCH this 5X sitting next to me for half the price. That and you don't always get what you pay for, that argument is illogical.

It's not a 5X though.. And you do "get what you pay for" . Hence the saying.. Life will teach you that one day.

Contact or not, you're paying full price. And if you think only kids can't or won't pay that much money on a phone, I hope your ivory tower has a nice view. Posted via the Android Central App

Idk, we must all be rich in NJ. Move here, be rich. Buy $750 smartphones. People drop $250 on a night out and don't think twice. But spend $750 on something you use everyday, for 2+ years, and rely heavily on.. "Too much money" .. Stop buying phones every 6 months and your view might change.

*Shakes head* You realise these things you are saying are not what normal people do? Posted via the Android Central App

Wow. NJ people must be rich! Haha. Minimum wage in Spain is 648 euros a month.

In NJ min wage is $1340.80/m before taxes. (€1217.19)..
But living expenses I'm certain is double here too. So it's the same shit.. What's your point? If you make minimum wage. You should be buying a Moto G on prepaid service.

Wow your an ass. I make plenty of money, but I wouldn't feel right blowing 750 on a phone because I can get a phone that is just as good for drastically less. Your probably the guy walking around in $500 Nikes right? That's fine, but that doesn't someone walking around in $100 pair of shoes is broke. Money is all about priorities; I priorities cars, boats, and fun adventures that I can take my girlfriend and her child on. Clearly you prioritize cell phones, and that's fine but some people would rather just spend that money on other things

Dude, shuut up lol.. Cars, boats, adventures.. Lol Omg.. Why the hell I'm talking you people? Lol

I find this whole conversation ironic how $750 is too much for a phone, yet I read a lot of posts here regarding people that have multiple devices (sometime multiple flagship devices) or regularly go through 2 devices in the course of the year. So I don't get it...what's the REAL issue here? Its still cool to trash Blackberry? That's so 2012.

This is why I'm on T-Mobile Jump. Divided monthly the increase will be insignificant. Can't wait! Posted via the Android Central App

Sigh I knew they would mess up the pricing and fail Posted via the Android Central App

I agree. And no offense to BB but I have had 3 blackberry's. And all were bad quality. Cheap plastic. I wouldn't buy one again.. Especially when you can get a 5x or 6p for less with better specs running stock Posted via Android Central App

Compare any Samsung to passport se built wise it won't even come close...

Build quality is one thing. I lost faith in Blackberry after my 2 Playbooks lost all hope for updates. They're super slow, and useless, to be honest. I have had so many Blackberries: the 8100, 8300, 8900, 9000, 9500, 9550, 8800, 9900 + 2 playbooks. They used to be the best, but they'd gauge every user for each model just to get 1 new thing, like the trackpad or ball, then with wifi or no wifi, gps or no gps. What a pain... Then there was the lack of updates to force you to a newer device... If Blackberry is at all the same, this will be their last stand.... For THEIR sake they had better update this device FOR YEARSSSS to come... I for one will not be buying this device, especially for the price! Good God! Even the new Lumia 950 XL costs less, and I think it's also too expensive for a dying series (Lumias).

I would say that when you have the CEO of the company on record saying that they may be out of the hardware business altogether by next year that this is not a smart investment. For all we know BB may be selling themselves for parts next year and you end up with a $700 device with questionable support that you can't sell either to recoup (even some) your investment.

Too rich for my blood. Oh well...

I would definitely buy this if I didn't get laid off. Posted via the Android Central App

Hey! You and I both. Maybe we work for the same company? We're you in IT? Posted via the Android Central App

It's ridiculous, naive pricing. Just when you think they're onto something, they sabotage themselves. And the lack of Verizon compatibility (you know, that biggest of US carriers) is asinine, especially when most of the latest unlocked phones support them (Moto X, both Nexus phones, HTC A9). I guess they'll be out of the hardware business soon... Posted via the Android Central App

No Verizon?? That's a big mistake

Agreed.. But they're pretty big..

They're way too important to ignore and BlackBerry is doing it at their peril. A huge percentage of corporate and medical accounts are on Verizon. Crazy, foolish move. Posted via the Android Central App

My guess is that Verizon was being unreasonable or just wasn't interested. BlackBerry has every incentive to have the Priv in Verizon stores and wouldn't just outright refuse unless there was a really good reason. Posted via the Android Central App

If you look at it though I think it supports some of the LTE bands that Verizon would need, however no CDMA support leaves Verizon and Sprint out of the picture. I would like to think that hopefully pretty soon you will see Verizon announce their own version; however I have heard on multiple occasions that the Classic sold a lot less then what Verizon was expecting so who knows if they will actually take the risk.

Nice !!! Better not have the phone otherwise that useless carrier is going to put that ugly carrier stamp with all the Verizon useless crap and probably never update the phone !!!

It would be an unlocked phone, not a carrier one (with logos and bloat - I agree with you there). BlackBerry was very foolish not to have a Verizon compatible unlocked Priv, like the Moto X pure, HTC A9, new Nexus phones, etc. They just cut off a huge source of corporate and consumer level customers, and they're already struggling for relevancy. This will probably be their last phone... A real shame. Posted via the Android Central App

Doubt unlocked CDMA smartphones drive that many sales considering blackberry nor Verizon will finance them. Motorola on the other hand does offer financing. Blackberrys target is not CDMA and the trend manufacturers are following will get worse until CDMA is dead or CDMA carriers start sharing bands Posted via the Android Central App on the Sony Xperia Z3 Compact

Verizon finances the moto x, the others cannot be far behind +++ Insert witty signature, watch as others not get it, profit +++

Screw EVERY CDMA carrier! They're destroying the world market of devices. Many of the devices I've wanted to import to Europe were CDMA devices, and not GSM (the world standard). So, DIE every CDMA carrier! Or, a good solution, is to make every device GSM and THEN CDMA, not the other way around.

Dude, almost all devices are GSM. CDMA is only in the US and China (there might be one more somewhere). Everything coming out is GSM, and if you're lucky, there will be a CDMA variant. Your argument is backwards. And just FYI, all Verizon phones are GSM unlocked and work worldwide. Posted via the Android Central App

Sorry, let me elaborate. I wanted to import some devices from the US to Europe, only to read that it was a CDMA device. US was one of the only markets that kept keyboarded devices and my family really likes them, so I have to buy them online and import them. I know it's only the US. But the US market had the devices my family wanted... NOW They are GSM Unlocked, they weren't before ;).

Got it. But it's been a long time now. So your argument was legit, but the problem has been solved. Posted via the Android Central App

I wouldn't know. I stopped looking at the US market to get devices. That's why I still have a sour taste in my mouth :). At the time I needed those devices, they weren't available to me. Like Blackberry, I have a sour taste in my mouth. I had so many blackberry devices, and I have my reservations about their devices. When the price drops to 500 or so, I'll give them a try. This will also give me a chance to see how it holds up over time :). It looks like a very attractive device! but ... I don't know... Blackberry left me hanging with my 2 playbooks and my ultra buggy 9900.... I'll wait on the sidelines and see how this develops hehe. Until then, exciting times! I want to play with the Lumia 950 XL, the Z5 Premium and the LG V10. I have the G4, but I like larger screened devices. hehe.

Take a look at the Nexus 6P. Posted via the Android Central App

I've owned the Nexus for about 2-3 weeks. Great device. In the end it wasn't for me. I prefer a higher end shooter (camera) and a few more customizations. If I had the time, I'd do them myself. But I have VERY long work days, and I just want a device to do what I need right from the get go. I have a phone obsession, I love to change every few months. The Nexus 6P looks good, but.... We'll see. There are other devices that look more interesting at the moment for me. But def. a great option!

I'm the same way. A phone nutcase. I'm going to try the Nexus 6P and I've got the HTC A9 on order as well. I'm thinking the A9 will be the phone for awhile. Posted via the Android Central App

There are a lot more than that. Some of the largest carriers in the world are CDMA, the US carriers just treat it wrong +++ Insert witty signature, watch as others not get it, profit +++

Is this confirmed it won't run on VZW?

Confirmed by BlackBerry itself, right on the site (check the link in the article). Posted via the Android Central App

That's too bad, it could have been the first phone to pull me away from a Droid branded phone. I've been waiting for a Droid 5, but it's not gonna happen, and this looks like it could have been a decent consolation. (I would prefer a landscape keyboard, but whatever)

It looks like a great phone, but honestly it's a bad buy regardless. Too expensive for starters, but it's also likely the last phone for BlackBerry, so minimal updates or support in 2016. Not worth it... Posted via the Android Central App

Camera is being pretty misleading on this thread. The unlocked version from Shop BlackBerry won't support Verizon, but they've never sold a Verizon version direct. It's really not an indication one way or the other if Verizon will carry the Priv. Other information indicates that Verizon will carry the Priv. Posted via Android Central App

That's a fair comment. But there's no indication that Verizon is going to pick it up. I can only go on what's out there. Usually BlackBerry will have carrier options alongside unlocked ones (like the Classic and Passport). They've also said nothing about direct carrier support. Time will tell, but it's not looking good at this point. Posted via the Android Central App

The comments about Verizon are false and misleading BS. Shop BlackBerry has only ever sold non CDMA phones direct. Verizon carries the Classic yet you don't see that version on Shop BlackBerry. Posted via the Android Central App

You're wrong. Go to blackberry.com, click on a device and it gives you the option to buy the carrier version (Verizon, etc.) or the unlocked version. The Classic, passport (AT&T or unlocked), Z30, etc. Posted via the Android Central App

I am not wrong. Click on the Classic, which is supported and sold by Verizon, and tell me if the one you can buy unlocked and direct will work on Verizon. https://www.androidcentral.com/e?link=https2F%2Fsend.onenetworkdirec... Posted via the Android Central App

Here https://www.androidcentral.com/e?link=https2F%2Fsend.onenetworkdirec... Posted via the Android Central App

You're misunderstanding me. I'm saying that you can buy carrier variants through blackberry's site. I'm not saying that their unlocked versions work on Verizon, but they sell Verizon compatible models alongside the unlocked ones. That's not the case with the Priv. It's unlocked only, with no additional variants or word that future ones are coming. And while unlocked BlackBerry devices should have Verizon bands in the US (like the Moto X, both Nexus phones, HTC A9, etc.) they foolishly resist. Posted via the Android Central App

Per Eve Leaks, who has been at the forefront of the Venice/Priv leaks, all major carriers will carry the device. If Sprint of all carriers has it Verizon sure as hell will. Verizon and Sprint in relation to the rest of the world are anomalies in regards to CDMA. It's likely that is the reason BlackBerry does not sell unlocked devices that are compatible directly. There are many disgruntled Verizon users that would have liked to buy and use the Passport. I believe it was Verizons decision not to carry it. They did pick up the Classic for their more regulated, security minded customers. Posted via the Android Central App

I hope I'm wrong. Hopefully carriers will announce something. But their silence and BlackBerry being silent on carrier support is a bad sign. We'll see what happens. And Sprint and Verizon are both CDMA, but have completely different bands and aren't compatible with each other. Spring getting a phone is no guarantee for Verizon. Just look at the Nexus 5. Posted via the Android Central App

This is just another in a long line of leaks and drips with no full announcement. BlackBerry is handling the Priv's rollout pretty poorly, there's no doubt. The page has been pulled, so you know it's a mistake. Even if BB will sell a Verizon version directly I wouldn't have expected it to be in the mistakenly-released page - you couldn't even add the device to your cart. Hang in there for a VZW Priv.

Remember this is a product listing on ShopBlackBerry. They never directly sell the CDMA variants of their devices. The carriers and a few third parties like Amazon are the only ones who carry those. It was the same for the Z30. EVleaks has repeatedly reported that this device is coming to all four major US carriers and the SD808 chipset has support for universal radio bands.

As if the name "Blackberry" doesn't draw me in enough as a customer... That pricetag will definitely win me over! /sarcasm

No no...don't talk bad about Blackberry. You'll rile up the believers with quotes like "Blackberry is still on top. It's just that their sales are suffering"
"They won the Red dot award and are therefor far better than any other phone"
"My Playbook is the best device i've ever owned"
"They can price it this high because they only sell premium devices"

I think your right. The average consumer has no faith in Blackberry and I've been told first hand that they didn't even know they made phones anymore. I think that the combination of it being a Blackberry and the price will make the average consumer run away. The fact that even Chen has stated that they need to be profitable in a year or he will need to evaluate their position in the business makes me want to say most educated people will avoid it because they want a phone that isn't going to be unsupported after a year.

Wow, fire phone like pricing. I thought they were trying to make a comeback? Posted via the Android Central App

Noice battery, but dat price doe. Ugh. Oh well.

At $750 I would get a moto g 2015, a galaxy tab s and a dinner date with my crush.

Your crush? What are you 12?

What are you, a pedophile? You must have some fetish with 'children' because you're tasteful replies to comments tend to lean toward calling someone 'a child' and/or 'a person under the age of 13.' Kinda seems suspicious.

Thanks for your assessment, Columbo

Looks like they're not gonna sell a lot of them, unfortunately. It's just too expensive. That's in iPhone and Samsung territory. Here lies the "2016 Flagship Killer". It got slayed by 2015 flagships like the LG G4 being used to post this.

That's the problem with Blackberry. They think they can compete against Apple and Samsung. Somebody needs to tell them this isn't 2009 anymore. Posted via the Android Central App

Have you ever held or used a 2014 or 2015 (SE) BlackBerry Passport? You would reconsider your comment about the ability to compete. Posted via the Android Central App

No, you wouldnt +++ Insert witty signature, watch as others not get it, profit +++

You are wrong the passport se built wise is much better than cheap iPhone and plastic Samsung... Blackberry always had strong phones...the only problem was apps...

No one is arguing that Blackberry makes great devices. Yes the passport is a great device but it has a poor ecosystem. And no it did not compete against Apple and Samsung. So I don't know why you would even use that as in example. Posted via the Android Central App

All I'm saying is that blackberry makes a better value phone with high quality in voice and video calls... Something iPhone and Samsung lack big time... Blackberry phones can last you for years... Now that it has the right ecosystem I know for sure it will be more better than most phones... Passport se is a beast I wish it had Google play store because the OS is much stronger and more fluid... It's new and needs app developers to get on board

Nah I'm good Posted via the Android Central App

Nailed it! Priced accordingly.. Good job Blackberry, now how about some advertising?? I was hoping this phone would cost a lot. It's has to be premium and worth buying. A 500 device with countless corners cut would've killed it. Cost isn't a factor if the quality is there. I just hope they backup that price tag

Lol Posted via the Android Central App

I've been saying the same thing for ages savdini Hail Putrid Pile

Ages? Lol. You been THAT obsessed? I want to hug you. Posted via the Android Central App

Aw I'm flattered. Posted via the Android Central App

You do understand there's a difference between cost and quality? I ask because this expensive phone is out specced by devices that cost half as much. What is the incentive to buy this over a nexus 6P, galaxy note 5 or even a Oneplus 2? Posted via the Android Central App

BlackBerry security comes to mind. Also, the physical keyboard. Hail Putrid Pile

Because of a keyboard? Lol Posted via the Android Central App

And the security? Lol Posted via the Android Central App

Blackberry is a massive brand name (At least it was) they can't come in a low price point and compete against nexus. That isn't the market after.. They're going after iPhone.. They have to match their pricing.. American mindshare is their target market.. None of you nerds and geeks are. - I'm not the target market either btw ;-)

Lol Posted via the Android Central App

Where is the Nexus or Note with a physical keyboard? The price of the Priv is in line with the Note 5 ($696) and the S6 Edge+ ($768).

I agree. I'd rather have a premium-priced phone where they didn't cut any corners than a cheaper phone with compromises. Everyone always complains about the lack of SD card slots or poor battery life, and when Blackberry comes up with a phone with an SD card slot and a huge battery, now they whine about the price. It costs the same as the flagship phones from Apple and Samsung. And do you seriously believe component suppliers give Blackberry a better deal on prices than they give Apple and Samsung? I'm sure the price that Blackberry pays for all the parts that go into this phone is higher than the price that Apple and Samsung pay for the parts for their own phones. So it's crazy to think that Blackberry could charge less for a phone that does more.

Well that's what happens when you total sales/shipped is 1.1 million. So if quantity is the least of their concern, they ate on the right path. Posted via the Android Central App

I'm hoping that the phones battery life is good but I don't know, it's not like android sips battery in general and Blackberry would have a highly customized fork. We'll see, and I hope that it is an all together amazing phone because I'm interested in trying it when/if it comes to Verizon.

Expected price for a premium dual curved flagship.
Now who wants to buy a LG G4?? miss my blackberry can't wait to get back :)) Posted via the Android Central App on my LG G4

Dual curved display is a gimmick imo Posted via the Android Central App

I can honestly say they may have screwed the pooch here.
This isn't 100% but most corporate mobile accounts I know of are through Verizon and Sprint. I know the hospital I work for and the bank my wife works for both have Verizon accounts. Both are industries where security and privacy are extremely important. Unfortunately, they can't go with Blackberry now because the compatibility isn't there. Most of my other friends that have corporate phones have phones that are from Verizon.
If Blackberry is counting on the average consumer to get them out of their hole, they're in for a world of hurt. Why would Joe Schoe buy a Blackberry when he can get a Galaxy S6, Note 5 or just about any other phone unlocked for about the same price or less? The average guy has no use for the amount of security this phone offers.

I believe most corporate accounts are with AT&T.. Verizon is most popular with consumers.

I would buy this over a galaxy or iPhone in a heartbeat because I know BB makes quality devices. Posted via the Android Central App

Samsung and iPhone don't come close in quilting ... Passport se can last 3 years with no damage...those phones are cheap built with great cameras.. They are fragile when comparing to blackberry...I'm sure the user experience and speakers, security, productivity and the best of all the HUB which is better than any apps..

Compatibility will be there. This is the ShopBlackBerry website. They never sell the CDMA variants of their devices. You always have go thru the carrier or a 3rd party seller like Amazon. EV Leaks has repeatedly reported that this phone will appear on all four major US carriers. Verizon and BlackBerry still maintain a good relationship.

Holy cow 949 dollars! Smh that's outrageous. Another flop and failure with that price point. Better have at least 128 gigabytes ahem Posted via the Android Central App From my Blackberry Priv where I am out of toilet paper

That is way too much for me. It is nice but not that nice.

Blackberry Privilege if you can afford it. Stupid.

For that crazy price I'll wait until 2016 Black Friday fire sales. Mark my words.. This crackberry is going to be over 50% off MSRP by then. Posted via the Nexus 6 on Cloud White..

2016 black Friday? More like 2015 Black Friday when this phones lands with a gigantic THUD. I'd be surprised if it's not half by January if not earlier.

This. It'll be under $500 within a month or two. They had an opportunity here, and priced themselves right out of the market. Blackberry's current failing reputation doesn't support those prices.

Or they went with an early adopter strategy to make more profits in the first few weeks of release and then, like you said, will drop the price down. It's harder to do with tech now since tech moves so fast so maybe not the best idea anyways Posted via the Android Central App

DOA Posted via the Android Central App

Hmm,I suspect this may have trouble selling at that price... Posted via the Android Central App

They pulled the preorder page. Looks like they weren't ready to sell this phone at an insanely high price.

You can purchase it from Rogers Canada for $150.00 less. Plus, some people are confusing Canadian and U.S pricing here. The Priv will be available on all four major U.S networks. It will be a different edition for Sprint and Verizon.

Sources? Everyone is saying that Verizon will not be supported what so ever Posted via the OnePlus One (Cyanogen OS 12.1 w/ Nova Prime)

I can't see it being that much, I'd be shocked if they do sell at this, $649 max surely. If it's more than that then I'll be sticking with my Note 5 Posted via the Android Central App

$649 would sound more fair. Guess we'll have to see official pricing. Posted via the Android Central App

Interesting, it actually costs less in Canada.

What?? $750 USA, $950 Canada

Right, thats $950 in Canadian dollars, which is about $725 US dollars. So his comment was correct, cheaper in Canada.

chen said there will be incentives. But the dam sd card slot and keyboard make it still feel like good price. Sure its high...but most phones are this price now a days. And I'd argue the berry offers more security more keyboards and an SD card slot with an huge battery. WIN WIN WIN. I hope current berry owners get 200 off. Common chen!

Most phones are not, just those Galaxy and iPhone devices really. Posted via the Android Central App

And Sony. Posted via the Android Central App

$949 wow. Kinda too much regardless of the build quality. Demand for bb device is almost nil compare to iphone/ samsung. Too bad was hoping around $650 CND$ Posted via the Android Central App

Right on the heels of the new HTC - another overpriced phone. At least this one does something different. But in the UK it's £100more expensive than the Nexus 6P...

Well, the price puts it out of my willingness to buy it sight unseen, but I'm still interested if I can lay my hands on it and confirm things like JuiceSSH work with it. The extra $$ may be justified for the productivity that will be unlocked by being able to touch-type again on my mobile.

Guess I'll be waiting 3-4 months for it to be a reasonable price. -Posted via the Android Central App on my G4-

At this price it'll sell in the hundreds. Per week maybe. Posted via the Android Central App

I'm not flushing my cash down a posh toilet... Posted via the Android Central App

Nope. Posted via the Android Central App

I would buy this. I haven't lusted after a Blackberry for years but I think this is a cracking looking device with solid specs. Posted via the Android Central App

It might be worth that much but many people will not pay that much. Especially when the company hasn't been relevant in years. At least price it accordingly. At that price most people have decent choices at lower prices. Posted via the Android Central App

What the heck has relevance got to do with it?. It's a solid phone for crying out loud! Posted via the Android Central App

Wait 6 months, you'll be able to buy it for less than half that price. BB do this with all their phones. They never learn. The Z10 was a similar price and within 6 months you could buy an unlocked phone off amazon for a couple of hundred quid.

Yet no one is buying them lol

It's different this time around..

Blackberry is still around? Posted via the Android Central App

I'm waiting for the Porsche version so I can pay $3,500 for it. It shouldn't matter that I don't and will never own a Porsche. In all honesty BlackBerry is going to end up exiting the hardware market. This was their hail Mary. It's so ironic that the last blackberry ever made ran android. They could have had some dignity in their death. With that aside, it is a great looking device and I can really type my ass off on BlackBerry physical keyboards but like others said. I don't believe this device will be updated much if at all. It'll stay on lollipop that's for sure. Posted via the MATERIAL AC App

At this price it makes the iPhone look like a bargain.

iPhones are the poor man's phone now.. Lease them, free on contract.. Oversaturated the market.. Now it has lost its appeal

Another $100 puts an i5 HP Envy in my hands, another $50 the equivalent Asus. Sorry BB, even with installments, that's more than I'm willing to pay for a phone. Posted using SwiftKey on my LG G4 via the Android Central App

I heard from T-Mobile reps they said they won't be caring the blackberry since they don't have a contract with blackberry remember all the company's dropped bb when bb was down and out, you can get any older bb on all carriers online website but not in stores so that means for ppl like myself who is part of tmobile jump we are stuck with what we have since we can't get the bb directly from our carrier. Also if you buy the blackberry unlocked you still responsible for whatever ph you have on jump program with tmobile like myself with the Samsung note 5. Posted via the Android Central App

Yea, that's why I don't use "jump" or any other similar "trade-in" your phone program. I never like leasing anything cuz I am constantly paying for something I don't actually own. That's just me tho.

Loool then why do they sell blackberry classic in T-Mobile stores now?

Too expensive...Especially on a risky phone like this. RIP Blackberry hardware division.

Unless you're an insane BB homer then forget about this phone until it gets a lot cheaper. Seems like they're aiming at enterprise business with this one.

And....it priced itself out of the market.

Well blackberry will be out of smartphone business next year.
I might buy this if they have a fire sale Posted via Android Central App on 1+1

$750.. OMFG... I guess for this price BB doesn't have to sell a lot of them LOL =P

Blackberry should offer this at a price point where buyers (also in business) don't have to find arguments why they should spend the same or even more money when compared to the competition. It's extremely important to push up sold units and revenue for BB, this short sighted profit maximising (won't sell too many anyways) doesn't work here.
They also can't fool anybody into thinking that they offer more than others just by overprizing.

Blackberry and HTC should join forces with these half-brained pricing schemes they'll both continue to sink.

We shall see.... HTC's problem is Sense. Most don't want it.

Lol Posted via the Android Central App

Blackberry suffered the beginning of their end by ignoring the masses and sticking with their corporate clients. This phone fits very well with those corporate clients at that price point. And although it may be Blackberry's flagship (I can safely assume), it has yet to prove itself to be an Android flagship. Xiaomi Note and others are coming...and their price points will be better than $750 no doubt. The competition is getting bigger, not smaller, and the flagships of yesterday are mid-range phones of today...you can get an amazing phone for $500. So for those looking for the security and keyboard in a Blackberry with an Android OS, here it is. Only problem is...there aren't that many looking. BYOD is becoming more and more commonplace. In summary...the consumers of $700 + phones are not many and considering the options out there, they are getting fewer and fewer. Blackberry has priced this device as if they were still ranked number 1 in smartphones. They have a reputation for quality and feel, which I love, but essentially, they are a newcomer to Android.

I totally agree. Unfortunately die hard Blackberry users can't seem to comprehend this. Posted via the Android Central App

I want a blackberry classic that runs Android

The screen is a little on the small side to accommodate Android, which is why BB10 has all those scaling issues and inconsistencies with the
Android runtime. Motorola tried that form factor with a similar-sized Android device back in the Gingerbread days and it wasn't a hot seller.

Seems like Blackberry still hasn't learned their lesson with stupid pricing.

Why do people constantly post dollar signs after the number in their comments? It is never correct to write 750$. Posted via the Android Central App

You are all bashing each others opinions.. Different strokes for different folks. Either way if you pay 500 or 750 its just a phone. Buy what you like. Posted via Android Central App

Umm...you're not allowed to be polite or use common sense on the internet. Try something like this in the future "All ya'll 'tards are hating on each-other. But you're all dumb as hell because only poor people can't buy my new Phone. #BB4Life #GetthePrivInMe #WaterlooFTW"

I was hoping BlackBerry would be more aggressive than this with this phone, and because that price is much higher than an 808 deserves, I'm out.

I think it is safe to assume this was an intentional leak by BlackBerry to gauge feedback on pricing. Also, like other companies, it's probably also safe to assume that there will be payment plans for this device just like carriers and Apple are doing. Keep in mind that even though carriers are moving away from contracts, most mobile users have expiring contracts coming up and at least one more subsidized upgrade to burn.

I am a Marketing Student and a writer. I have written about their pricing strategy and analysed every facet of PRIV. Dear Blackberry, Please Don't shoot yourself in the foot.... https://medium.com/@Chaitanya_90/dear-blackberry-please-don-t-shoot-yourself-in-the-foot-7caf2aaa2614#.s9yh30vwx

A few points here: 1) It will be hard to have a meaningful comparison until one can evaluate how the phone works in real life (call quality, camera, s/w implementation, etc)
2) For me, I'm a lousy glass typist, so if it saves me 10 min/day the incremental cost is worth it.
3) Whether you love/hate/don't care about Blackberry, isn't it nice to see something different in an Android device besides the same glass slabs?

A few points here: 1) It will be hard to have a meaningful comparison until one can evaluate how the phone works in real life (call quality, camera, s/w implementation, etc)
2) For me, I'm a lousy glass typist, so if it saves me 10 min/day the incremental cost is worth it.
3) Whether you love/hate/don't care about Blackberry, isn't it nice to see something different in an Android device besides the same glass slabs? BTW, my last 2 phones have been Samdroids, so I'm not really a BB fan, although I don't hate them, just need my apps.

I'm honestly starting to think that John Chen (current CEO of BlackBerry) is purposely trying to get Blackberry out of the phone business and convert BlackBerry into more of a niche company. I say this because he doesn't sound confident about the Priv and has priced it ridiculously high which will prevent the phone from getting lots of sales. Also, he said that he would consider leaving the phone business for good if the Priv doesn't sell well. Correct me if I'm wrong on that. Anyway, it's not looking good for BlackBerry right now. They just blew their last chance of being relevant in the mobile world IMHO. Posted via my HTC One M8

I for one really hope that Verizon picks this phone up and offers it because I would order one in a heart beat. I will say though that with a Nexus 5X sitting right beside me and the only major gripe I have about it being battery life with a 6P on the way; I think that companies will see a harder time getting consumers to foot a larger price. More and more people are buying unlocked phones and even broken up with the carrier contracts the price is still noticeably more then other devices

I am a writer and a marketer and Blackberry's pricing strategy will not work. Here's why - https://medium.com/@Chaitanya_90/dear-blackberry-please-don-t-shoot-yourself-in-the-foot-7caf2aaa2614#.2rdu5dmwh It is a long form analysis with a proper logical analogy and something about pricing strategy.

No way in hell would I pay anything for a BB device let alone $699...lol. BlackBerry name is mud in tech world and can't command those types of prices.

I like the privacy aspects of this phone (unproven on Android to date, will they work?) but there are so many questions & potential negatives about this phone, they outweigh the possible positives
- outrageous $950 price tag
- possible lack of future updates given blackberry's questionable future
- unnecessary physical keyboard (that's just my opinion)
- build quality. I've owned 3 Blackberrys and they barely lasted the length of my 3 year contract I want to like this phone, and while it's probably better than the Galaxy S4 I'm currently using,the above questions kill it for me Posted via Android Central App

Lets be frankly honest this phone is meant for corporates/government clients who will foot the bill for the handset, as no one in their right mind would shell out such an amount for it especially when reasonable and high quality handsets are available in plenty. I'd say 2 years too late Blackberry :/ Had you and Nokia (the microsoft deal royally screwed them) jumped on the platform much earlier the situation for both companies would be far better.
Android Central Newsletter
Get the best of Android Central in in your inbox, every day!
Thank you for signing up to Android Central. You will receive a verification email shortly.
There was a problem. Please refresh the page and try again.