Motorola RAZR i now available at Phones 4U - and with free MOTOROKR headphones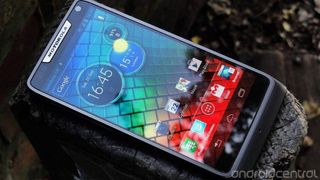 If you've been itching to get your hands on the new Motorola RAZR i, then from today you can pick it up at Phones 4U both in-store and online. And as an added bonus, Phones 4U will also give you a pair of MOTOROKR S305 headphones free of charge, which is rather nice of them.
We recently reviewed the Motorola RAZR i and found it to be a good, fast, solid handset. But after today's HTC news it would appear the RAZR i is now left a little behind in the specs race. That said, it does have a lot going for it, including a dcent 8MP camera, 2GHz Intel Atom CPU with Hyperthreading technology, and my favorite part -- a 2000mAh battery. Currently running Android 4.0 Ice Cream Sandwich you could do a lot worse than Motorola's latest offering.
Source: Phones 4U
Wish we had the Snapdragon version over here
Android Central Newsletter
Get the best of Android Central in in your inbox, every day!
Thank you for signing up to Android Central. You will receive a verification email shortly.
There was a problem. Please refresh the page and try again.