Lenovo K900 now available in China, more markets to follow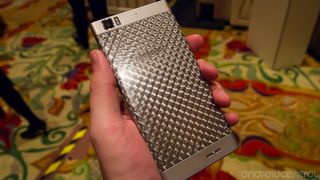 Pricing set in retail and online at RMB 3,299 for Chinese launch
We've been getting looks at the latest high-end Intel device from Lenovo, the K900, since all the way back at CES and it's finally ready to make its debut in China. Starting today both online and in retail stores, the K900 will go up for sale for 3,299 Yuan (about $536). If you'll recall back to our previous hands-on with the device, the K900 has a very flashy stainless steel construction with a couple of cool color options, and has many of the high-end specs you'd expect. We're looking at an Intel Atom Z2580 dual-core 2GHz processor, 2GB of RAM, a 5.5-inch 1080P display and 13MP (f/1.8) Sony Exmor camera sensor. For software, Lenovo is shipping the K900 with Android 4.2 on-board, which is a good sign, along with its own set of customizations integrated.
Lenovo says that the launch is just in China for now, where it has done pretty well in the past, but that there are additional international markets that will see the device as we move through the summer. Given Lenovo's previous device launches, we still wouldn't expect to see this one head to the U.S. in any capacity.
Lenovo's New K900 Smartphone Turns Heads in China
Flagship Now Available at Retail and Online
BEIJING – May 17, 2013: Lenovo (HKSE: 992) (ADR: LNVGY) launched its highly-anticipated, new smartphone, the K900, at a gala event in the Chinese capitol yesterday evening. Industry and media luminaries gathered for an exclusive event at the M-Space in Haidian, eager to get a glimpse of the metal-clad flagship that stands out as much for its category-topping performance as its slim, sleek design. The Lenovo K900 goes on sale in China this week, and will roll out to additional international markets throughout the summer.
The unibody design of the K900 makes a bold statement for Lenovo. The sleek-cut, stainless steel frame exudes power and strength, while the unibody chassis maintains a low profile at 6.9mm, ensuring a smooth, elegant look and feel. The attention to detail and focus on design for Lenovo's latest flagship smartphone makes the K900 an excellent choice for top-end smartphone buyers, while Lenovo's expanding distribution for smartphones ensures the K900 will compete head-to-head with the world's best.
Lenovo has tapped NBA superstar, Kobe Bryant to help promote the K900 in its television and print advertisements and on social media sites in China and the Southeast Asia, citing the athlete's unique style. Bryant is known on the basketball court for a playing style which combines power and grace, similar to the combination of performance and design that makes the Lenovo K900 stand out from the crowd of high-end smartphones. Like the celebrities at the launch party, the K900 is instantly recognizable and a magnet for attention.
Liu Jun, senior vice president, Lenovo and President of the Lenovo Business Group opened the event stating, "Smartphones are a critical component of Lenovo's PC+ strategy and the Lenovo K900 is an example of this strategy in action. With its cutting-edge design and intuitive, optimized user experience, K900 offers China's smartphone users a fresh, new option. At the same time, Lenovo's smartphone business is growing fast in global markets. In 2013, we will add 10 more countries to our smartphone footprint, and by year-end we will cover most of the world's emerging markets."
Lenovo K900 is the first smartphone in the world to leverage the latest Intel® Atom Z2580 processor, a dual core chip, which runs at 2.0 GHz and utilizes Intel® hyper-threading technology to boost performance. The Intel-powered device also leverages an Intel® GMA graphics running on a PowerVR SGX 544MP2, which triples graphics performance over the previous generation. This makes the Lenovo K900 very responsive, especially for key functions such as web-browsing, multi-tasking and application-switching.
"Intel and Lenovo have raised the bar for smartphones with the K900. While others get caught up in a proliferation of cores and specifications, our teams got together and addressed core issues of concern to our customers such as power consumption, application switching and camera functionality. Then the Lenovo design team took this powerful platform and wrapped in up in a very sexy package with the K900. We are proud to be teaming with Lenovo to bring these innovations to market," said Ian Yang, President Intel China at the Beijing event.
Design
As smartphones have become ubiquitous, customer demands on "top-of-the-line" devices have increased, with design and usability growing in importance. The Lenovo K900 resets the bar on these aspects. At 6.9mm, the K900 is the thinnest phone in its class by a wide margin and weighs in at a mere 162g, making it a device that unobtrusively slips into a jacket pocket or handbag. Made from a composite of stainless steel alloy and polycarbonate in a Unibody mold, the K900 manages to stay strong and look sharp while maintaining its slim profile.
However, the material alone is not the only aspect that has allowed Lenovo to achieve a design milestone with the K900. The rear camera array has been optimized for size with a new sensor and layout that does not protrude from the case, leaving a clean, smooth rear face that doesn't snag on clothing. The design team tweaked the PCB and battery layout to reduce the space used by internal components. And the K900 is topped off by a unique "stripe" ID language that reinforces the thin body and integrates the external components.
While the K900 is certainly sleek, it does not ignore the emerging trend toward larger and clearer displays on smartphones. The K900 is one of the first smartphones in the world to combine a 5.5" IPS display with 1080p full high-definition resolution performance at 400+ pixels-per-inch, all under the latest, touch-capacitive Gorilla Glass 2. This gives the K900 supreme clarity and crispness along with plenty of space to capture the nuances of high-definition photos and video, as well as for viewing standard-size web pages.
Performance
The Lenovo K900's camera stands out as one of the smartphone's most distinguished features. As with other functions on the K900, Lenovo has completely overhauled the camera, and delivered a package that is truly greater than the sum of its parts. Megapixels is the first specification that many users recognize for digital cameras, and with 13MP, the K900 ranks at the top of its class in this aspect and combines this with an industry-leading, Sony® Exmor BSI sensor for what would already be considered outstanding performance.
Recognizing that customers often need to take clear, flash-less photos in low-light, Lenovo has equipped the K900 with an F1.8 focal length lens, making it the first smartphone to offer such a wide aperture on its camera. In addition to these improvements to the rear camera, the front camera has also been widened to an 88⁰ viewing angle, the widest available on a smartphone front camera for convenient self-photos and video calls.
Pricing and Availability2
The K900 smartphone is now available in China and will hit select international markets this summer. Retail price for the K900 in China will start at RMB 3,299.
For the latest Lenovo news, subscribe to Lenovo RSS feeds or follow Lenovo on Twitter and Facebook.
About Lenovo
Lenovo (HKSE: 992) (ADR: LNVGY) is a $US30 billion personal technology company – and the second largest PC company in the world, serving customers in more than 160 countries. Dedicated to building exceptionally engineered PCs and mobile internet devices, Lenovo's business is built on product innovation, a highly-efficient global supply chain and strong strategic execution. Formed by Lenovo Group's acquisition of the former IBM Personal Computing Division, the company develops, manufactures and markets reliable, high-quality, secure and easy-to-use technology products and services. Its product lines include legendary Think-branded commercial PCs and Idea-branded consumer PCs, as well as servers, workstations, and a family of mobile internet devices, including tablets and smart phones. Lenovo has major research centers in Yamato, Japan; Beijing, China; and Raleigh, North Carolina. For more information, see www.lenovo.com.
Andrew was an Executive Editor, U.S. at Android Central between 2012 and 2020.
I would buy one if they sold it in the US.

Off topic but have you guys noticed the new play store?

Yeah haha noticed it this morning, icons now have a background

I actually liked the other better

At least in the photo, this is one ugly phone. Stainless is great, but what's with this hideous pattern?

Just a funky design. It looks pretty good in person IMO. They have a more subdued dark grey/black color too.

I agree, it really is an unappealing design

I stopped reading at dual core. Don't know why but quad feels like the new standard.... Even tho our phones make minimum use of all four cores.

Did you check the benchmark tests? This phone was able to beat S4 and many others. I still like Samsung's removable battery so I will go with them. But still this is more powerful than what's on the market with quad cores.

If you think the # of cores is all that matters then you should not be commenting. A simple Google search will answer your question as one of snapdragons main competitors to their quad core chips are a mere dual core chip from intel.

Please stop this 'more cores = better' nonsense. Do a simple search and you'll realise this Intel CPU trumps all of the ARM CPUs currently out there.

A dual-core Intel CPU with hyperthreading kinda destroys quad-core ARM processors in terms of raw power. Can't fall into that notion of thinking that more cores = better.

OMG! This phone has better specs than the galaxy s4!!!

I would love to see a full comparison vs HTC ONE or S4.

"...the Lenovo design team took this powerful platform and wrapped in up in a very sexy package..." Sure, if you think fish scales are sexy.

Very nice phone and will this work on T-Mobile or AT&T?

Not very keen on the pattern on the stainless i think it makes the phone look a little tacky instead of a high end premium device.

I like fit and finish of the device!
Android Central Newsletter
Get the best of Android Central in in your inbox, every day!
Thank you for signing up to Android Central. You will receive a verification email shortly.
There was a problem. Please refresh the page and try again.