Ematic announce the eGlide Pro X tablet and it is cheap!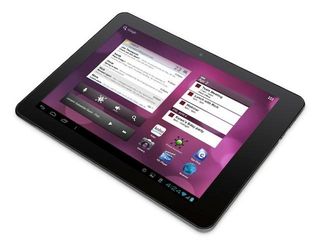 Ematic have today announced their latest budget tablet, the eGlide Pro X. Running Android 4.0, the 4:3 9.7 inch tablet is retailing for a remarkably low price of only $219.99.
With the budget tablet market geared up for what Google has to offer this week the eGlide Pro X could well be a contender as its specs are not to be sniffed at.
Packing a 1.2GHz processor, 400MHz GPU and 1GB RAM, Ice Cream Sandwich should flow nicely on the new tablet.
Combined with 8GB of internal storage, 5GB of available cloud storage and MicroSD support up to 32GB of storage the eGlide Pro X sounds pretty interesting.
You can read the full press release below:
Los Angeles - June 26, 2012- Ematic, a leader in value tablets, is excited to introduce the 9.7" eGlide Pro X, the latest addition to their line of Android 4.0 powered tablets. Complete with a 4:3 display and packed with competitive programs and apps, it's the perfect device for professionals' on-the-go or for personal use.
"We listened to Ematic consumers' needs and we're excited to build on the explosive success from our previously released Android 4.0 tablets," says Roy Rayn, President of Ematic. "This tablet was created to meet the demands of consumers requesting diverse personal and professional elements in one touch screen device."
The eGlide Pro X includes Android 4.0 (Ice Cream Sandwich) OS and a built-in three-axis gyroscope.
Faster Browsing, Anywhere
Android 4.0 OS includes an improved, intuitive interface and faster web browsing. With a 1.2GHz processor, 400MHz GPU and built-in Wi-Fi, users can stay connected in this fast-paced world wherever they go!
Increased Storage
Like similar products in Ematic's line of impressive tablets, the eGlide Pro X features 1GB RAM but has added an additional 8GB of internal storage with 5GB of available cloud storage. A MicroSD Card slot allows users to add up to 32GB of storage, making it easier to store your favorite photos or important documents for easy retrieval!
Always Stay Updated
Ematic's eGlide Pro X is ready for use right out of the box, and comes pre-loaded with thousands of applications and programs through Ematic's App Shop. An included office suite allows professionals to view Word, PowerPoint, Excel and more on-the-go. Users can also sift through more than 2.5 million eBooks in the included Kobo eReading application or utilize the Ematic Digital Assistant & Navigator's hands-free, voice-to-text technology to easily write emails.
Share Life's Moments
The eGlide Pro X's slim design lets users carry it anywhere. The tablet is ready for anything from capturing life's brilliant moments with the front and back cameras to recording ideas with the built-in voice recorder or listening to music. You can share those captured moments with loved ones by loading HD videos, up to 1080p, or utilizing the eGlide Pro X's HDMI capabilities to mirror the tablet's actions to your TV.
The eGlide Pro X is available at walmart.com, jr.com, and D&H Distributing for only $219.99.
About Ematic:
Ematic is a leader in portable media and value tablets offering high quality consumer electronics at an affordable price. The company offers a variety of technology ranging from designer headphones to MP3 players and tablets. Ematic prides itself on offering the latest in advanced technology that has undergone rigorous testing for quality, sturdiness and reliability.
Ematic Corporate Giving:
Beyond the production of high quality consumer electronics, Ematic supports initiatives for a greener Earth by running power-conscious facilities, using environmentally-friendly inks made from recycled cartridges, and 100% recyclable packaging. Ematic also makes it their mission to give back to its communities by donating 10% of all profits to various charities.
Android Central Newsletter
Get instant access to breaking news, the hottest reviews, great deals and helpful tips
If this tablet had access to the Play Store and other proprietary apps, I'd be a better choice than the Nexus 7. No Google Apps = no full Android experience, which is as bad as the non-expandable storage on the Nexus 7.

mystery specs mentioning clock speeds but not soc? sent to die.

exactly... clock speed means nothing out of the context of which SoC...

I realize that they're trying to monetize on their own app store, but if it doesn't have access to the play store, that's a deal breaker for me.

eGlide Pro sounds like a personal lubricant.

They probably should include a tube of lube with the tablet...

Tablets like this are given as gifts by people who have no idea the normal Android Market is not on here. They should be shunned. Although, I am not sure why people are jumping to the conclusion that the Play Store cannot be loaded onto this. Was that mentioned somewhere? I see it talks about their market but maybe it is just an additional market like the HTC Hub or Amazon App store?

cheap android tabs, almost never get official Google certification...meaning no Play Store out of the box. If this little guy had Google Certification, they would be touting it all over the place. Your right, they'll have to hack this and get gapps working on it, which takes some time.. Another android tab for they haystack.. this one isn't that much different than the Le Pan here http://www.amazon.com/Le-Pan-II-9-7-Inch-Tablet/dp/B0067XX3AI/ref=sr_1_1... except it has Google Cert, but no ICS! Haha..you can see why Google wants to take the reigns on the tab market..

My only question.. why is the screen not centered?? Either a terrible photoshop job.. or terrible product design.

Off-center screen is less likely to get sued by Apple. How does it matter anyway?
Android Central Newsletter
Get instant access to breaking news, the hottest reviews, great deals and helpful tips
Thank you for signing up to Android Central. You will receive a verification email shortly.
There was a problem. Please refresh the page and try again.