Cut the Rope getting its own comic series ... on iTunes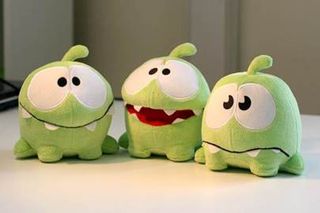 Better not let ol' Lloyd hear about this -- the loveable Om Nom from Cut the Rope is getting his ... erm, its ... own digital comic series. If you've yet to play Cut the Rope, the premise is you have to get dangling candies into Om Nom's mouth. And it can be surprisingly difficult to do so.
Now, the bad news: The digital comic will launch in the iTunes App Store in late August. Lame. Here's what we'd do: Hit up facebook.com/cuttherope or get 'em on Twitter at @Cut_The_Rope and let 'em know we want some Om Nom comic love on Android soonest.
Or we'd settle for getting Lloyd his own gig.
ZeptoLab Signs with Ape Entertainment to Develop a Digital Comic Series Based on Cut The Rope's Loveable Om Nom Character
As One of the Most Downloaded Mobile Games of All-Time, Cut The Rope and its Hugely Popular Om Nom Transcend Gaming with New Digital Comic
SAN DIEGO, CA – July 21, 2011 - Today at Comic-Con International 2011, Ape Entertainment and ZeptoLab™, developers of Cut the Rope™, one of the top selling iPhone, iPod® touch and iPad game apps of all-time, announced a new licensing agreement to create a series of digital comic books based on the popular game. The comic series will explore the yet untold backstory of the game's endearing hero, Om Nom™, building upon his adventures in the popular mobile game.
Cut the Rope is an award-winning mobile game from ZeptoLab that has experienced top-rated success in the major app stores for iOS and Android smartphones; and the world's first iOS game to win a BAFTA Award. In this physics-based puzzler, players are challenged to cut an increasingly complicated series of ropes by swiping the screen, catching stars, and ultimately steering the candy into the mouth of Om Nom, a cute and ravenous little monster. In the game, users encounter new characters and unusual obstacles that keep the game entertaining, addictive and most of all - fun to play.
Ape Entertainment plans to release the full-color comic book series digitally through a standalone Cut the Rope Comics App in the iTunes App Store in late August.
"It's an amazing opportunity to work with ZeptoLab on one of the app world's most addictive and successful games," said David Hedgecock, CEO of Ape Entertainment. "The comic book series is shaping up beautifully and we are making something that we know fans of Cut The Rope and fans of good entertainment everywhere are going to absolutely love!"
"Om Nom has become a fan favorite and he has an amazing backstory. This new comic book series will tell that story and introduce fans to a cast of characters and storylines that will unfold in future iterations of the game," said Misha Laylin, Chairman of ZeptoLab. "As we develop new channels outside of mobile gaming for consumers to engage with Cut The Rope and Om Nom, we're thrilled to be working with Ape Entertainment. They have done a great job of not only capturing Om Nom's story, but maintaining the high level of artistic integrity fans of the game have come to expect."
For more information, please visit www.ape-entertainment.com or www.zeptolab.com.
About ZeptoLab:
ZeptoLab™ is an independent team of professionals dedicated to the science of fun. The creative designers and engineers responsible for the games at ZeptoLab have redefined mobile gaming with unique physics-based gameplay that capitalizes on touch technology to engage die-hard and casual gamers alike. For the latest news about Cut the Rope and Om Nom, follow us at facebook.com/cuttherope or @Cut_the_Rope on Twitter or visit www.zeptolab.com.
About Ape Entertainment:
Founded in 2003, Ape Entertainment is the brainchild of lifelong comic book devotees David Hedgecock, and Brent E. Erwin. Comic book home to such popular titles as BLACK DYNAMITE: SLAVE ISLAND, FREAKSHOW, LITTLE GREEN MEN and the Eisner Award nominated SCRATCH9. Ape Entertainment is also the North American publisher for licensed properties including POCKET GOD, SHREK, THE PENGUINS OF MADAGASCAR, KUNG FU PANDA, RICHIE RICH, CASPER and STRAWBERRY SHORTCAKE. For the latest news about, please follow us at Facebook.com/ApeEntertainment, www.twitter.com/ApeComics or visit www.ApeComics.com.
Sorry, I don't get the hype of this game. It's ok but not great. I can appreciate the effort to market the game but it's not worth the hype.

Just like I don't get the Hype of Angry birds after the first one.... Love this game since on my iPod touch... Its actually a Challenge... and fun.

I want those plush! ..just me?

Where can I get those plush toy? My love sister love that character

Om Nom plushes were also announced yesterday and posted to CtR's Facebook (http://www.facebook.com/cuttherope). Blogs say they will be coming out in September, but the only online listing I saw has them as a pre-order shipping in October. They will be sold individually (Happy, Sad, Hungry) or a set of three -- http://www.toywiz.com/cuttherope.html
Android Central Newsletter
Get the best of Android Central in in your inbox, every day!
Thank you for signing up to Android Central. You will receive a verification email shortly.
There was a problem. Please refresh the page and try again.