Best Camera Drones in 2022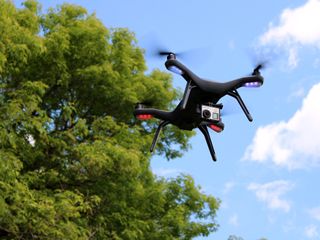 Whether you're an independent filmmaker looking to step up your game with drone videography, or simply a hobbyist looking to record stunning video to share with friends and family, you'll want to invest in a top-of-the-line camera drone.
This probably isn't a list for someone buying their first drone, however, we will note which options are most beginner friendly. Considering how expensive high-end drones are, you'll want to be sure of your competency as a pilot before you get behind the controller. Our list of best drones under $300 might be a better starting point if you've never flown a drone before in your life.
The Best
Why you can trust Android Central Our expert reviewers spend hours testing and comparing products and services so you can choose the best for you. Find out more about how we test.
DJI Mavic Air
DJI announced the Mavic Air at CES 2018, designed to fit right between the high-end DJI Mavic Pro and "low budget" DJI Spark (if a $350 drone can be considered budget) as an intriguing entry point for anyone who wants a full-featured camera drone for under $1000.
The Air is extremely portable with arms that fold in to pack it down to the size of a bigger water bottle. It's got a kick-ass 12MP camera that shoots 4K video installed on a 3-axis gimbal giving you the freedom to shoot the craziest footage including 32MP Sphere Panoramas created by stitching together photos. For cool features like that including FPV flight you'll want the Mavic Air Fly More Bundle ($1,298).
This drone can reach flight speeds of up to 68mph in sport mode with average flight times of around 21 minutes. It's also packed with the latest smart features including Activetrack which uses advanced image recognition algorithms to track a moving object with the camera without using GPS. TapFly lets you control your drone with simple taps on the touchscreen. And it's also loaded with advanced sensors for obstacle avoidance, flight safety, and reliability.
Considering all the smart design that went into this drone, along with its portability, the DJI Mavic Air offers great value at just $800 for a state of the art drone.
DJI Mavic Pro
The Mavic Pro was the first portable drone that DJI released and it's still an amazing option.
The Mavic Pro offers up to 4.3 miles of transmission range and flight speeds of up to 40mph with average flight times of around 27 minutes. Like the Mavic Air, it includes smart features including such as Activetrack and TapFly. There's a reason why this drone is so popular with videographers and drone enthusiasts alike.
The only issue is that the price hasn't come down much since the release of the Mavic Air, so it's kind of a toss-up between the two. You can get the Mavic Pro for just $810 on Amazon, or a Fly More Bundle and other essential accessories like extra batteries and blades for $1,300.
Also Great
DJI Spark
The DJI Spark is one of the best consumer drones I've seen. It's a full-featured video drone that's fast, maneuverable and capable of stable flight in winds gusting up to 30mph for skilled pilots, but also easy enough for beginners to pick up.
Regularly priced at $500, you can find the DJI Spark on sale for as low as $375, which is an absolute bargain. DJI is the world's premier drone maker, and unlike lesser drones, the DJI Spark is packed with all the coolest camera tricks you'd want from a video drone — all using your smartphone.
There's TapFly that lets you use the onboard camera to plot the course, while the Spark's sensors detect and avoid obstacles for a safe and stable shot. ActiveTrack lets you keep the focus on a moving subject as the Spark follows and tracks automatically. You're also able to control the Spark via hand gestures for the ultimate selfie.
Parrot Bebop 2 FPV
Parrot is a reliable name in the drone game, and the Parrot Bebop 2 is a great entry-level camera drone for anyone just getting into the hobby, but especially for those interested in FPV flying.
The body of the drone is built around the 14-megapixel fisheye camera — capturing 180-degree range of 1080p video at 30FPS, but without the horizon distortion, you'll find with other wide-angle action cameras. There're also smart built-in safety features to protect your drone, including an emergency mode that will land the drone safely and props that will stop spinning instantly when a collision is detected to avoid damage.
You control the Parrot Bebop with the Freeflight 3 app, available for Android and iOS devices, which includes one-touch return home function: this flies the drone back to its take-off point, where it hovers six feet off the ground until recovered. But this drone ships with a pretty impressive controller along with a first-person view headset for practicing racing or just checking out the epic drone views.
Set up an account on the Parrot Cloud to have your photos and videos backed up and shared with Parrot's growing community of over 100,000 pilots. Ready to fly out of the box with beginner-friendly features, the Parrot Bebop should better fit your budget (at $425) while still providing stable, quality video, with a battery that allows for up to 25 minutes of flight time.
DJI Phantom 4 Pro
It should come as no surprise to see another DJI drone on this list. The DJI Phantom line has been a favorite amongst drone enthusiasts, and the Phantom 4 is as sleek and well-designed as consumer drones get.
Featuring much of the same technology found in the Inspire 1, the Phantom 4 comes with a gimbal-mounted 4K camera, which shoots at 30FPS.
Enjoy stable, precision hovering thanks to the Vision Positioning System, so even when you let go of the joystick controls, the Phantom 4 will stop and hover in place — even if the wind picks up. Use the ActiveTrack mode to easily set your drone to follow and record a moving subject, while it avoids running into trees or other objects with its built-in Obstacle Sensing System.
And then there's the overall look and design of this thing. It's by far one of the sleekest all-in-one drones on the market and is sure to turn heads whenever you take it out flying. Available for $770 with a package that includes a carrying case, spare props, and a 16GB.
Blade Chroma 4K/GoPro
The Blade Chroma 4K is another solid choice that comes in four options, but all of which are essentially ready to fly out of the box.
There are two pricier versions that include a 4K camera, as well as a controller with a built-in screen for recording video and keeping track of important flight information such as altitude, speed, and remaining flight time. Upgrade to get an extra battery as well as a handy carrying case for your drone.
Then there are the cheaper versions, which allow you to mount your own GoPro (Hero 4 is recommended), with an option for a 3-axis gimbal. These versions feature the same drone as the 4K camera version, except with a standard wireless transmitter, which means you'll have to stream video from your GoPro to your smartphone.
No matter which drone you decide to go with, they all come with both Smart Mode for beginners still learning the basics and AP Mode for more advanced pilots who want maximum control over their drone. There are also amazing features like Follow Me Mode and Tracking Mode which allow you to set altitude and distance settings in advance and then focus on getting those epic shots.
It's an amazing package for a reasonable price — just under $1000 — considering all the professional features that are included.
Yuneec Typhoon H RTF Hexacopter
The Yuneec Q500 4K Typhoon is a sharp-looking hexacopter that takes stunning video at a reasonable price (under $750 on Amazon). If you're a professional videographer and you want to save some money on the DJI drones, this is the one to get.
It comes fully assembled out of the box — just attach the props and you're good to go. The controller features an integrated 7-inch Android touchscreen that lets you control video settings such as video resolution, white balance and light exposure on the fly (pun intended). The camera is mounted on a 3-axis precision gimbal and can record 4K video at 30FPS, or 1080p slow-mo video at up to 120FPS.
Design-wise, the Typhoon H RTF stands out with its industrial-style supports along the arms that stand out from the streamlined look of DJI drones. Yuneec also includes a 16GB flash drive, a 64GB microSD card, a lens cleaning kit, and a copy of Corel Paint Shop Pro X9 for post-processing your photos.
AirSelfie
Airselfie is a CES darling, and this year they were showing off their latest model of the compact drone whose sole purpose is taking selfies. The Airselfie drone is slim enough to slip in your back pocket while you're out exploring, allowing you to capture brilliant aerial photos and videos whenever and wherever (legally, of course). Entirely controlled via smartphone with the AirSelfie Camera app, the AirSelfie is capable of flying up to 20 meters and has autonomous flight features so you can focus on posing for the camera while the drone hovers steadily.
It's a pocket-sized drone that you can take selfies with — the future is right now! Get your taste of it for $339 and take your selfie game to the next level.
Which drone do you love?
Do you have any experience with the drones we've mentioned here? Got a recommendation for one that we've missed? Let us know in the comments below!
Update March 2018 Added the DJI Mavic Air, DJI Spark, AirSelfie, and Yuneec Typhoon H RTF to the list, removed some older options that are no longer available.
Sign up for Black Friday email alerts!
Get the hottest deals available in your inbox plus news, reviews, opinion, analysis and more from the Android Central team.
Marc Lagace was an Apps and Games Editor at Android Central between 2016 and 2020. You can reach out to him on Twitter [@spacelagace.